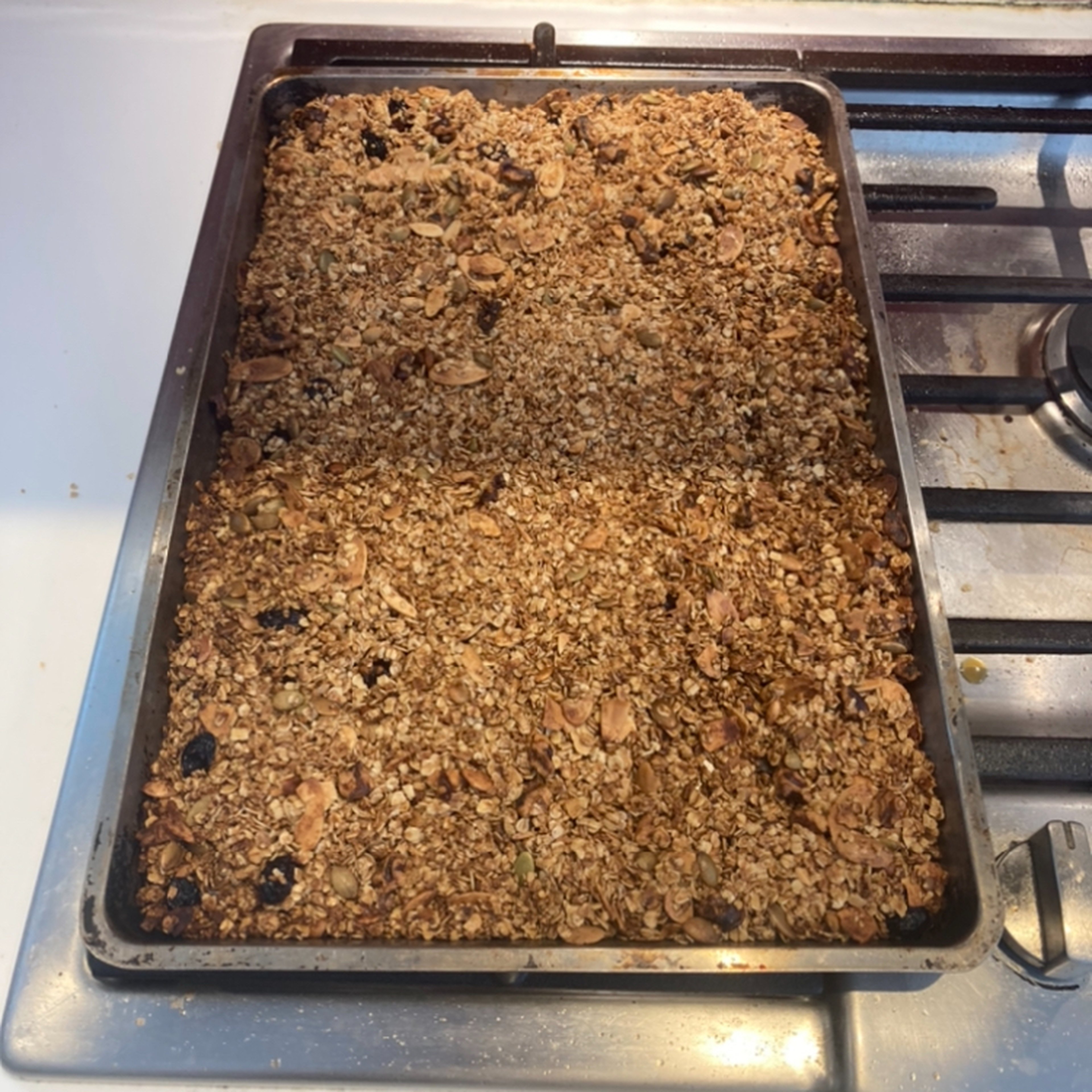 Granola Girl's Granola
"Granola Girl here -- I take this recipe very seriously. When it comes to the perfect amount of sweet and savoury in the morning, I turn to this early morning breakfast. It never seems to disappoint and get stoked for your kitchen to smell like vanilla/cinammon/nuts 🍁"
Ingredients
sweetened shredded coconut
Utensils
bowl, oven, baking sheet, parchment paper
Step 1/ 5

60 g

rolled oats

31¼ ml

maple syrup

1 tbsp

honey

1¼ tbsp

sweetened shredded coconut

1 tbsp

raisins

½ tsp

vanilla extract

1½ tbsp

pumpkin seeds

¾ tbsp

coconut oil

1 tbsp

sliced almonds

½ tbsp

ground cinnamon

⅜ tsp

almond extract

1 tbsp

almond extract

In a large bowl combine oats, nuts (walnuts, almonds, pumpkin seeds etc), cinammon, almond extract, vanilla, coconut oil (melt in microwave before adding), honey, maple syrup

Step 2/ 5

Preheat oven to 370 degrees.

Step 3/ 5

baking sheet
parchment paper

Get a baking sheet and cut parchment paper. Place the parchment on top of the pan, this prevents the oats from sticking to the baking sheet.

Step 4/ 5

Pour mixture onto baking sheet. Press down firmly with spatula to get the best results. Bake in the oven for 15 minutes.

Step 5/ 5

Using a spatula, mix the oats so that they do not burn. Place back in oven for 10-15 minutes.

Enjoy your meal!
More delicious ideas for you