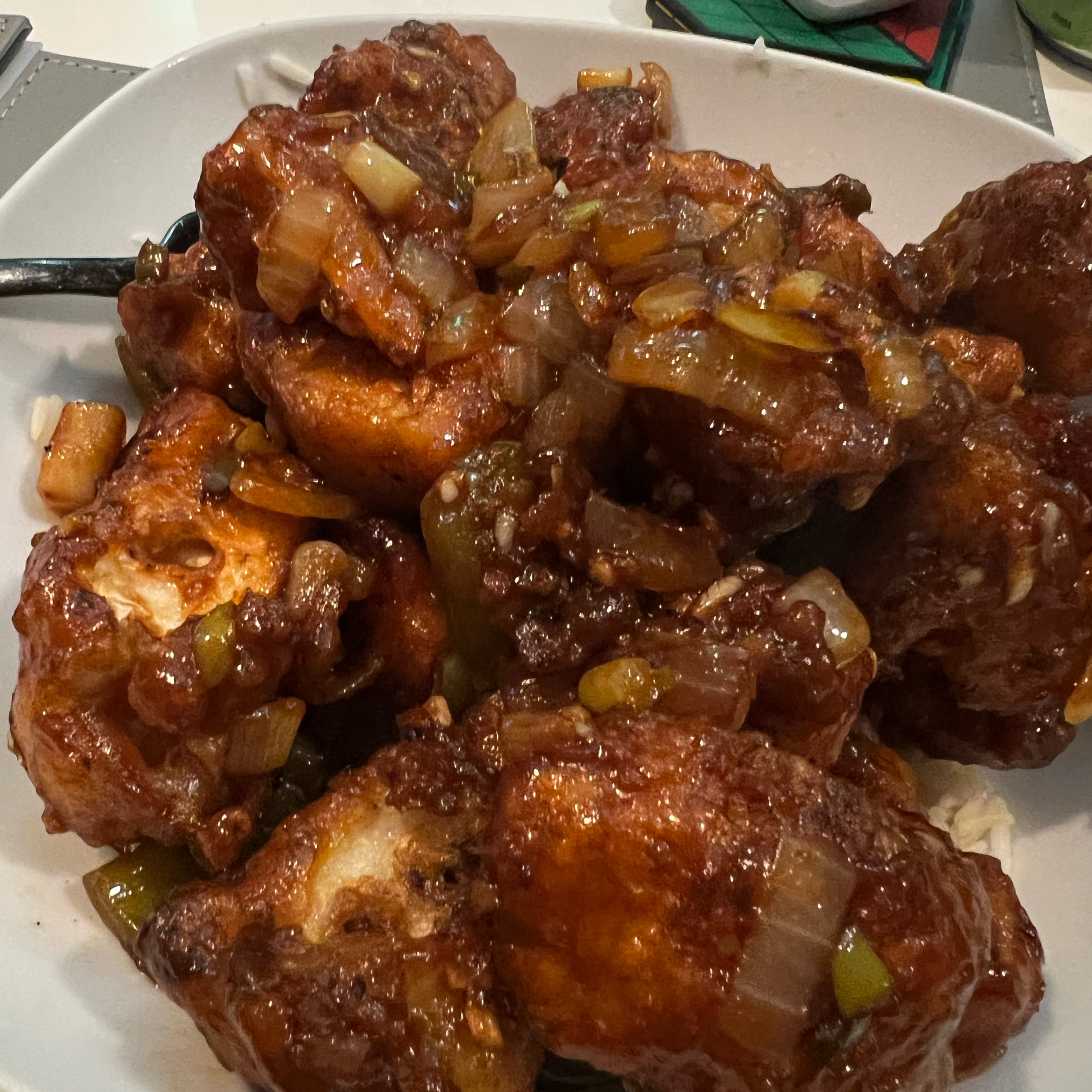 Gobi Manchurian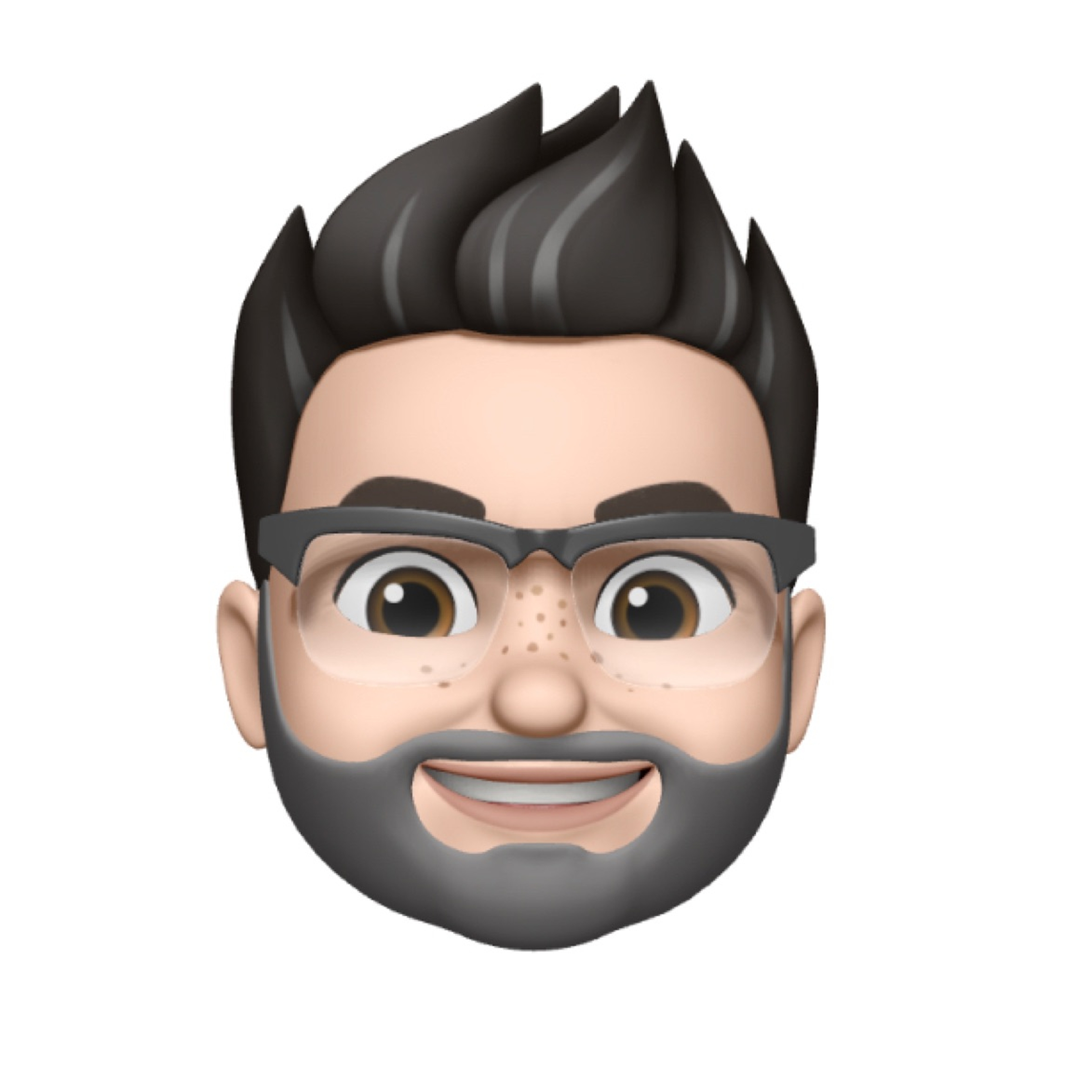 "Gobi Manchurian is an indo-Chinese dish, which can be a starter on its own or as a main (served with rice). It features ridiculously crispy and crunchy cauliflower coated in a sweet, tangy, umami-rich chilli sauce with lots of aromatics."
Ingredients
vegetable oil (for deep frying)
Utensils
2 bowls, wok, saucepan, spider
Step 1/ 16

1 tbsp

soy sauce

¾ tbsp

sambal oelek

½ tbsp

distilled white vinegar

½ tsp

sesame oil

1½ tbsp

ketchup

1 tbsp

brown sugar

¼ tbsp

cornflour

½ tbsp

water

First thing to do is to make the manchurian sauce. Mix together the soy sauce, sambal oelek (or you can use chilli sauce), tomato ketchup, brown sugar, sesame oil and distilled vinegar in a bowl. Once combined, set aside. Separately, in a smaller bowl, mix the cornstarch and water and mic together.

Step 2/ 16

2½ cloves

garlic

½

chili

¼

red onion

3

scallions

½

bell pepper

Finally chop the garlic cloves, ginger and green chilli (keep the seeds in if you like it hotter). Finely diced the onion and chop the scallions including the green tops. Chop the bell pepper into bite sized chunks.

Step 3/ 16

Heat a flat-bottomed wok over a medium/high heat until it starts to smoke. Then add the oil and swirl it around the pan to get it up the sides. Add the chopped garlic, ginger and chilli. Cook for 1 minute, stirring frequently.

Step 4/ 16

Add the chopped onion, white and light greens of the scallions (keep the darker greens for garnish) and bell peppers and season accordingly. Cook for 3 to 4 minutes, stirring frequently until they start to get some colour.

Step 5/ 16

Add the Manchurian sauce and fry for 1 minute. Stir the cornflour slurry you made earlier again to incorporate then pour it into the wok. Mix well and stir until the sauce turns glossy and thickens a bit (should be pretty quick). Turn off the heat and allow the sauce to come to room temperature. If the sauce is too when the cauliflower is added, it gets soggy really quickly.

Step 6/ 16

⅜ tsp

chili powder

½ tsp

ginger

22½ g

cornflour

35 g

flour

⅜ tsp

salt

Now make the cauliflower batter. Mix together the flour (plain), cornflour, minced ginger, chilli powder and salt in a large bowl.

Step 7/ 16

Gradually pour in the water and whisk until you have a lump-free and smooth batter that is quite thick and viscous. It should feel a little heavy with some resistance. If using rice flour, please note it will need less water.

Step 8/ 16

Cut the cauliflower into small-medium florets. You should have 450-500g in weight.

Step 9/ 16

vegetable oil (for deep frying)

In a saucepan or deep heavy-bottomed pan, add enough oil so its no more than half full. Heat over a medium heat. Line a large plate with a few paper towels.

Step 10/ 16

While the oil is heating up, add a few florets to the batter and use a slotted spoon or 'spider' to toss the florets all over, coating all the crevices. Continue adding a few more florets at a time until they're all coated. The batter should be thick enough to stick to the cauliflower.

Step 11/ 16

Once the oil reaches 335-350 F, lift out a few florets using a slotted spoon and add to the hot oil. Add a few more in batches, until half the florets are in the oil. Wait one minute before stirring to prevent the batter from slipping off and sticking to other florets. Fry them for 6-10 minutes, stirring occasionally until they are golden brown (not just golden).

Step 12/ 16

Scoop the florets with a slotted spoon or 'spider' and gently shake it up and down to remove excess oil. Strain the florets onto the paper towels.

Step 13/ 16

Once the first batch is cooked, allow the oil to return to temperature and repeat until all florets are cooked.

Step 14/ 16

Increase the heat to high and wait until the oil is at 375-400 F. Replace the paper towels with new ones.

Step 15/ 16

Use the spider or slotted spoon to add ALL of the florets to the oil and flash fry again briefly or until deeply golden brown (no more than 1 minute). Strain onto new paper towels and sprinkle lightly with salt.

Step 16/ 16

Once the florets are done frying, add them into the Manchurian sauce mixing gently until well coated. Garnish with the reserved scallion greens and chopped cilantro. Serve immediately.

Enjoy your meal!
More delicious ideas for you