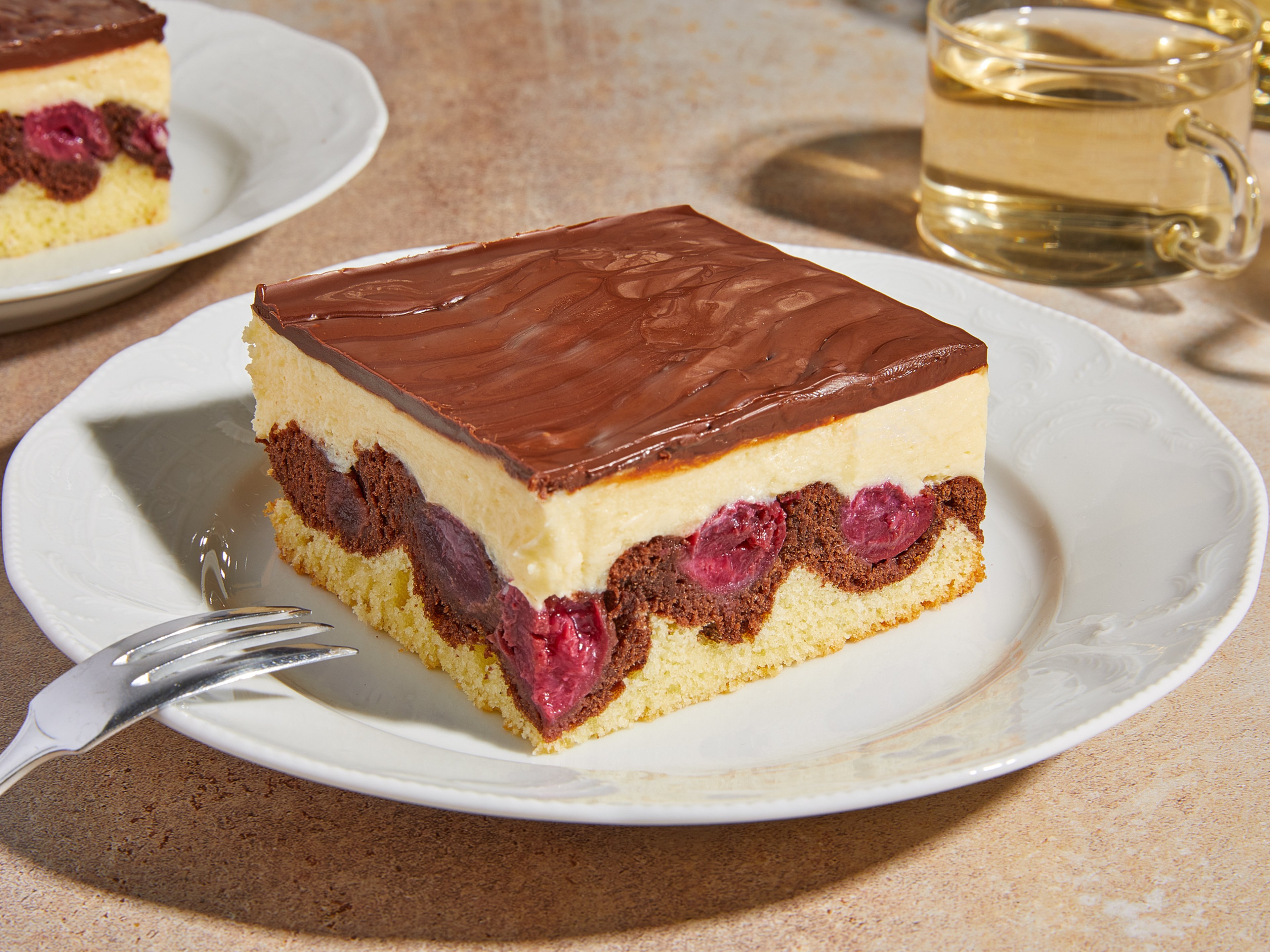 Donauwelle (German Snow White cake)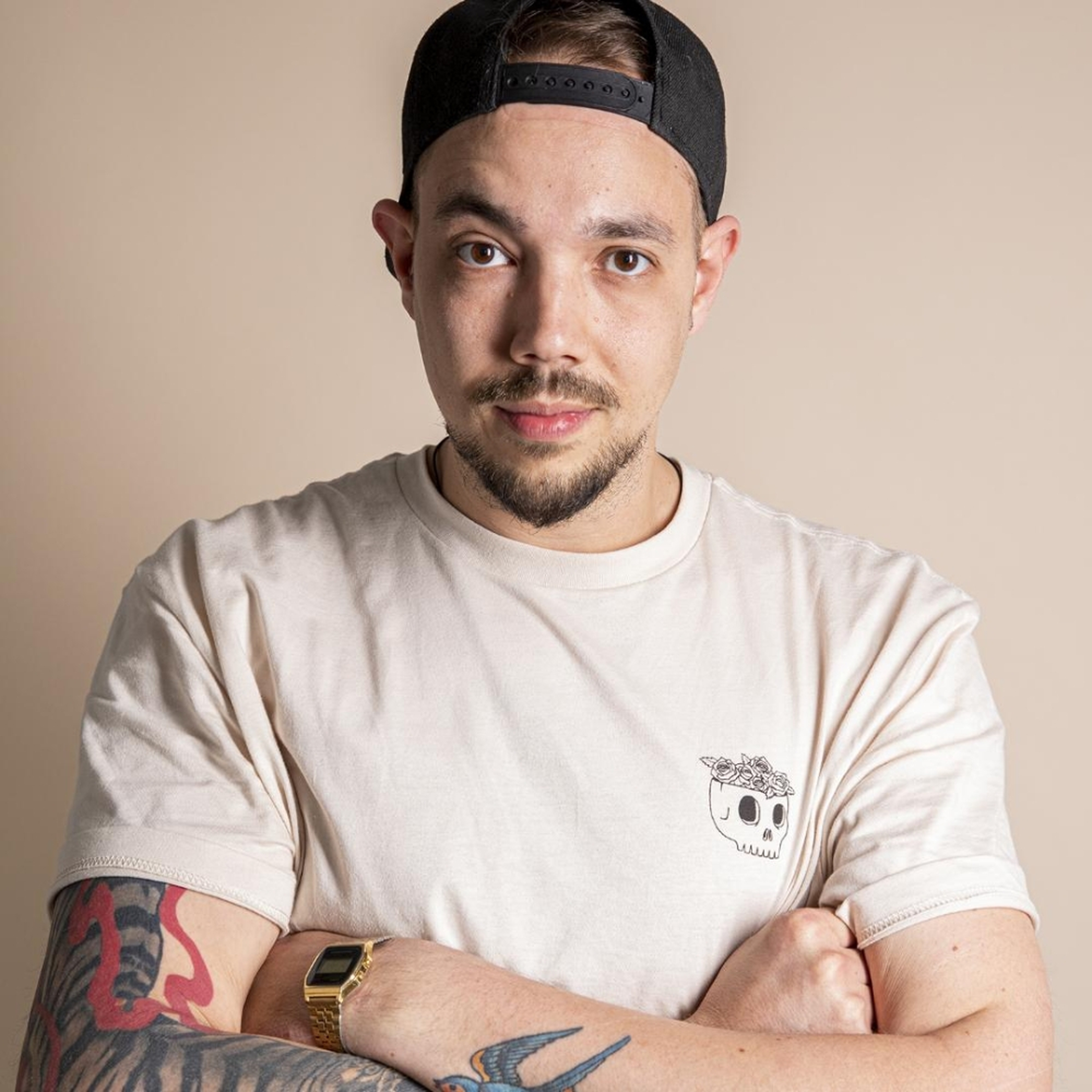 "I prefer cooking over baking, but for the Donauwelle, I've happily made an exception! Tip: To cut the Donauwelle easy, without the chocolate breaks and the pudding buttercream smears, let the cake cool slightly. Next, carefully pre-cut a pattern into the chocolate with a knife. Then run the knife under hot water briefly, wipe it off, and then set to cutting. This way you can cut the cake into nice even, smooth slices. This recipe has been updated to make it even better for you, our community."
Ingredients
jarred pitted Morello cherries
Utensils
oven, sieve, 3 bowls (large), 2 hand mixers with beaters, baking pan (9x13 in.), parchment paper, toothpick, pot, whisk, bowl, plastic wrap, pot (small), bowl (small), rubber spatula, offset spatula, fork, knife
How to melt chocolate
How to slice a cake like a pro
How to test a cake for doneness
Step 1/ 6

58⅓ g

jarred pitted Morello cherries

41⅔ g

butter

33⅓ g

sugar

⅛ tsp

vanilla bean paste

⅞

eggs

oven
sieve
bowl (large)
hand mixer with beaters

Preheat oven to 180°C/350°F. Drain Morello cherries and set aside. Beat some butter, some sugar, and vanilla paste in a mixing bowl until fluffy. Add eggs one at a time and beat until blended.

Step 2/ 6

53⅓ g

flour

½ tsp

baking powder

⅛ tsp

salt

⅓ tbsp

unsweetened cocoa powder

½ tbsp

milk

bowl (large)
baking pan (9x13 in.)
parchment paper

Combine flour, baking powder, and salt in a large mixing bowl. Gradually add to butter mixture and mix. Grease baking pan or line with parchment paper and pour in approx. three-quarters of the batter, smoothing it out. Add cocoa powder and milk to remaining batter and mix. Carefully pour the chocolate batter onto the light batter and smooth it out as well.

Step 3/ 6

Place Morello cherries individually across the batter, and press them in lightly. Bake for approx. 20 - 25 min. at 180°C/350°F. The cake is ready as soon as a toothpick can be inserted into the center of the cake and comes out clean. Allow the cake to cool for approx. 60 min.

Step 4/ 6

158⅓ ml

milk

⅓ packages

vanilla pudding powder

25 g

sugar

Simmer milk with the pudding powder and sugar in a pot on medium-high heat according to the package instructions. Pour the pudding into a bowl and cover with plastic wrap; the plastic wrap should be directly on top of the pudding to prevent a skin from forming. Allow to cool completely, approx. 60 min.

Step 5/ 6

bowl (large)
hand mixer with beaters

Beat remaining butter in a bowl until fluffy. Once butter and pudding are at the same temperature, gradually beat the two together. Pour the custard on the cake and let it rest in the refrigerator for approx. 40 min.

Step 6/ 6

50 g

bittersweet chocolate

⅞ tbsp

coconut oil

pot (small)
bowl (small)
rubber spatula
offset spatula
fork
knife

Heat water in a saucepan over medium-high heat. Place chocolate in small heatproof bowl and place on top of saucepan. While stirring, melt chocolate and stir in coconut oil. Remove bowl from saucepan and let cool slightly. Carefully pour and spread over buttercream pudding layer. After approx. 10 min., or as soon as the glaze has set slightly, use a fork to draw a wave pattern into the chocolate. Chill for approx. 60 min. before slicing. Enjoy!

Enjoy your meal!
More delicious ideas for you