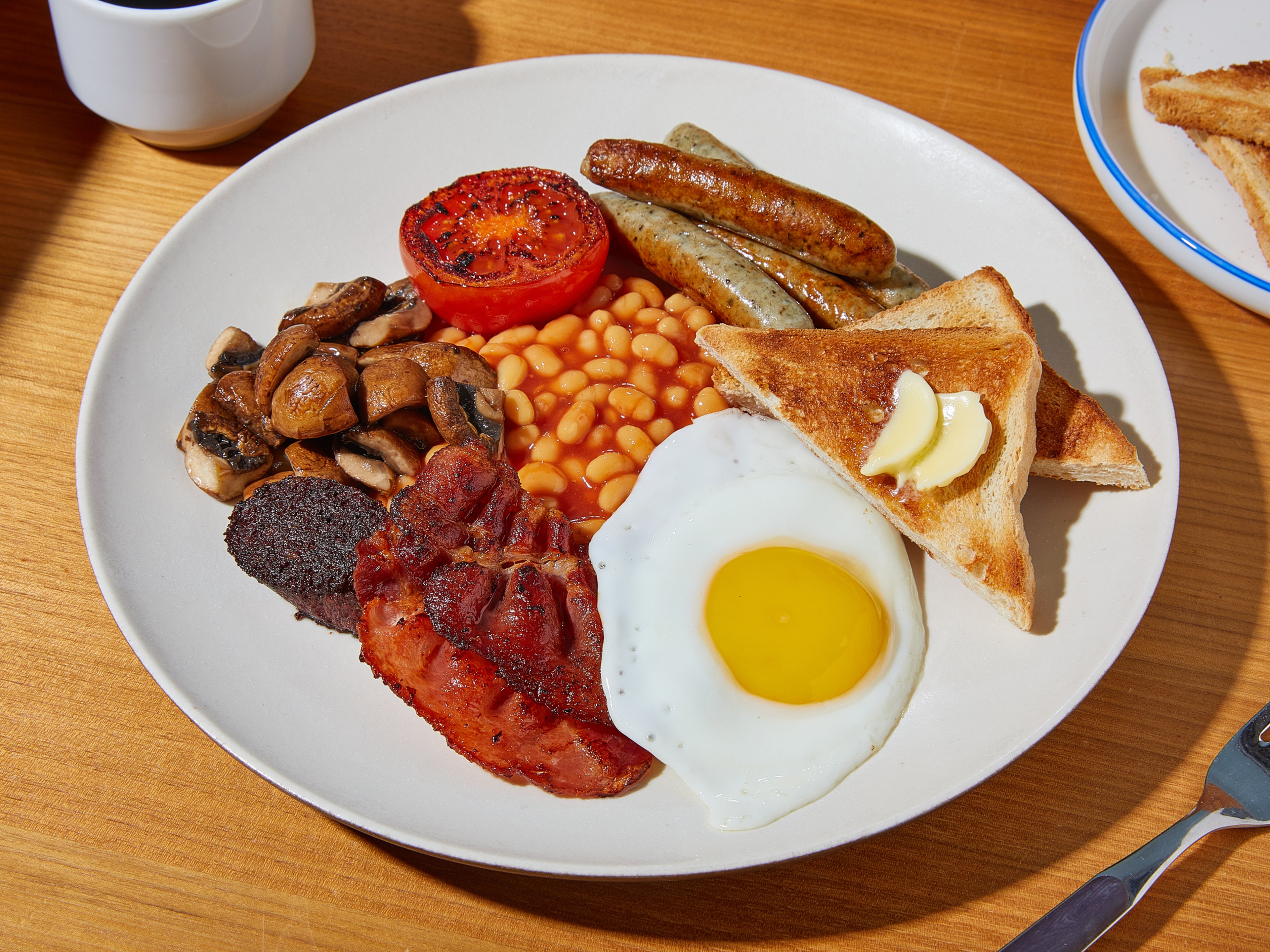 Full English breakfast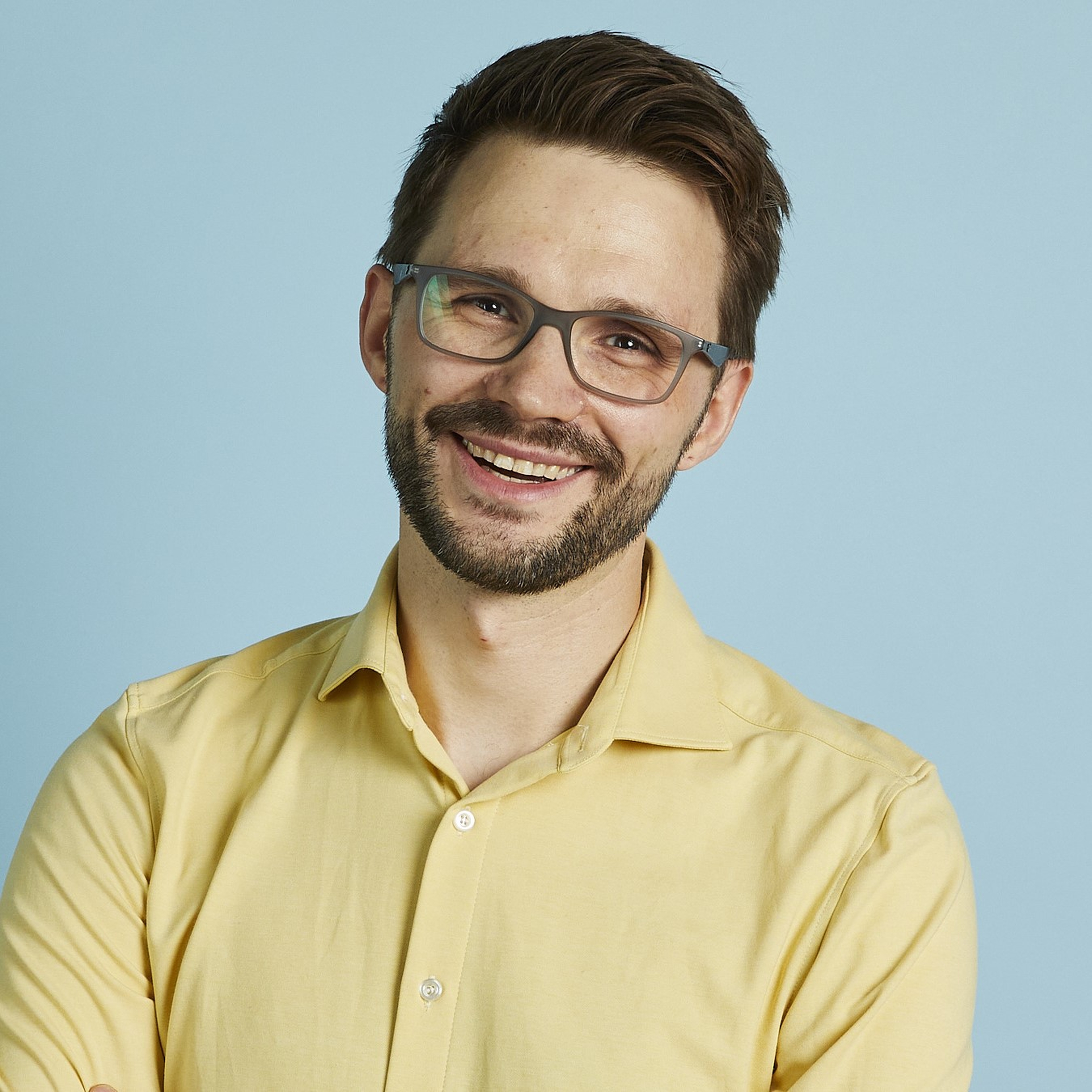 "The English breakfast (also called full English breakfast, full monty or fry-up) is a hearty and filling breakfast traditionally consisted of sausages, fried eggs, grilled tomatoes, beans (baked beans), bacon, mushrooms and buttered toast. Often you will also find white or black pudding (English blood sausage) as well as hash browns. Whilst it is commonly referred to as a "full English breakfast", in the various regions of Great Britain and Ireland it is also named according to the region i.e. "full Scottish", "full Welsh", "full Irish" etc. You can also find regional variations of this classic breakfast: In Scotland, for example, "tattie scones" (a kind of potato pancake) and haggis are served, while the Welsh people enjoy their breakfast with "laverbread" (a seaweed dish). All of this is often accompanied by coffee, tea or orange juice. The breakfast can also be made vegetarian or vegan. Simply replace sausages, bacon and butter with plant-based alternatives. For a vegan version, either omit the egg or prepare scrambled eggs with an egg substitute."
Ingredients
vegetable oil (for frying)
Utensils
oven, saucepan, knife, frying pan, ovenproof pan, kitchen towel, toaster
How to cut tomatoes
How to fry bacon
The perfect fried egg
How to clean mushrooms
Step 1/ 4

200 g

baked beans

4

button mushrooms

1

tomatoes

vegetable oil (for frying)

oven
saucepan
knife
frying pan
ovenproof pan

Preheat the oven to 100 °C/212 °F on top/bottom heat. Slowly heat the baked beans in a small saucepan and keep warm on low. Meanwhile, wash and quarter the mushrooms. Halve the tomatoes horizontally. Heat some oil in a large pan and fry the mushrooms on all sides for approx. 6 min. over high heat. Place mushrooms in an ovenproof pan and keep warm in the oven.

Step 2/ 4

vegetable oil (for frying)

Heat oil again in the same pan and fry the tomatoes for approx. 3 min. on each side. Remove the tomato halves from the pan and add to the mushrooms in the oven and keep warm.

Step 3/ 4

4 slices

bacon

2 slices

blood sausages

4

pork sausages

Wipe out the pan and heat oil again. Add bacon and fry for approx. 4–6 min. until bacon is crispy. Keep the bacon warm in the oven. Discard excess oil or use it to fry the sausages. Remove skin from blood sausages. Fry the bratwurst and blood sausages together for approx. 4 min. until crispy and golden brown. Keep the contents of the pan warm in the oven.

Step 4/ 4

2

eggs

4 slices

sandwich bread

butter (for serving)

Pour away the fat and wipe out the pan. Fry the eggs in the same pan. Meanwhile, toast the sandwich bread until golden brown. Then cut in half crossways to form triangles. Spread toast with some butter. Arrange all ingredients side by side on a large plate.

Enjoy your meal!
More delicious ideas for you