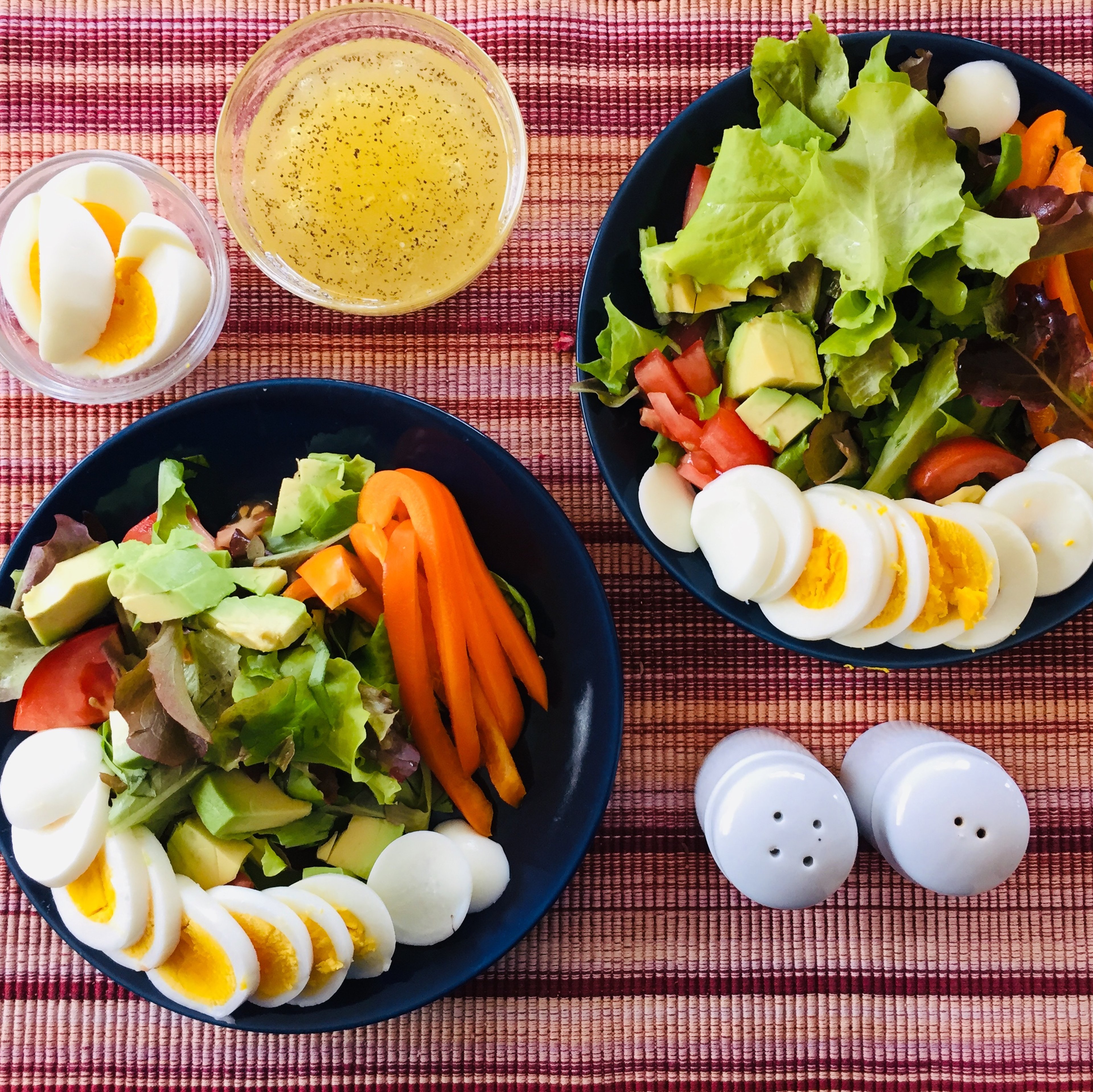 Fresh Veggie Garden Salad
"This is one of the first salad im actually exited to prepare, eat and share. Please feel free to add anything else in the salad, and let me know how it is!"
Step 1/ 8

Before you start making the salad, start the eggs. In this case you need to hard boil them. To do that fill up a small pan/pot and fill it up with water enough to cover the 3 eggs. Set it to boil for three minutes.

Step 2/ 8

4 cups

mixed lettuce

6 leaves

fresh basil

Take the variety of lettuce you will be using fo this step, ( any type will do,) put it in some sort of strainer. Cut up the basil in very small pieces so you will have little bursts of flavor in the salad. Put the small pieces in with the lettuce. Wash and dry. It is ok if the leaves are still a little damp after you dry them.

Step 3/ 8

½

bell pepper

½

avocado

½

tomato

Cut up the pepper, tomato, and avocado tomato to your liking. I went with thin, long slices for the peppers, small cube-like pieces for the tomato and avocado.

Step 4/ 8

1

lemon

1½ tbsp

olive oil

½ tsp

salt

¼ tsp

pepper

To make the salad dressing, squeeze the full lemon out, and then combine it with the olive oil, salt, and pepper, then stir lightly.

Step 5/ 8

After 10 minutes of boiling, hopefully the eggs should be done by now. Take the of and let them cool off for a minute or two. Continue with step 6.

Step 6/ 8

There are two ways to go about this next step: The normal people way or MY way. Most people have usually already tossed in the lettuce and other ingredients. In that case continue. When the eggs are ready you can go ahead and combine it all together and start eating. If you are like me, you are slightly crazy and will make it look very neat and pintrest worthy before you take a picture. So go ahead. Now is your chance to make it look how you imagined!!!

Step 7/ 8

By now the eggs should be done cooling. Slice them up, and place them on your salad.

Step 8/ 8

Add anything else you would like to and enjoy!

Enjoy your meal!
More delicious ideas for you