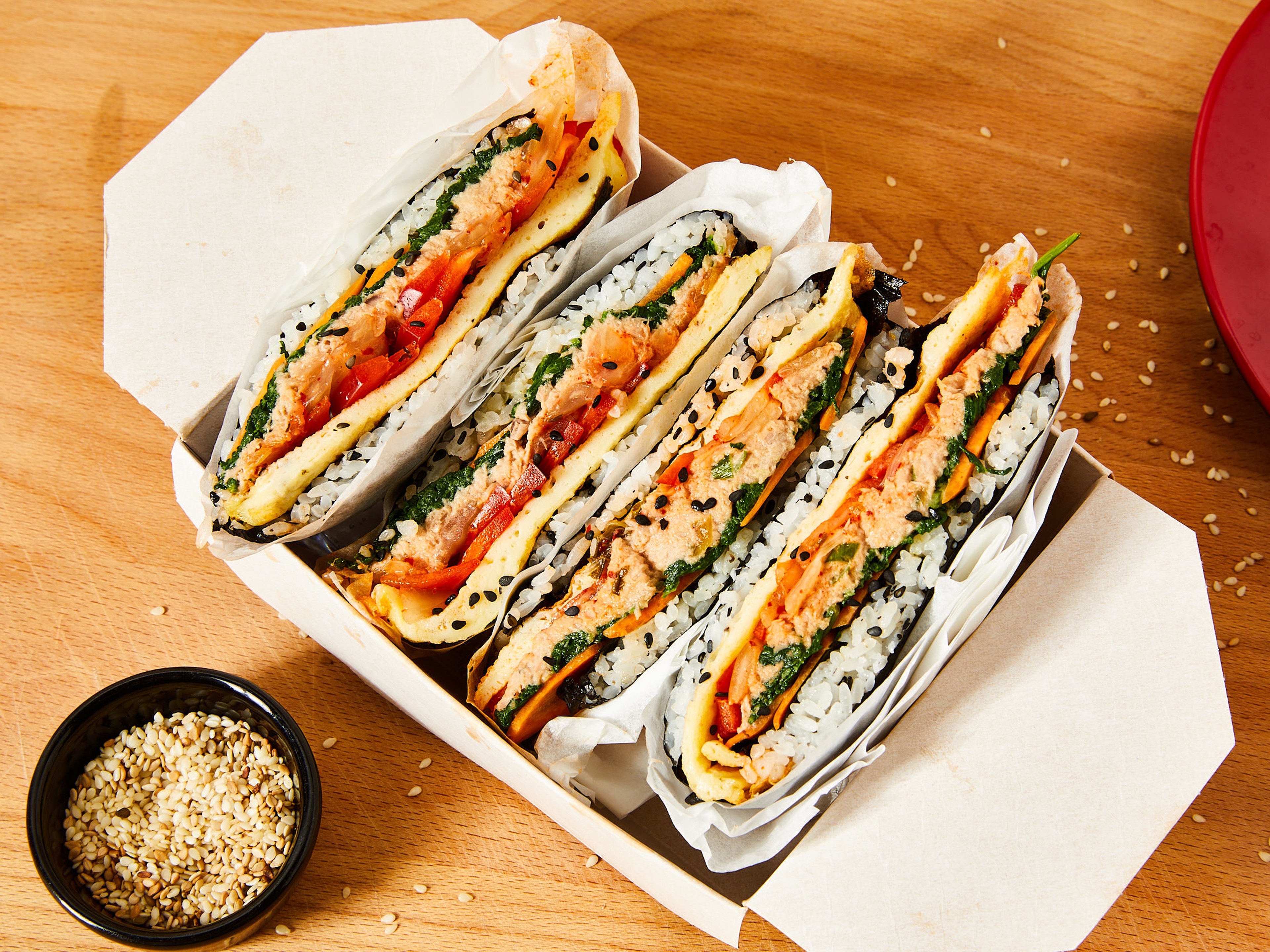 Folded kimbap with tuna and kimchi
Food Editor at Kitchen Stories
"Kimbap is one of my favorite dishes, but rolling it perfectly always proves to be a bit of a challenge. Here's a solution: Ever since I saw this viral trick on social media, I now 'fold' my kimbap into a sandwich! The concept is very similar to the Japanese Onigirazu. I opted for a classic tuna mayo filling with egg and kimchi in this recipe, but you can fill your sandwich with whatever your heart (and stomach) desires. The kimchi here not only provides a pretty red color, but also adds a fresh contrast to the richness of tuna and egg. Perfect for using up the previous day's rice and great for take-out or picnics!"
Ingredients
vegetable oil (for frying)
Utensils
bowl (large), pot, colander, 3 bowls, knife, cutting board, whisk, nonstick pan, spatula, scissors
How to cook sushi rice
How to blanch
How to julienne
Step 1/ 5

200 g

sushi rice (cooked)

½ tbsp

sesame oil

1 tbsp

black sesame seeds

salt

Let cooked sushi rice cool and then mix in a bowl with half of the sesame oil, black sesame seeds and a pinch of salt.

Step 2/ 5

150 g

spinach

½ tbsp

sesame oil

salt

While the rice is cooling, bring a pot of water to a boil and blanch the spinach for approx. 1 min. Then drain in a colander, rinse with cold water and squeeze out the liquid. Mix in a bowl with a pinch of salt and remaining sesame oil.

Step 3/ 5

½

carrot

½

red bell pepper

½

scallion

½

canned tuna

1½ tbsp

mayonnaise

salt

pepper

sugar

Cut carrot lengthwise into thin strips. Cut bell pepper into thin strips as well. Cut the spring onions into fine rings. Drain the tuna, mix in a bowl with mayonnaise and spring onions and season with salt, pepper and sugar.

Step 4/ 5

2

eggs

salt

pepper

sugar

vegetable oil (for frying)

bowl
whisk
nonstick pan
spatula

Heat vegetable oil in a nonstick frying pan over medium heat. Beat eggs in a small bowl and whisk with salt, pepper and a pinch of sugar. Add eggs to pan and make an omelet: Using a spatula, push the eggs a few times into the center and swirl to fill in gaps. Form into a rectangle, let set and cut the omelet in half into two squares.

Step 5/ 5

2

dried seaweed sheets

50 g

kimchi

Cut each nori sheet from the bottom center to the middle of the leaf and imagine four squares of the same size. Place half of the carrot slices and half of the spinach on the bottom left square, and then place half of the prepared tuna on top. Place an egg on each of the upper left squares and top with half of the bell pepper strips and kimchi. With wet hands, spread ¼ of the rice evenly on each of the two right squares. Now fold the sandwich from the bottom left square. Do the same with the remaining ingredients. Optionally, wrap the sandwiches in parchment paper or plastic wrap and cut in half diagonally to serve.

Enjoy your meal!
More delicious ideas for you