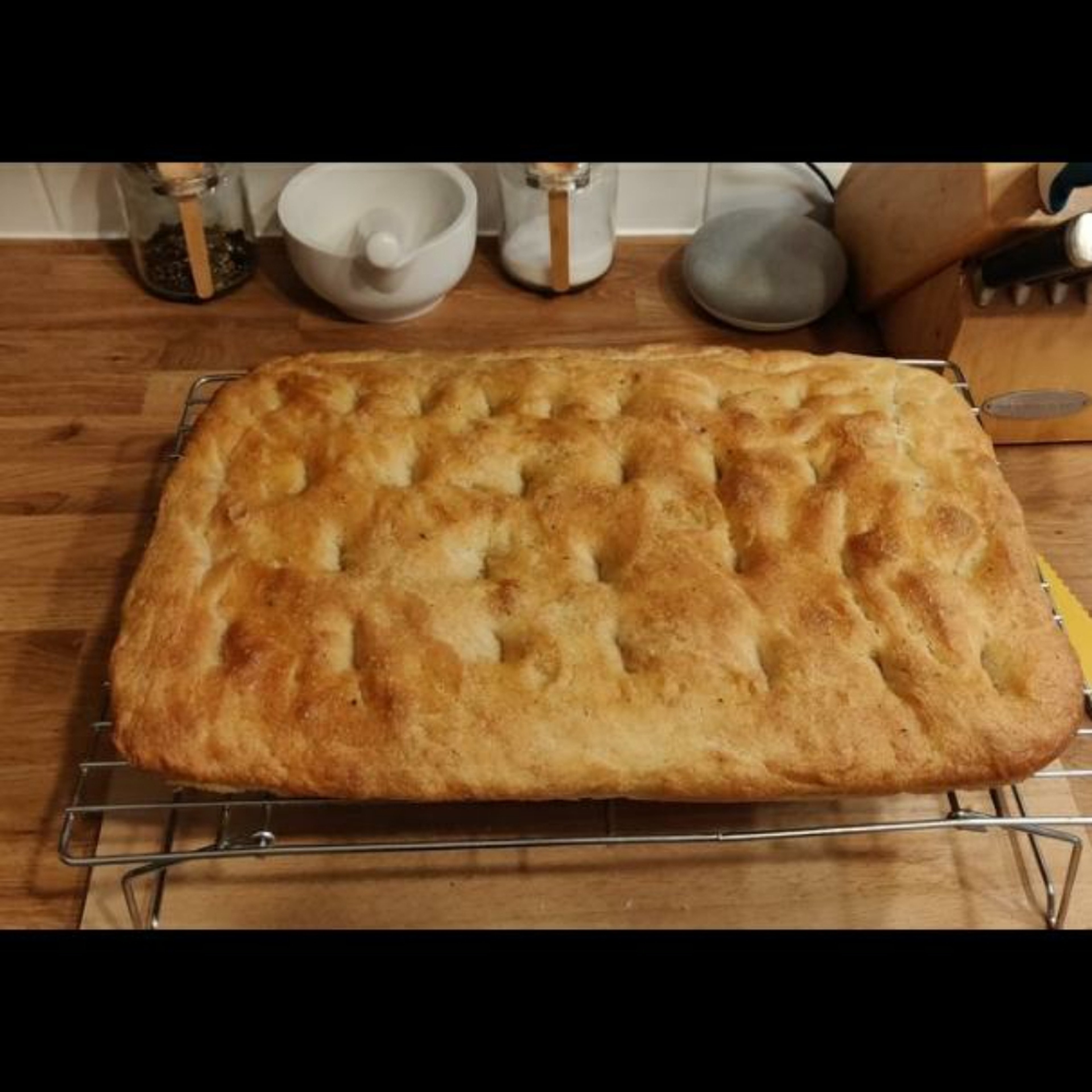 Step 1/ 11

70 ml

water

2 g

active dry yeast

2 g

active dry yeast

¼ pinch

sugar

combine 350g of warm water, 10g of active dried yeast, one pinch of sugar and 10g of yeastaand 10g of oil in a jug. stir until cloudy then leave to rest for 5 minutes.

Step 2/ 11

100 g

strong flour

⅛ tsp

black pepper

¼ tbsp

garlic powder

⅛ tsp

dried oregano

add the flour, pepper, garlic powder and oregano in a bowl and mix until combined.

Step 3/ 11

create a well in the centre of the bowl and pour in the wet ingredients. kneed these together until you have a smooth cohesive dough. this will take ~20 minutes by hand or 5-10 minutes on low in a stand mixture. the dough should be wet, gooey and sticky, but still should lift from the bowl or a work surface in one long, stretchy piece. add the salt towards the end of the kneeding.

Step 4/ 11

cover the dough in 2 tbspn more oil. take the dough and lift it up with one hand from the centre, it should stretch into a long noodle. fold the dough and do the same again.

Step 5/ 11

form the dough into a ball and place ie to a well oiled bowl. cover the bowl with cling film/plastic wrap and leave in a warm place for 1-2 hours.

Step 6/ 11

knock back the dough and place the dough into a well oiled baking sheet. stretch the dough to fit as much of the baking sheet as you can, but do not force it as this will get easier in the next step.

Step 7/ 11

cover some plastic wrap in oil and use this to cover the top of your baking tray. put the tray in the fridge for 10 minutes, this will relax the gluten in your dough. stretch the dough to fill the tray and poke your fingers into the dough to make sure it's uniformly flat. repeat this as needed until the dough fills the tray.

Step 8/ 11

leave the dough in the fridge from 1 hour to one day covered in the plastic wrap. then take the tray out with the plastic wrap on and leave it in a warm place for 1 hour for its second prove.

Step 9/ 11

remove the plastic wrap and add the rosemary sprigs on top of the focaccia. you could use garlic, pepper corns, seeds, fennel, sundried tomatoes, etc, for this. drizzle extra olive oil over the top of the focaccia.

Step 10/ 11

preheat your oven to 210c

Step 11/ 11

bake at 210c for 23 minutes, or until the top is between golden and golden brown. leave to cool on a wire rack for one hour before cutting or this will ruin the consistency of the bread.

Enjoy your meal!
More delicious ideas for you