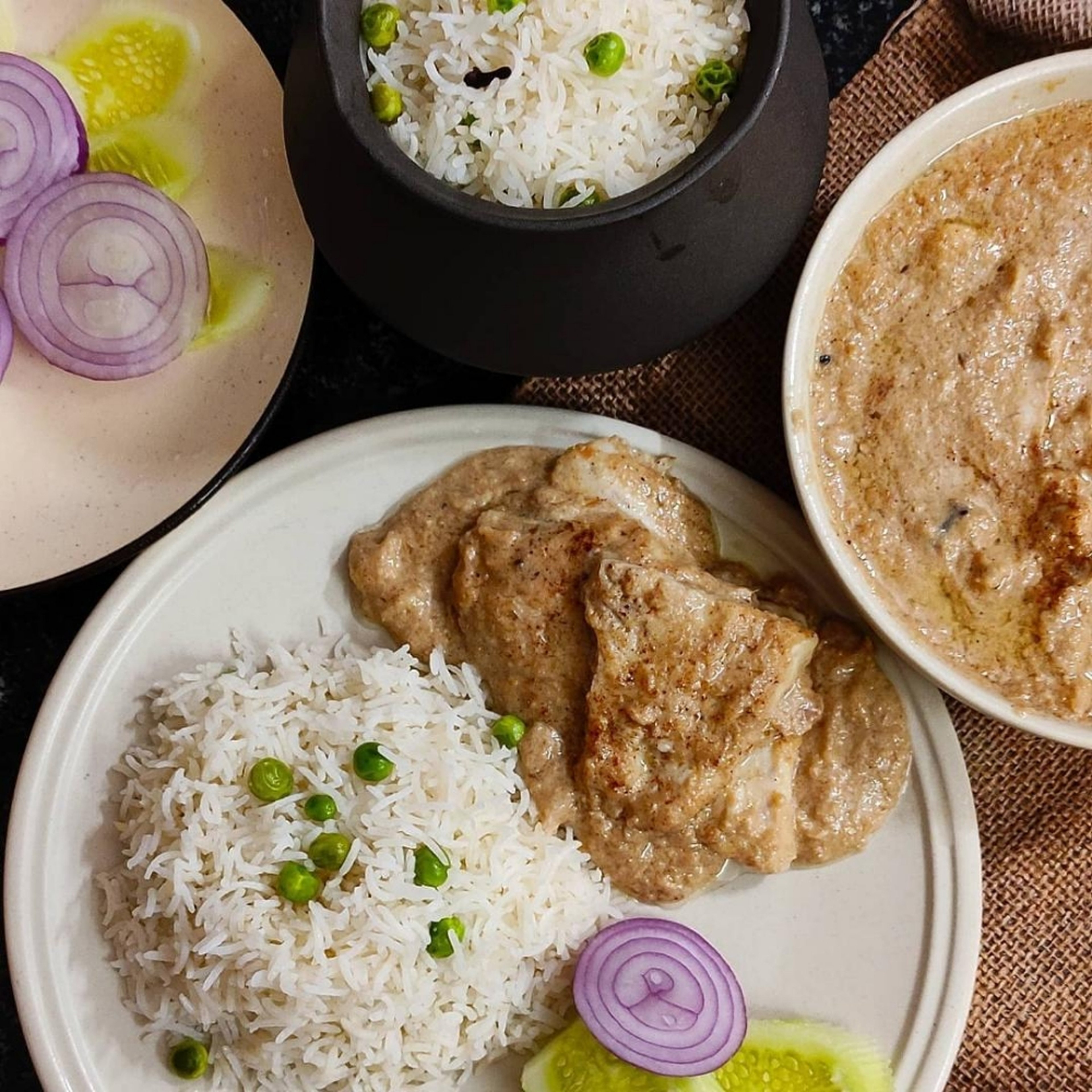 Fish Korma
"Fish Korma is a rich fish curry recipe which has a delicious,creamy and fragrant white gravy. It is a super easy , super delicious recipe witha smooth texture that can be eaten with Pulao of choice or hot plain rice. You can use Calcutta Bhetki, Basa, Tyalapia , Rohu or Katla to make this."
Step 1/ 11

200 g

sea bass fillets

1⅓ tbsp

lime juice

salt

Marinate the fish with lime juice/ vinegar and some salt for 10 mins

Step 2/ 11

Fry the fish pieces and keep aside

Step 3/ 11

In the same oil, add the 2 chopped onions and fry till golden brown. Take out half of it and keep aside

Step 4/ 11

⅔

cinnamon stick

⅔

Green Cardamom

2

cloves

3⅓

black peppercorns

Add the whole spices and fry

Step 5/ 11

Add the onion paste and fry till aromatic( Take one large onion, chop it,add a 2tsp of water and in a mixer grinder, turn it into a smooth paste)

Step 6/ 11

1⅓ tsp

ginger garlic paste

⅔ tsp

Green Chilli Paste

Add Ginger, garlic and chilly paste, and fry till the raw smell goes

Step 7/ 11

⅔ tsp

Coriander Powder

Boiling Water

Add coriander powder and salt for taste, and keep frying with splashes of hot water, to avoid burning of the spices

Step 8/ 11

Turn the flame low and add the curd. Keep mixing till oil releases. At this point add the rest of the fried onions

Step 9/ 11

1⅓ tbsp

Cashew Paste

⅔ tbsp

Raisins Paste

Add the cashew and raisin paste and fry for a minute.. (In a grinder, add 12-15 whole Cashews ,15-20 golden Raisins , 2Tbsp water and grind to turn into a smooth paste)

Step 10/ 11

Add boiling water( 2 Cups) to adjust the consistency of the gravy and add the fish pieces. Keep boiling till gravy reaches required consistency

Step 11/ 11

⅓ tsp

Garam Masala Powder

⅛ tsp

Nutmeg Powder

Add the garam masala and nutmeg powder and let it simmer for 2mins

Enjoy your meal!
More delicious ideas for you