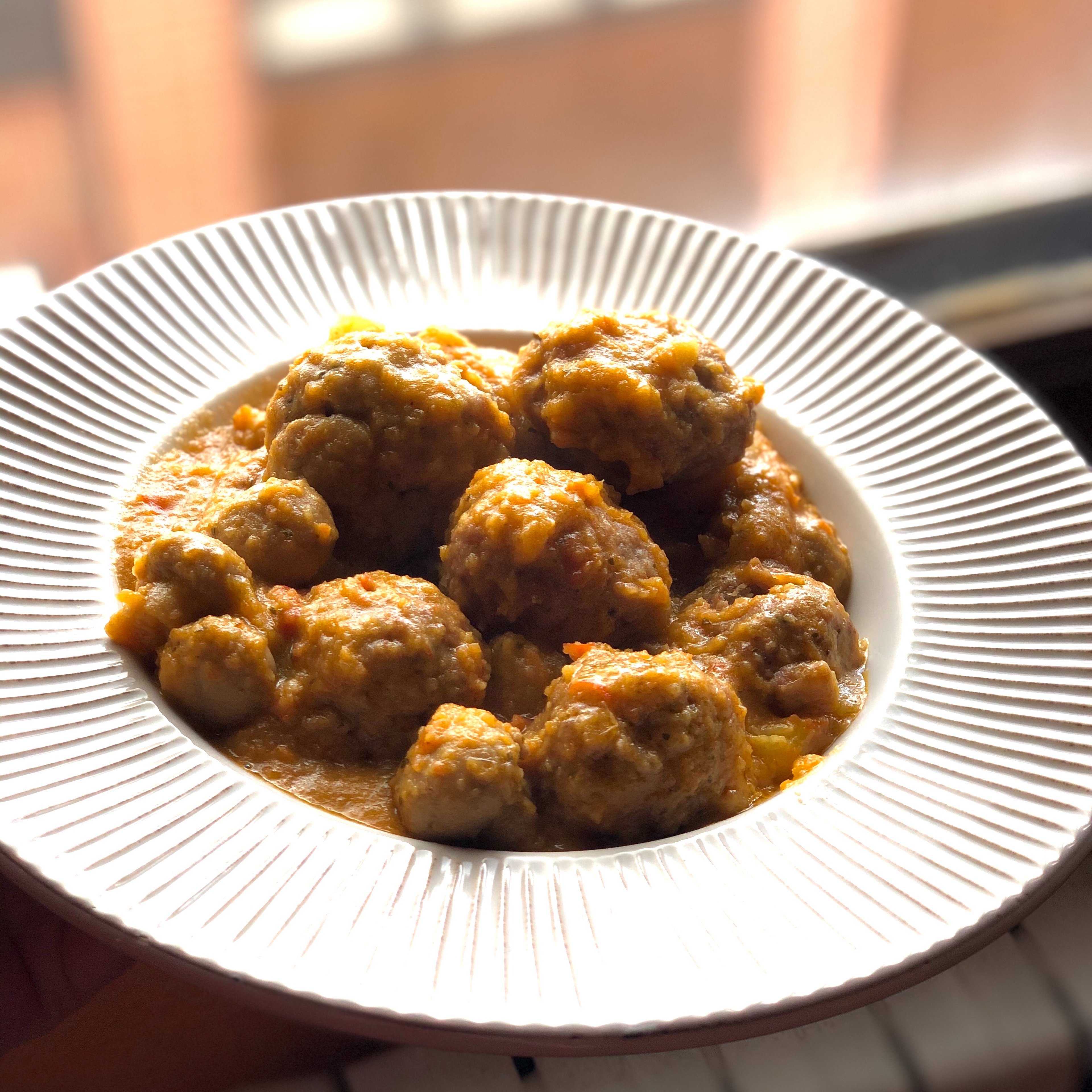 'Falsa Española sauce' Meatballs.
"Meatballs are always a good option. Now we add this delicious sauce from Spain."
Utensils
bowl, wooden spoon, knife, hand mixer with beaters, saucepan, cooking spoon
Step 1/ 4

250 g

Minced beef

⅛

onion chopped

3 tbsp

milk

2 tbsp

breadcrumbs

1 tbsp

parsley

½

egg

1½ tbsp

flour

½ tsp

salt

½ tsp

Black pepper

First of all we have to prepare the meatball pasta. Making meatballs isn't only take meat and rolling it, but you have to season it to get the maximum flavor. Put the meat in a bowl with the milk, salt, egg, onion, breadcrumbs, parsley and flour. Mix well and cover it. Let it marinate in the fridge for 5 or 6 hours.

Step 2/ 4

½ tsp

salt

1

carrots

1

onions

1 cloves

garlic

½

red bell pepper

40 ml

water

2 tbsp

heavy cream

3 tbsp

extra-virgin olive oil

½ tsp

salt

hand mixer with beaters
saucepan
cooking spoon

To make the sauce, chop the onion into large cubes, the carrot and the rest of vegetables. The size doesn't matter because then we will beat it with the mixer. Put everything in a saucepan with the extra virgin olive oil and cook it over medium-low heat for 25 min. Add the heavy cream and some water when you need it. Add a teaspoon of salt at the end of cooking. When it's well cooked, we beat it in the mixer. Reserve it for later.

Step 3/ 4

flour (for dusting)

olive oil (for frying)

To make the meatballs we simply take the amount that fits in a spoon and roll it. Pass the balls through flour to make a thin crust and fry them in a pan with very hot olive oil. They don't have to be cooked, just brown on the outside. When we have them all we put them on absorbent paper so that the release the excess oil.

Step 4/ 4

Put the sauce in a saucepan over low heat. Distribute the meatballs on top and let it cook for 1 hour or so over low heat. We add water if necessary.

Enjoy your meal!
More delicious ideas for you