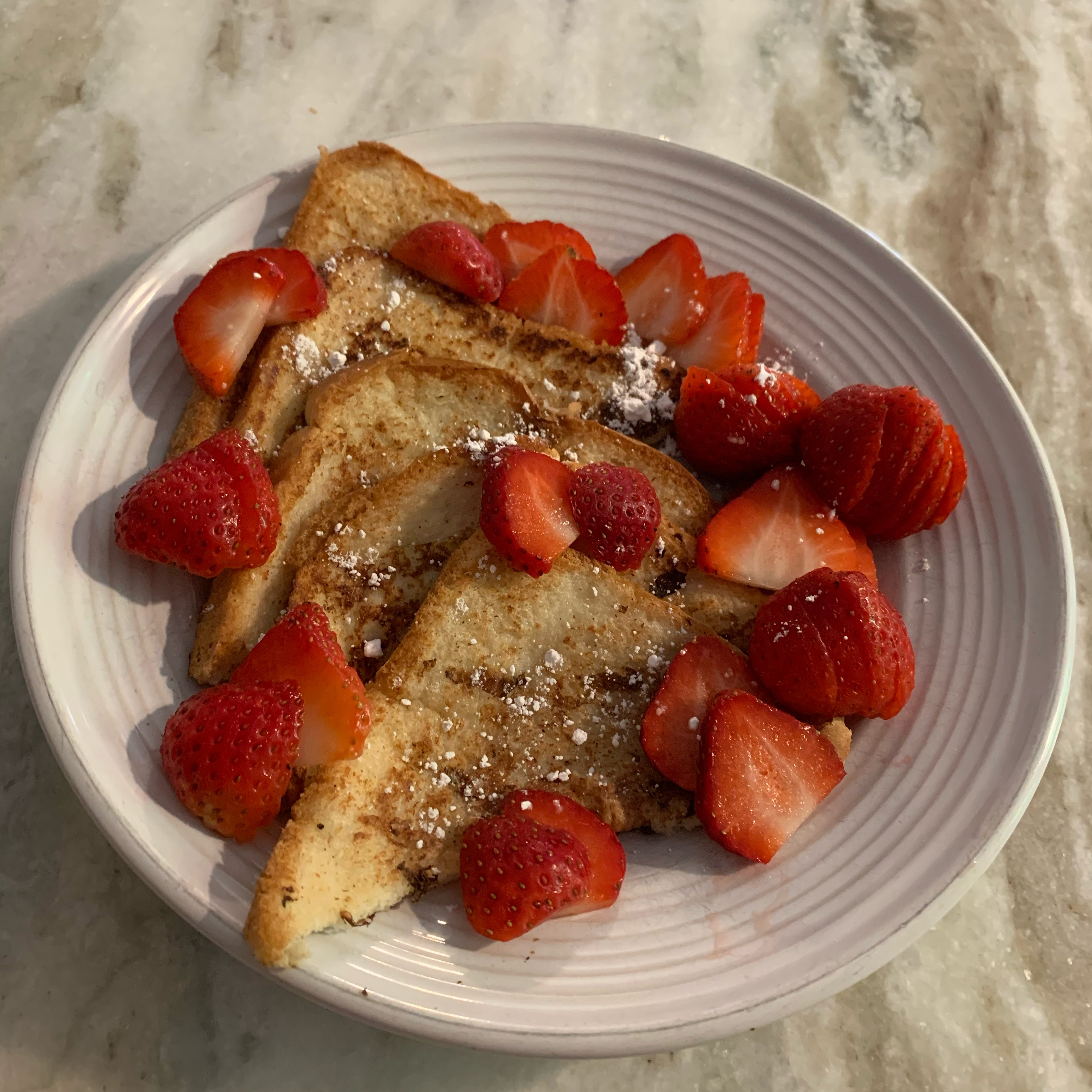 Easy and Delicious Eggless French Toast
"I was having some trouble making french toast that didn't taste eggy, so I searched the internet for a simple solution to my french toast problem. Turns out you can take out the eggs and still make delicious and comforting french toast! This is a recipe I made that is simple, easy, and turns out with a wonderful end product! I topped mine with powdered sugar, strawberries, and maple syrup, but feel free to top yours with other toppings such as nut butter, chocolate chips, and other fruits!"
Ingredients
confectioner's sugar (for garnish)
maple syrup (for serving)
nonstick cooking spray (for greasing)
Utensils
knife, bowl, whisk, 2 plates, nonstick pan, spatula, plate (for serving)
Step 1/ 3

6 slices

bread

4 tbsp

cornflour

4 tsp

ground cinnamon

2 tsp

ground nutmeg

2 pinch

salt

2 tbsp

vanilla extract

Let's start! Prepare milk mix and bread. Combine milk and cornstarch in a medium shallow bowl until cornstarch is completely dissolved. Add in vanilla, nutmeg, cinnamon, and salt and mix until well combined. Take your 3 bread slices and cut them diagonally into triangle shaped pieces (once you are finished slicing, you should have 6 triangles).

Step 2/ 3

nonstick cooking spray (for greasing)

Let's cook! Spray your pan with non-stick cooking spray and heat it to medium low. Place your bread (one triangle slice at a time) in the milk mixture and the place on the heated pan, cooking it for about 45 seconds on each side (this time could differ for everyone, so make sure you watch your toast carefully so it doesn't burn). Once all your french toast triangles are finished cooking, place them on a plate and let them cool for 1 minute.

Step 3/ 3

confectioner's sugar (for garnish)

maple syrup (for serving)

fruit (for garnish)

Let's plate and serve! Layer your french toast triangles on a plate and sprinkle them with powdered sugar (optional) and fresh fruit (optional). Drizzle with maple syrup if desired and serve with a smile!

Enjoy your meal!
More delicious ideas for you