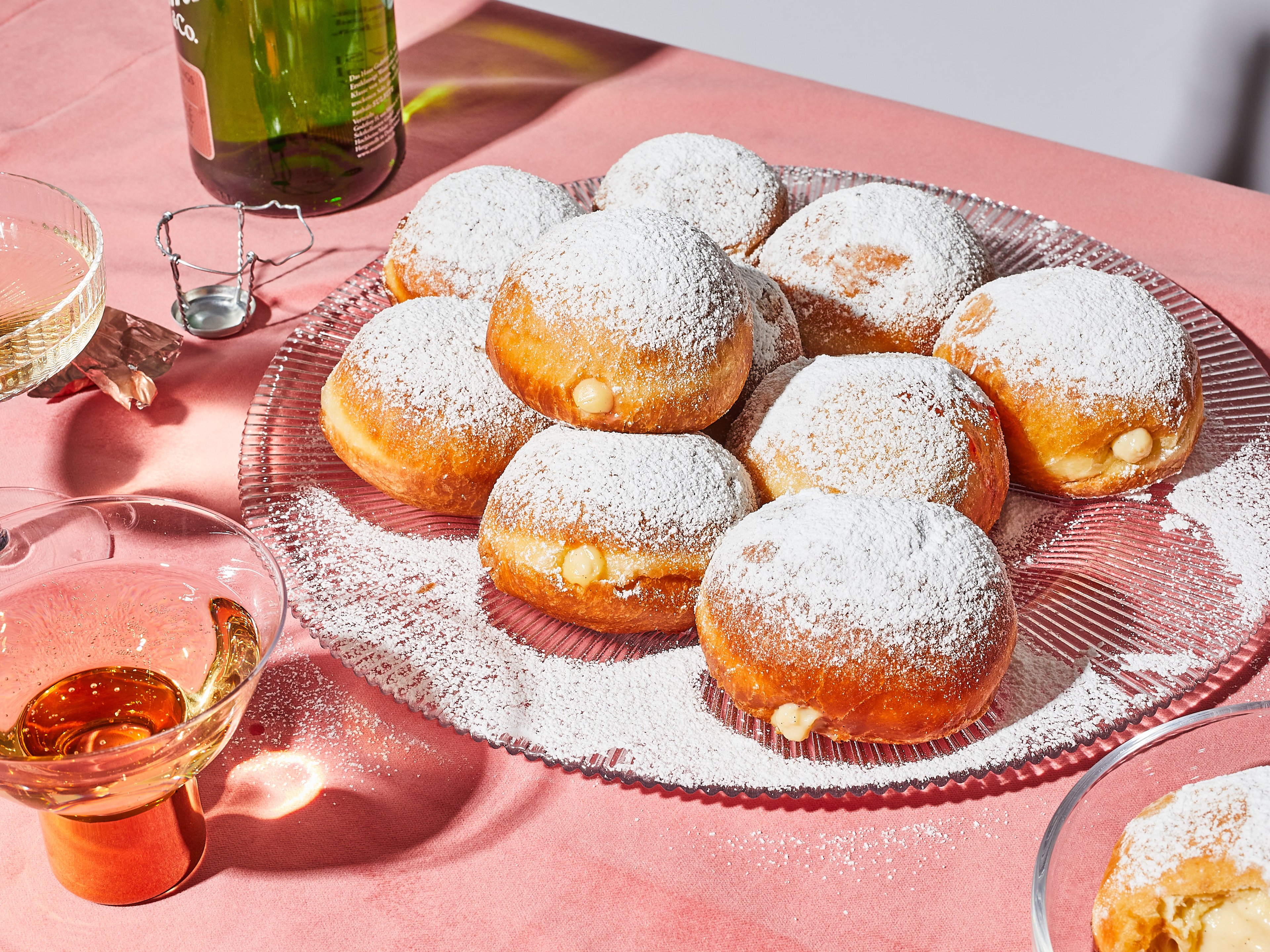 Cream-filled doughnuts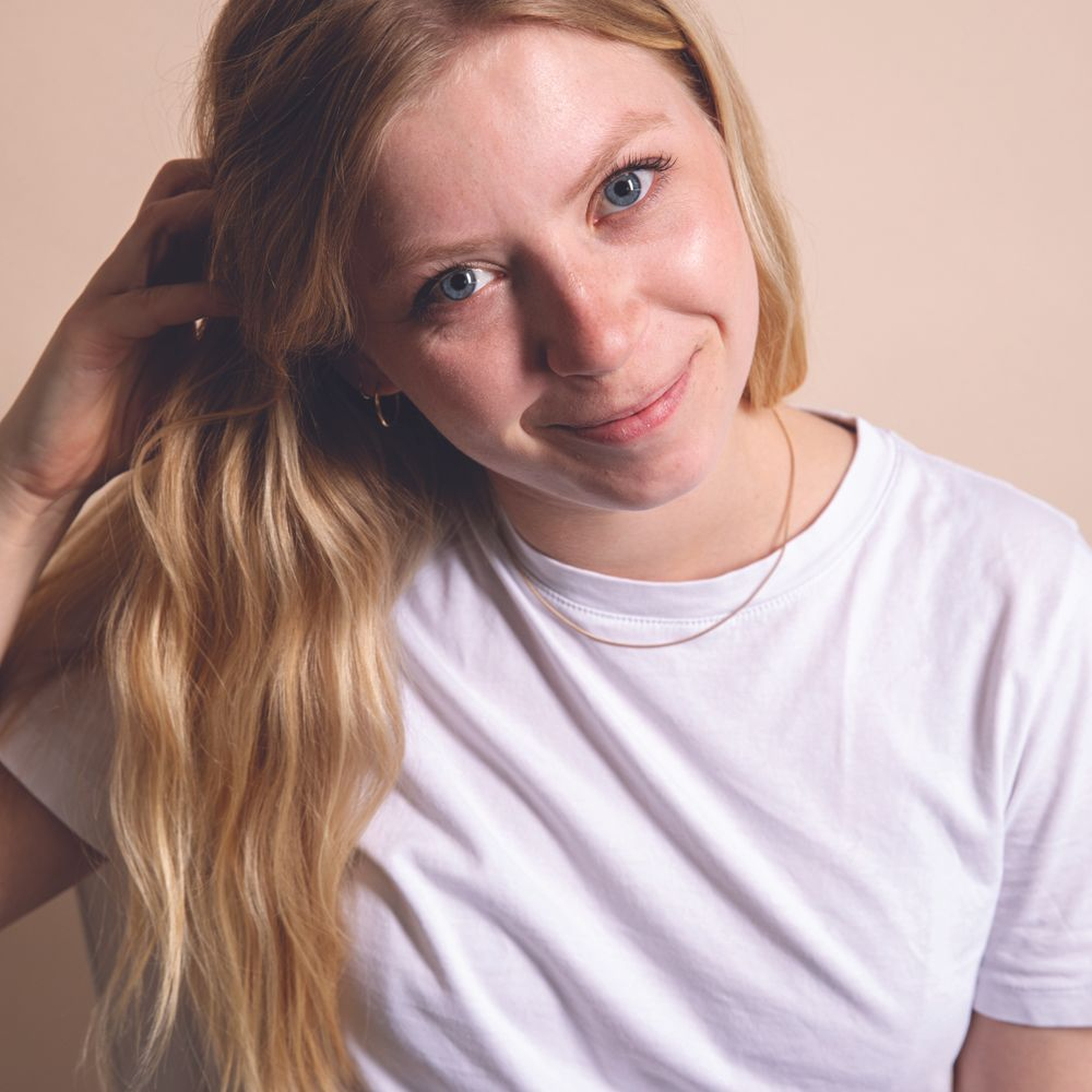 Ingredients
butter (room temperature)
vegetable oil (for deep frying)
Utensils
stand mixer with dough hook, bowl (large), bench scraper, kitchen towel, saucepan (small), whisk, cutting board, paring knife, bowl, plastic wrap, food thermometer, cooking spoon (optional), slotted spoon, tongs, baking sheet, paper towels, pot (large), 2 piping bags, 2 decorating tips
How to make yeast dough rise faster
How to reach the perfect temperature for frying
How to fill a piping bag
How to scrape a vanilla bean
Step 1/ 6

18⅝ ml

milk

4¼ g

fresh yeast

10 g

sugar

¼

eggs

¼

egg yolks

⅛ tsp

salt

71⅜ g

flour

14¼ g

butter (room temperature)

stand mixer with dough hook
bowl (large)

Add milk, fresh yeast, sugar, eggs, egg yolks, and salt to the bowl of a kitchen machine with dough hook attachment. Whisk well to break up the yeast and eggs. Add flour and butter. Mix for approx. 10 min., or until the dough comes loose from the sides of the bowl and forms a ball.

Step 2/ 6

bench scraper
kitchen towel

Transfer dough to a work surface to knead a bit longer with your hands, then form into a ball. The dough should spring back when gently pressed. Transfer back to the bowl, cover with a clean kitchen towel, and let rest for approx. 30 min.

Step 3/ 6

57⅛ ml

milk

4¼ g

sugar

⅛

vanilla bean

⅛ package

vanilla pudding powder

⅝ cl

dark rum

saucepan (small)
whisk
cutting board
paring knife
bowl
plastic wrap

In the meantime, make the cream filling. Add most of the milk to a small saucepan. Add sugar to the saucepan Split and scrape vanilla bean and add seeds and scraped pod to saucepan. Heat over medium, whisking often. Add pudding powder to remaining milk in a separate bowl and whisk to combine. Once warmed through, add the pudding mixture to the saucepan and let cook, whisking constantly, approx. 2 – 3 min., or until thickened. Turn heat off, add rum, and whisk to combine. Transfer to a bowl (or piping bag), cover with plastic wrap, and chill while you finish the doughnuts.

Step 4/ 6

Transfer rested dough to a clean work surface. Divide dough into equal pieces approx. 60 g / 2 oz. Use your hands to form each into a smooth ball. Cover and let rest for approx. 30 min.

Step 5/ 6

vegetable oil (for deep frying)

food thermometer
cooking spoon (optional)
slotted spoon
tongs
baking sheet
paper towels
pot (large)

Fill a wide pot with vegetable oil and set over medium heat. Once it reaches approx. 170°C/340°F (use a thermometer or a wooden spoon to test the oil temperature, if bubbles surround the handle of the wooden spoon right away, it's ready). Carefully add the doughnuts to the pan one by one using a slotted spoon. Fry for approx. 2 min., then use a pair of tongs to flip. Fry for approx. 2 min. more, then transfer doughnuts to a paper towel-lined baking sheet. Repeat with all doughnuts. Let doughnuts cool for at least 5 min.

Step 6/ 6

28⅝ g

strawberry jam

28⅝ g

confectioner's sugar

2 piping bags
2 decorating tips

Transfer chilled pudding to a piping bag with a long decorating tip and strawberry jam to another piping bag with a long decorating tip. Use the piping tip inserted into the side of each doughnut to fill with pudding or jam. Dust them all with confectioner's sugar, then serve and enjoy!

Enjoy your meal!
More delicious ideas for you