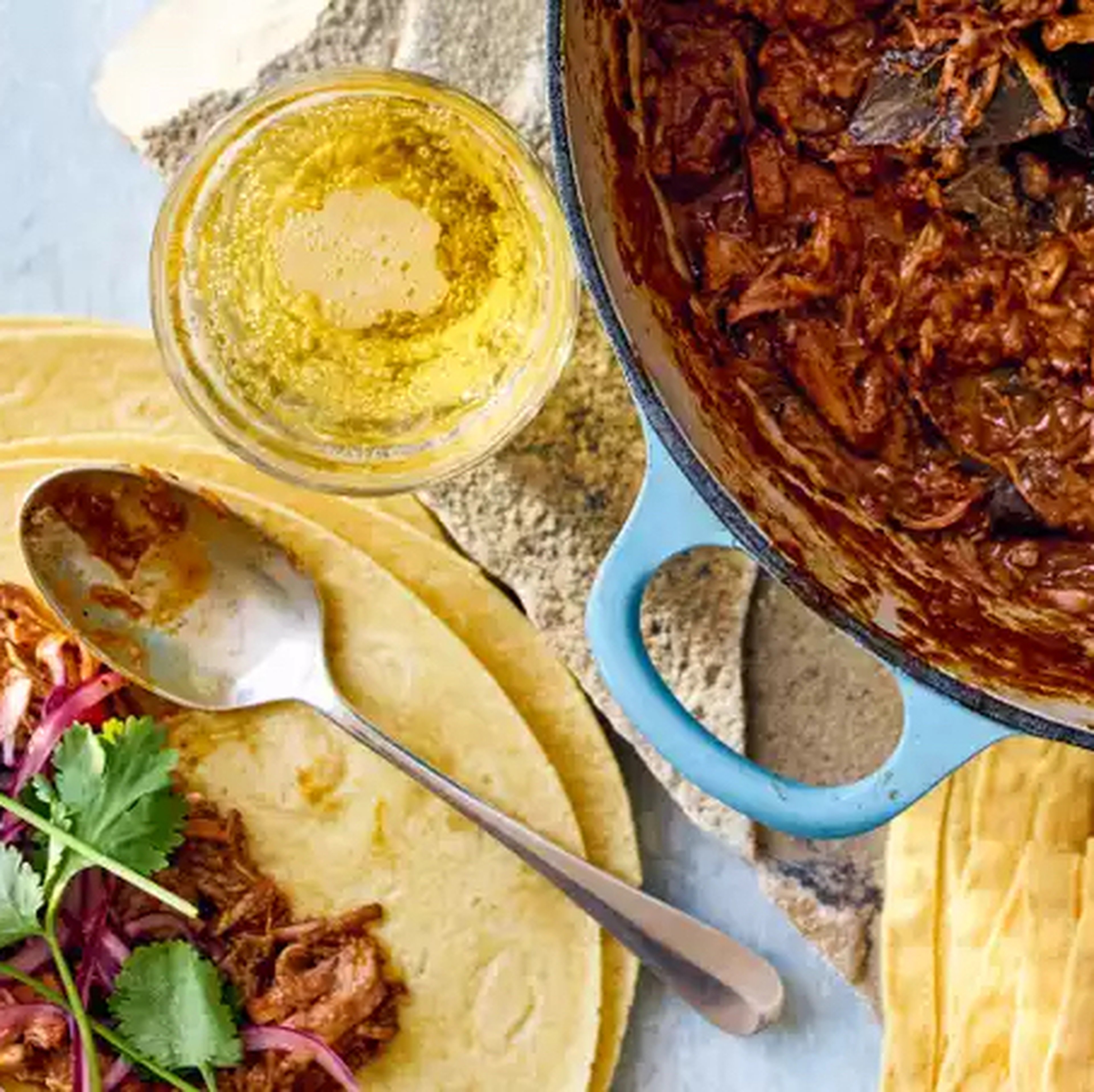 Cochinita pibil with pork
Utensils
frying pan, mortar and pestle, food processor, 2 bowls, ovenproof pot, aluminum foil
Step 1/ 8

¼ tbsp

cumin seed

¼ tbsp

allspice berry

¼ tsp

black peppercorn

Heat a frying pan over a medium heat and add the cumin seeds, allspice and peppercorns

Step 2/ 8

Toast for 2-3 minutes until fragrant. Tip into a mortar and grind to a powder with a pestle.

Step 3/ 8

¼

onion

2½ cloves

garlic

½ tbsp

Achiote paste

½

Scotch bonnet peppers

1

allspice berries

¾

limes

Put the onion, garlic, achiote paste, scotch bonnet and 1 tsp sea salt into a food processor, along with the toasted spices, and whizz to a paste. Add the orange and lime juice and whizz again.

Step 4/ 8

1

bay leaves

400 g

pork shoulder

Cut the pork into 3-inch cubes and put into a bowl, pour over the marinade, tear in the bay leaves, mix well and chill for at least 4 hours, but preferably overnight.

Step 5/ 8

¼

Red chili

¼

red onion

½ tbsp

red wine vinegar

Toss the chilli, sliced red onion and red wine vinegar with a little salt and leave for 1 hour, tossing every now and again.

Step 6/ 8

ovenproof pot
aluminum foil

Heat the oven to 170C/fan 150C/gas 3. Tip the pork and marinade into a large ovenproof pot, cover with a double layer of foil and a lid, and cook for 2 hours.

Step 7/ 8

Remove the lid and foil and cook for a further hour or until the meat is falling apart and the sauce has thickened.

Step 8/ 8

tortilla (for serving)

cilantro (for serving)

Shred the pork into its sauce, and serve with tortillas, pink onions and sprigs of coriander.

Enjoy your meal!
More delicious ideas for you