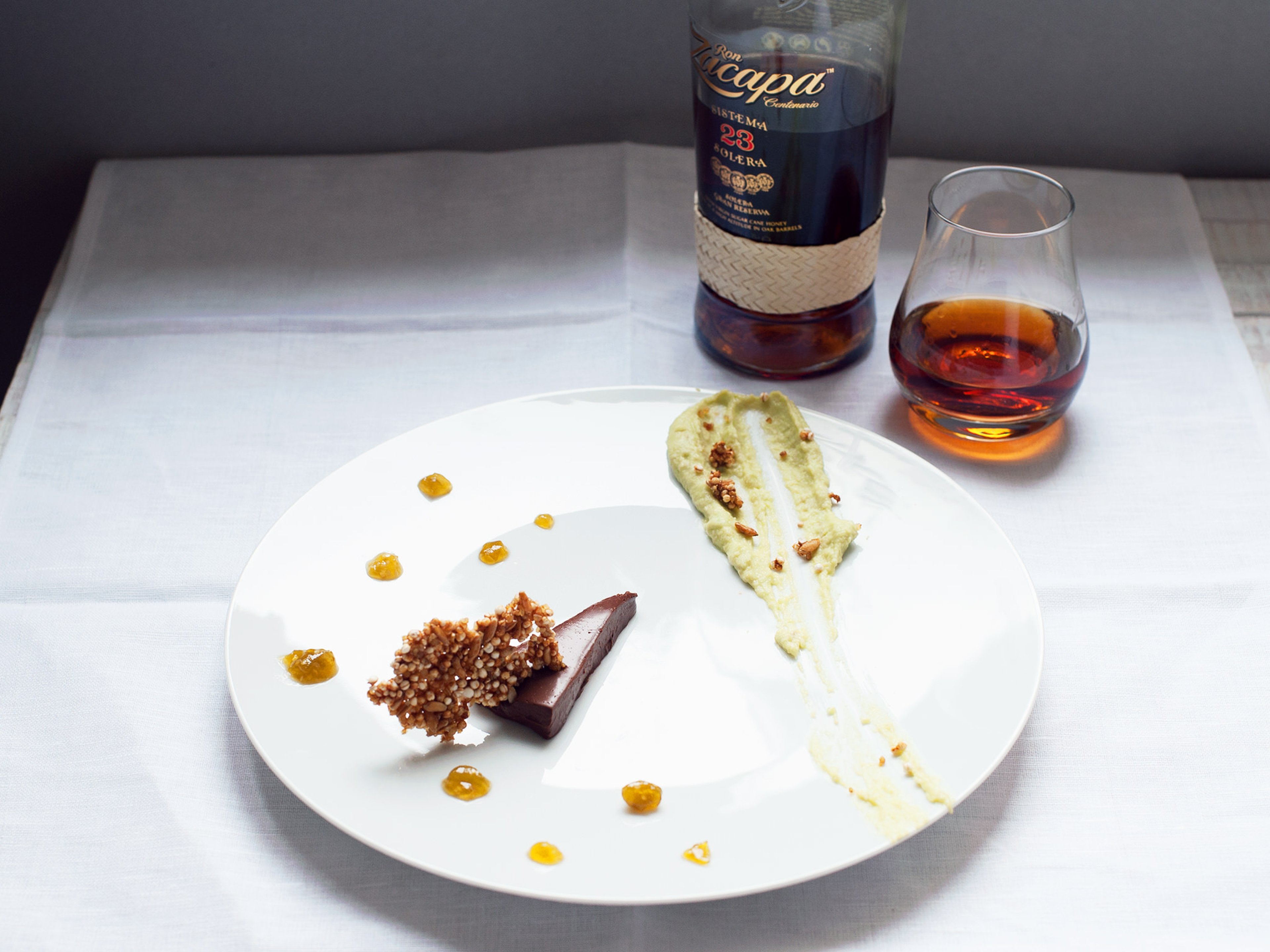 Utensils
food thermometer, oven, large bowl, whisk, small saucepan, round baking form, parchment paper, baking sheet, piping bag, cutting board, knife, measuring cup, hand blender, plate for serving
Step 1/ 7

75 g

cream

45 g

chocolate

12½ g

butter

15 g

rum

food thermometer
oven
large bowl
whisk
small saucepan

Preheat oven to 150°C/300°F. In a small saucepan, bring cream to a boil over medium-low heat. Then, add chocolate to a large bowl and pour cream on top. Whisk until chocolate is melted and well incorporated. Using a food thermometer make sure chocolate has cooled down to 35°C/70°F before continuing. Add butter and rum and continue to whisk until ganache is smooth and even.

Step 2/ 7

round baking form
parchment paper

Pour ganache into a parchment paper lined baking form. Transfer to fridge for approx. 1 – 2 hrs. until ganache is chilled and set.

Step 3/ 7

25 g

einkorn wheat berries

30 g

sugar

15 g

quinoa

¼ tsp

taco seasoning

baking sheet
oven
parchment paper

Place einkorn wheat berries on a parchment paper lined baking sheet and bake in preheated oven at 150°C/300°F for approx. 8 – 10 min. Remove from oven and set aside. Caramelize part of the sugar in a small saucepan over medium heat. Add einkorn, quinoa, and taco seasoning to caramelized sugar and stir thoroughly until well mixed.

Step 4/ 7

Evenly spread the einkorn and quinoa confection mixture over a parchment paper-lined baking sheet.

Step 5/ 7

100 g

tomatillos

25 g

sugar

small saucepan
piping bag
cutting board
knife

Peel tomatillos and cut into small to medium sized pieces. In a small saucepan, caramelize remainder of sugar over medium heat, add tomatillos, and mix thoroughly. Reduce heat to low and cook for approx. 10 – 15 min. until compote has thickened. Leave to cool, then transfer to piping bag.

Step 6/ 7

1

avocados

¼

lemon (juice)

½ tsp

yogurt

2½ g

confectioner's sugar

⅛ tsp

salt

measuring cup
hand blender

In a large measuring cup, blend together avocado, lemon juice, yogurt, powdered sugar, and salt using a hand blender. Transfer to piping bag.

Step 7/ 7

Remove ganache from fridge. Cut into serving pieces. Decorate plate with tomatillo compote, avocado crème, and einkorn and quinoa confection. Enjoy!

Enjoy your meal!
More delicious ideas for you