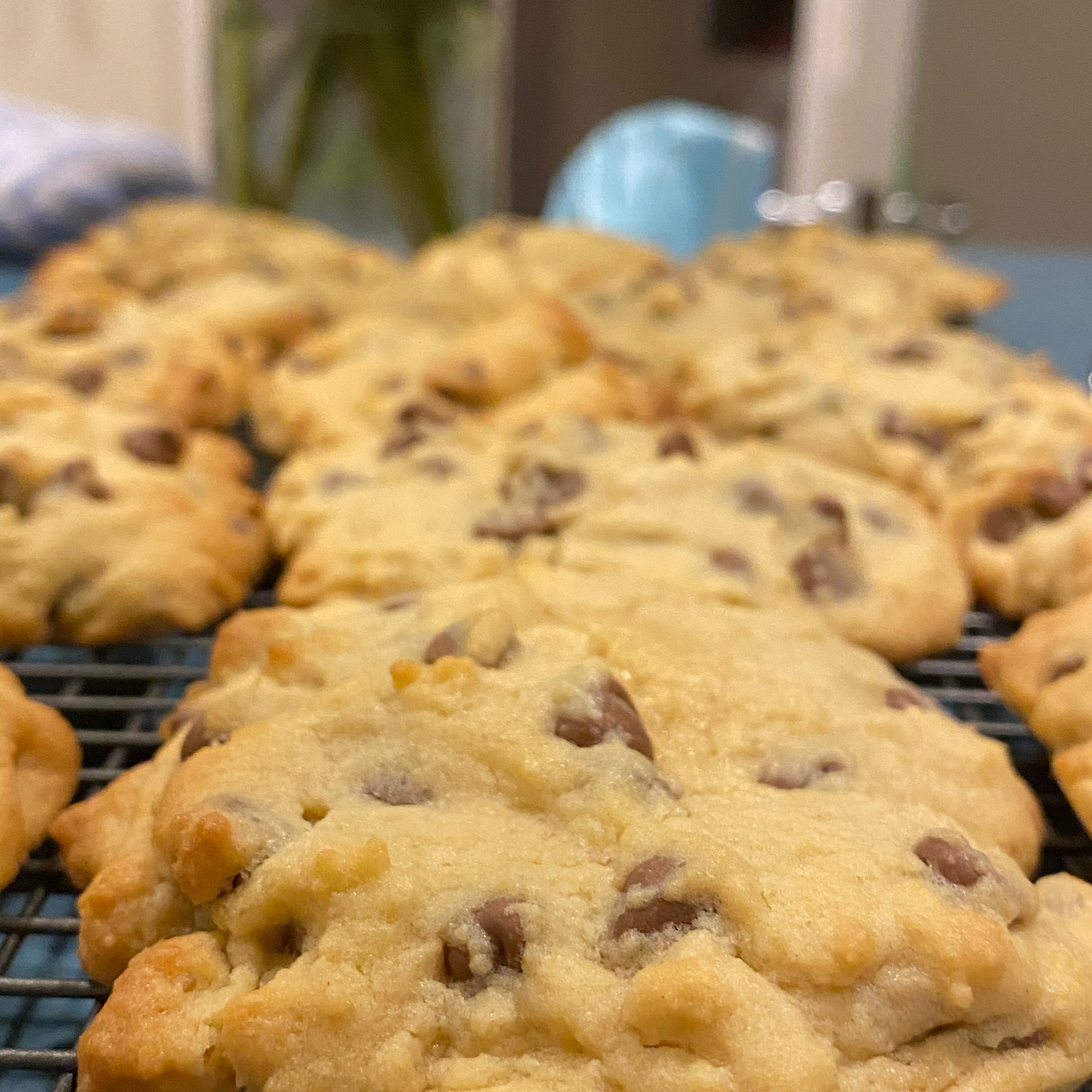 Ingredients
unsalted butter (room temperature)
Utensils
2 hand mixers with beaters, wooden spoon, ice cream scoop
Step 1/ 5

25 g

unsalted butter (room temperature)

15⅝ g

light brown sugar

18¾ g

caster sugar

Preheat oven to 180°. In a steel bowl mix together unsalted butter with sugars. Mix with an electric mixer until it becomes fluffy and throughly combined with no clumps.

Step 2/ 5

⅛ tsp

vanilla extract

¼

eggs

In the same bowl add 2 medium sized eggs and vanilla extract. Mix with electric beaters but be careful not to over-mix (if it becomes light and fluffy it had been over mixed) soft peaks that last 1 second is perfect.

Step 3/ 5

48⅛ g

flour

⅛ tsp

baking soda

¼ tsp

salt

With either an electric mixer or with a wooden spoon, mix dry ingredients into the same steel bowl. Sift the flour, baking soda and salt to guarantee no lumps. Mix until throughly combined. *Slowly add flour

Step 4/ 5

Add in chocolate chips. Half dark and half milk is the best recommendation for flavour. Add as many for preference. Mix in using a wooden spoon.

Step 5/ 5

On non stick baking paper, using an ice cream scooper create 16 separate cookies for medium sized cookies. Bake the cookies for 13 minutes. Or until the corners of the cookies are golden. Check if fully cooked by in the middle of cookies placing a sharp knife and if it comes off clean it means it's ready to be eaten. Let the cookies cool for ten minutes to avoid burning yourself.

Enjoy your meal!
More delicious ideas for you