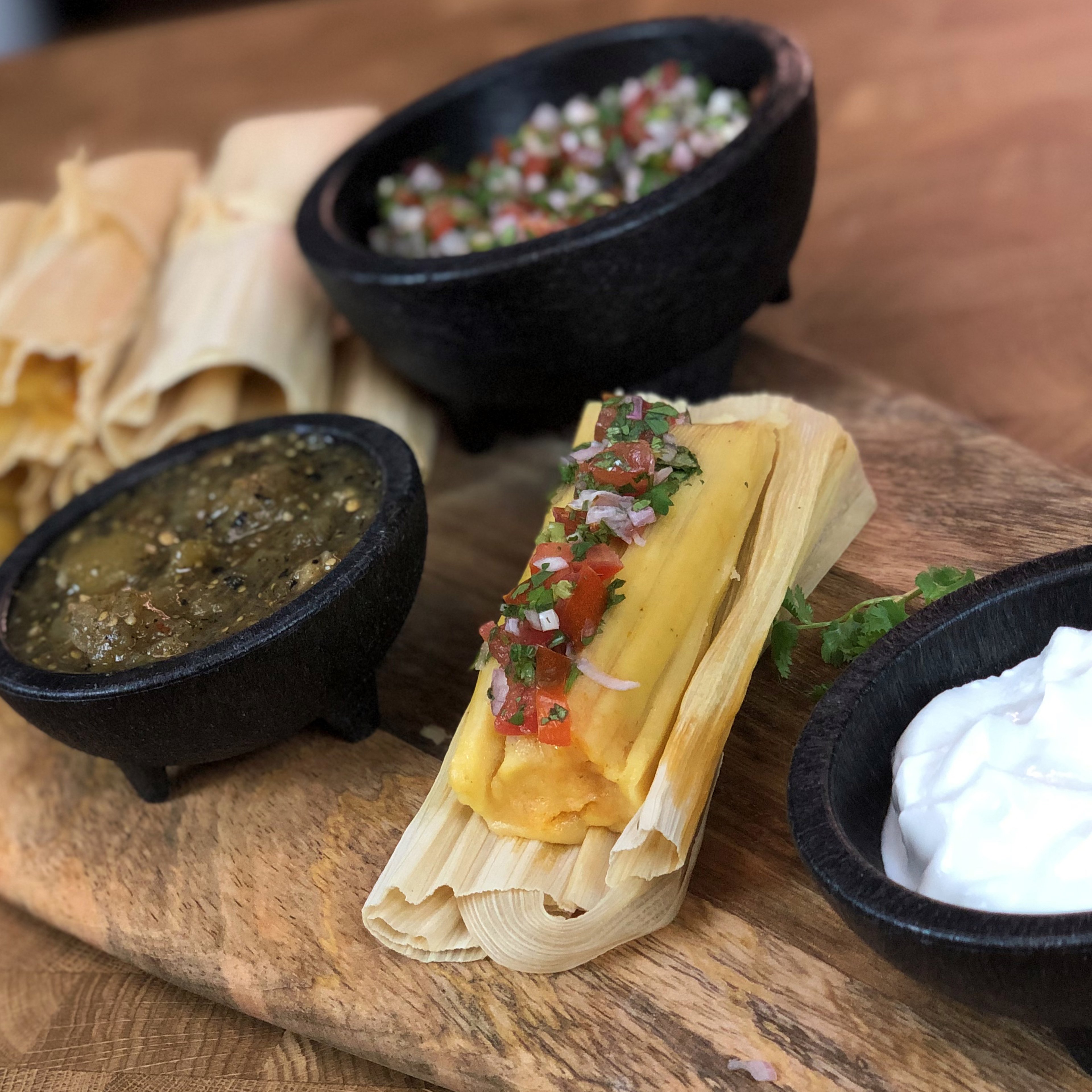 Chicken Tamales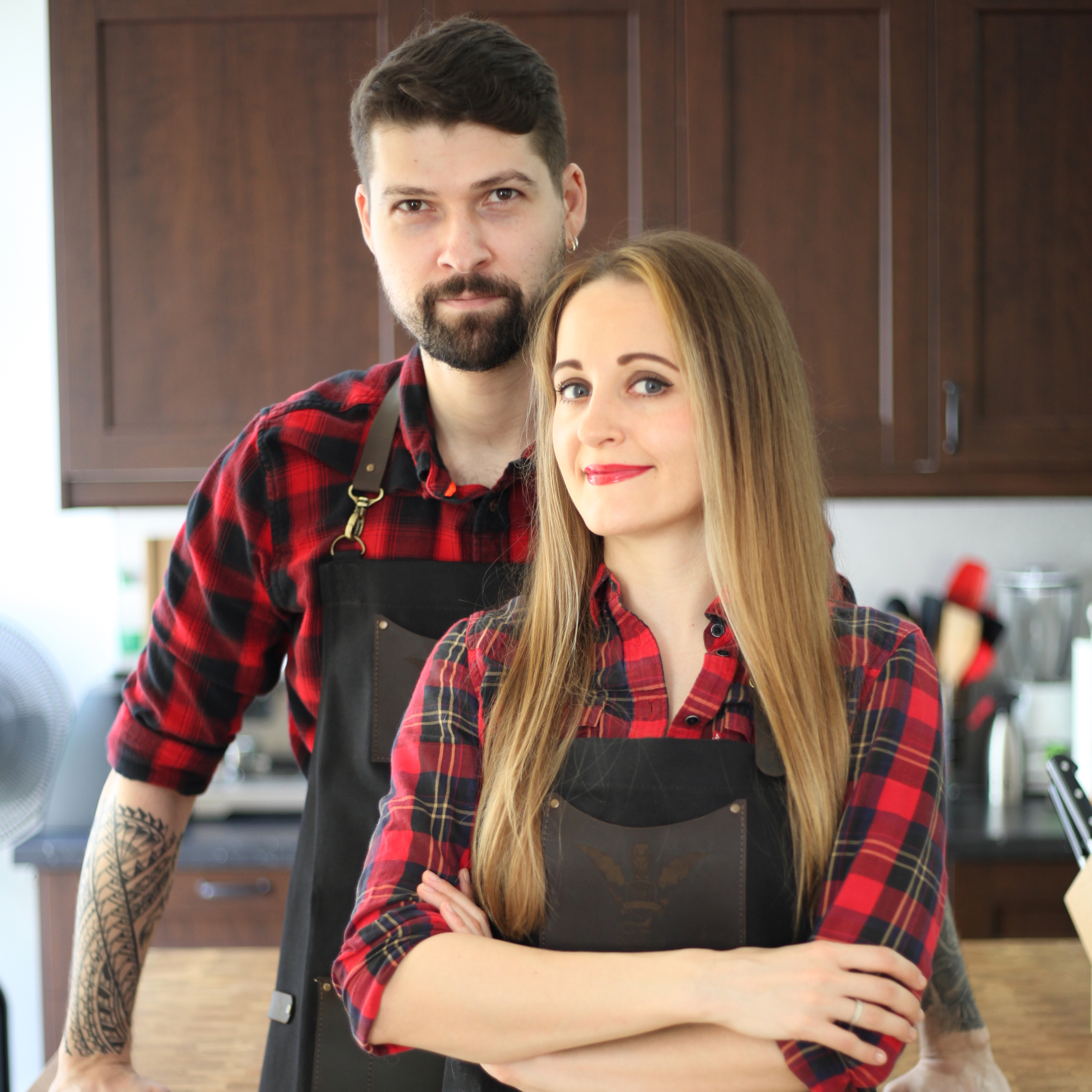 "According to the legend this was the first dish served by Maya and Aztec civilizations to conquistadors. Tamale is corn flour dough with a delicious filling inside, which is steamed in corn husk. We personally like it with chicken, but it can also be with other meats, cheeses, fruits, vegetables and even chilies. The Aztec and Maya civilizations used tamales as easily portable food, for hunting trips, and for traveling large distances, as well as supporting their armies."
Utensils
stand mixer with paddle, frying pan, 3 knives, cooking spoon, steamer basket, steamer
Step 1/ 22

Prepare all the ingredients

Step 2/ 22

Place corn husks in a large bowl. Soak in hot water for 30-40 minutes covered with a plate.

Step 3/ 22

50 g

masa harina

⅛ tsp

baking powder

⅛ pinch

ground cumin

⅛ pinch

sea salt

Prepare dough ingredients. Mix masa harina, sea salt, cumin and baking powder in a bowl

Step 4/ 22

67⅞ ml

Vegetable stock

11⅜ ml

grapeseed oil

Mix oil and stock. Start stand mixer on medium speed, gradually add 350 ml of stock. Consistency should be like soft paste. If not, gradually add up to 125 ml of extra stock

Step 5/ 22

Cover with a wet/damp towel to prevent the dough from drying out

Step 6/ 22

57⅛ g

chicken thighs

4¼ g

Taco spices

Sprinkle taco spices on a plate. Coat chicken thighs in taco spices

Step 7/ 22

Preheat a grill or frying pan (medium-high heat). Cook chicken thighs 2.5 minutes per side or until fully cooked

Step 8/ 22

Set chicken thighs aside to cool down

Step 9/ 22

De-seed and dice the tomato. Dice the shallots. Finely chop cilantro. Squeeze juice of 1 lime in the bowl

Step 10/ 22

Mix with a spoon, set aside

Step 11/ 22

Chop the chicken thighs into small dice pieces

Step 12/ 22

Slice 1-2 corn husks into 0.5-1cm wide strips

Step 13/ 22

Start assembling the tamales. Lay corn a soaked corn husk glossy side up. Add 2 tbsp of masa dough in the wider half of the corn husk. Spread it evenly in the wider half, leave 1-2 cm gap from top and sides. Tip: dip your fingers in a bowl with clean water, it will prevent dough from sticking

Step 14/ 22

Add the filling (chicken) Tip: you can replace chicken and make them vegan

Step 15/ 22

Tightly close the corn husk from sides, connecting edges of both sides together (sides, top and bottom). Do not press too hard, just gently seal the dough

Step 16/ 22

Wrap one side of the corn husk over the other. Then fold the empty bottom part up towards the edge of the wide (open) part

Step 17/ 22

Tie the tamale around with the corn husk strips we cut earlier

Step 18/ 22

Place all tamales in the steamer tray/bowl. If they are too long, place an empty heat proof bowl in the middle and lean tamales on it

Step 19/ 22

Steam tamales for 35 minutes on medium heat. Do not heat them for too long or on very high heat, otherwise they will be too wet and soggy

Step 20/ 22

Take them out, stack on top of each other and let them cool down a minute or 2 before serving

Step 21/ 22

Serve with a salsa of your choice and sour cream. Experiment with different fillings and salsas

Step 22/ 22

Enjoy!

Enjoy your meal!
More delicious ideas for you