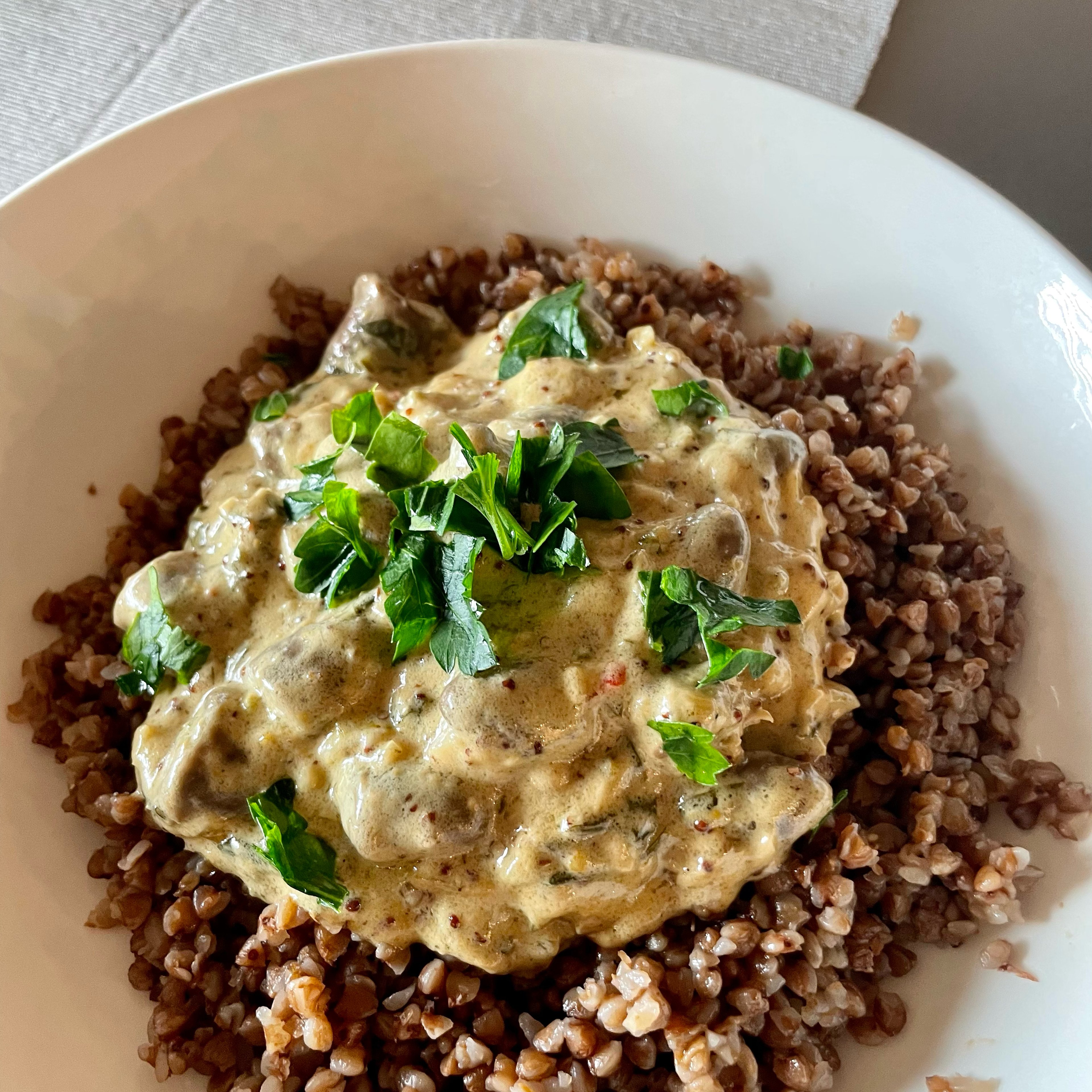 Chicken hearts with buckwheat
"Eastern European comfort food. A great dish for a cold winter evening. Allow yourself to discover buckwheat and it will become a staple in your home."
Utensils
knife, cutting board, frying pan, spatula, pot, rice cooker (optional)
Step 1/ 9

Chop up onions, scallions, garlic, chili pepper, parsley

Step 2/ 9

Prep chicken hearts: Wash them and trim off all the fat. Dry them up. Add 1 tbsp of oil and sprinkle everything with salt and pepper

Step 3/ 9

20 g

butter

1

onion

2 cloves

garlic

1

dried chili (optional)

1 sprig

scallion

3 tbsp

vegetable oil

Heat up a pan. Add 1 tbsp of oil and butter allow butter to melt - but no bubbling. Add onion, garlic, scallion, chili pepper (this one is optional for more heat). Steer everything add a little salt and pepper. Don't add too much, as you can always correct at the end. Keep on medium heat until onions are translucent. ca 8 min on medium heat. Don't let them brown.

Step 4/ 9

Add chicken hearts to the pan. Steer and brown them from all sides ca. 5 min

Step 5/ 9

Reduce heat to medium-low, pour in heavy cream to cover the hearts. Pop the lid on and let everything slowly simmer for 30 min. Steer from time to time ensuring there is enough liquid. If the sauce starts being too think - add a splash of water.

Step 6/ 9

While the hearts are cooking, prepare the buckwheat. Rinse your buckwheat to remove any debris.

Step 7/ 9

20 g

butter (for buckwheat)

160 g

buckwheat

320 ml

water

pot
rice cooker (optional)

Add your buckwheat to a pot. Add water (2 parts of water for 1 part of buckwheat), a tbsp of oil, ca. 1/2 tsp of salt and 1/2 tsp of pepper. On high heat reach a boiling point. Pop the lid on, reduce to medium-low heat and cook for 15-20 min, until there is visually no liquid left. When ready, add butter and steer everything well. If you have a rice cooker - brown or regular rice setting will do the trick.

Step 8/ 9

60 g

sour cream

1 tbsp

Dijon mustard (optional)

½ bundle

parsley

salt

pepper

The hearts should be 30 min in by now. Add sour cream, mustard and parsley (save some parsley for garnishing). Steer every thing up and let the sour cream melt in. Be careful, the original sauce should not be boiling - otherwise the sour cream will start separating. When sour cream and parsley are well incorporated. Try the whole thing and correct salt and pepper to your liking. If too salty - add more cream. Keep on low heat for 10 more minutes

Step 9/ 9

For serving make a well of buckwheat on the plate and add chicken hearts in there. Garnish with some chopped up parsley (optional). Enjoy

Enjoy your meal!
More delicious ideas for you