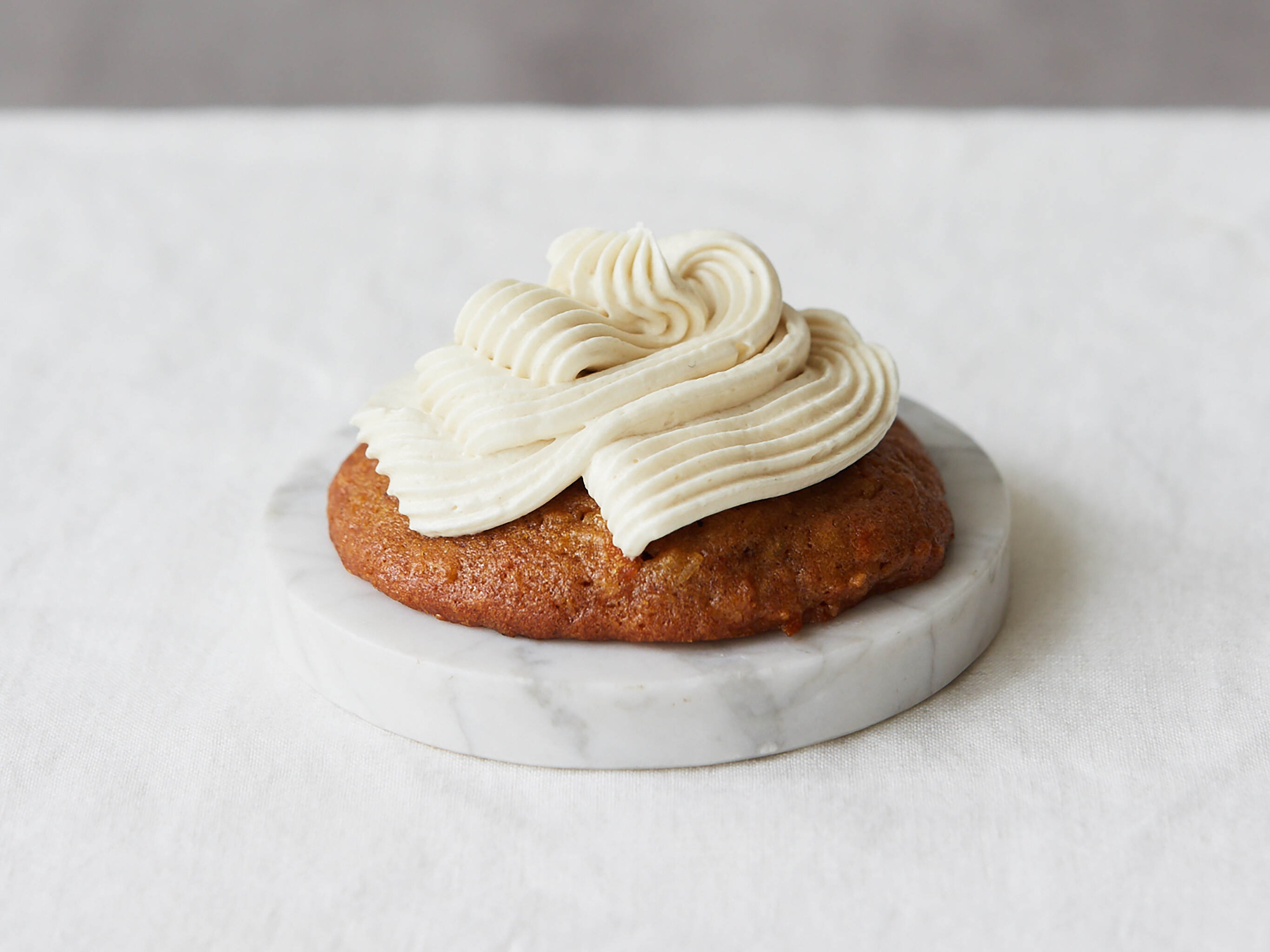 Carrot Cake-ies with ermine frosting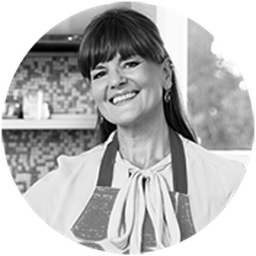 "I first had carrot cake in Greenwich Village when I was a teenager and on 'leave' from boarding school with my best friend. This was the 80s and our decadence knew no bounds. Foot-loose and fancy-free, we rode horses in Central park, drank Kahlua and milk, partied at Max's Kansas City, and ate carrot cake for breakfast. Max's is closed now, no more horseback riding in the Park, and I can't imagine enjoying a milk-based cocktail, but a vegan carrot cake is nothing short of inspired! This frosting is a fabulous, velvety frosting that you can use as a frosting for cake-ies and snacking cakes or as a filling for tiered cakes. Additions (frosting): You could add several tablespoons of plant-based Miso Caramel with Sea Salt (see page 203), your favourite jam (jelly), or a drop or two of gel food colouring. For a chocolate version, heat 100g (3 1/2 oz) chopped vegan plain (semi-sweet) chocolate with the plant-based milk until it melts. Whisk in 3 tbsp sifted unsweetened cocoa powder and proceed with step 2. For a mocha version, whisk instant espresso into the hot milk. The batter can be kept in the fridge in an airtight container for up to 5 days. You could also simply freeze mounds of batter on a plate. Once frozen, wrap airtight and freeze for up to 6 months. Bake from frozen: Preheat the oven as above and bake the batter on a lined baking sheet for about 18–20 minutes, or until golden. Frosting: Refrigerate the frosting in an airtight container for up to 10 days. To use, gently warm it to room temperature over a water bath or in the microwave and beat until fluffy. You could also store in the freezer for up to 1 year. To defrost, let thaw in the fridge overnight or on your kitchen counter. When thawed, whip up again to a spreading consistency."
Ingredients
unsweetened shredded coconut
unsweetened plant-based milk
Utensils
bowl (large), 2 whisks, 3 bowls, rubber spatula, airtight container, saucepan, fine sieve (optional), plastic wrap, hand mixer with beaters, oven, baking sheet, parchment paper, ice cream scoop, wire rack
Recipes made to your taste
Get your personalized recipe picks in 10 seconds.
How-To Videos
How to zest citrus fruits
How to test a cake for doneness
Step 1/ 13

22⅞ g

flour

16⅔ g

caster sugar

⅛ tsp

baking soda

⅛ tsp

baking powder

⅛ tsp

ground cinnamon

⅛ tsp

salt

Whisk together the flour, sugar, bicarbonate of soda (baking soda), baking powder, cinnamon and salt. Set aside.

Step 2/ 13

8⅓ g

chopped walnuts

6¼ g

unsweetened shredded coconut

6¼ g

raisins

16⅔ g

carrots

In another bowl, combine the walnuts with the coconut, raisins and (coarsely) grated carrots.

Step 3/ 13

14⅝ g

applesauce

14⅝ ml

vegetable oil

10⅜ ml

pineapple juice

In another bowl or jug (cup), whisk together the apple sauce and vegetable oil. Beat in the pineapple juice.

Step 4/ 13

Using a rubber spatula, add the wet ingredients to the flour mixture and stir to barely combine. Fold in the carrot mixture.

Step 5/ 13

Transfer the batter to an airtight container and refrigerate for at least 1 hour.

Step 6/ 13

12½ g

caster sugar

⅛ pinch

salt

⅛ tsp

vanilla extract

20⅞ ml

unsweetened plant-based milk

In the meantime, prepare the ermine frosting. Put the sugar, salt, vanilla extract and plant-based milk in a small pan and, stirring constantly, heat slowly until the sugar has dissolved.

Step 7/ 13

Whisk the (sifted) cornflour (cornstarch) into the hot milk mixture over medium heat. Continue to stir while the mixture thickens; this will take a few minutes.

Step 8/ 13

bowl
fine sieve (optional)

As soon as the mixture is thick like a pudding, remove from heat and transfer to a bowl to cool. If the mixture seems lumpy, first put through a fine sieve (strainer) before transferring it to a bowl.

Step 9/ 13

Place cling film (plastic wrap) directly onto the surface to prevent a skin from forming. Let cool for about 20 minutes before placing in the fridge to chill.

Step 10/ 13

20⅞ g

margarine

⅛

lemon zest

Using a stand mixer or hand-held electric whisk, beat the margarine until creamy. Gradually add the cooled 'pudding' and continue whipping vigorously until the frosting is light and airy. Beat the lemon zest (of 1 lemon) into the ermine frosting. Put the frosting in the fridge until ready to use.

Step 11/ 13

oven
baking sheet
parchment paper
ice cream scoop

When ready to bake, preheat the oven to 175°C fan (350°F/Gas 4) and line a baking sheet with parchment. Using an ice cream scoop or a tablespoon, place mounds of the batter 5cm (2in) apart on the lined baking sheet.

Step 12/ 13

Bake in the preheated oven for 17–19 minutes, or until golden. Do not overbake. Transfer to a wire rack to cool.

Step 13/ 13

Use the ermine frosting to decorate the cake-ies.

Enjoy your meal!
More delicious ideas for you