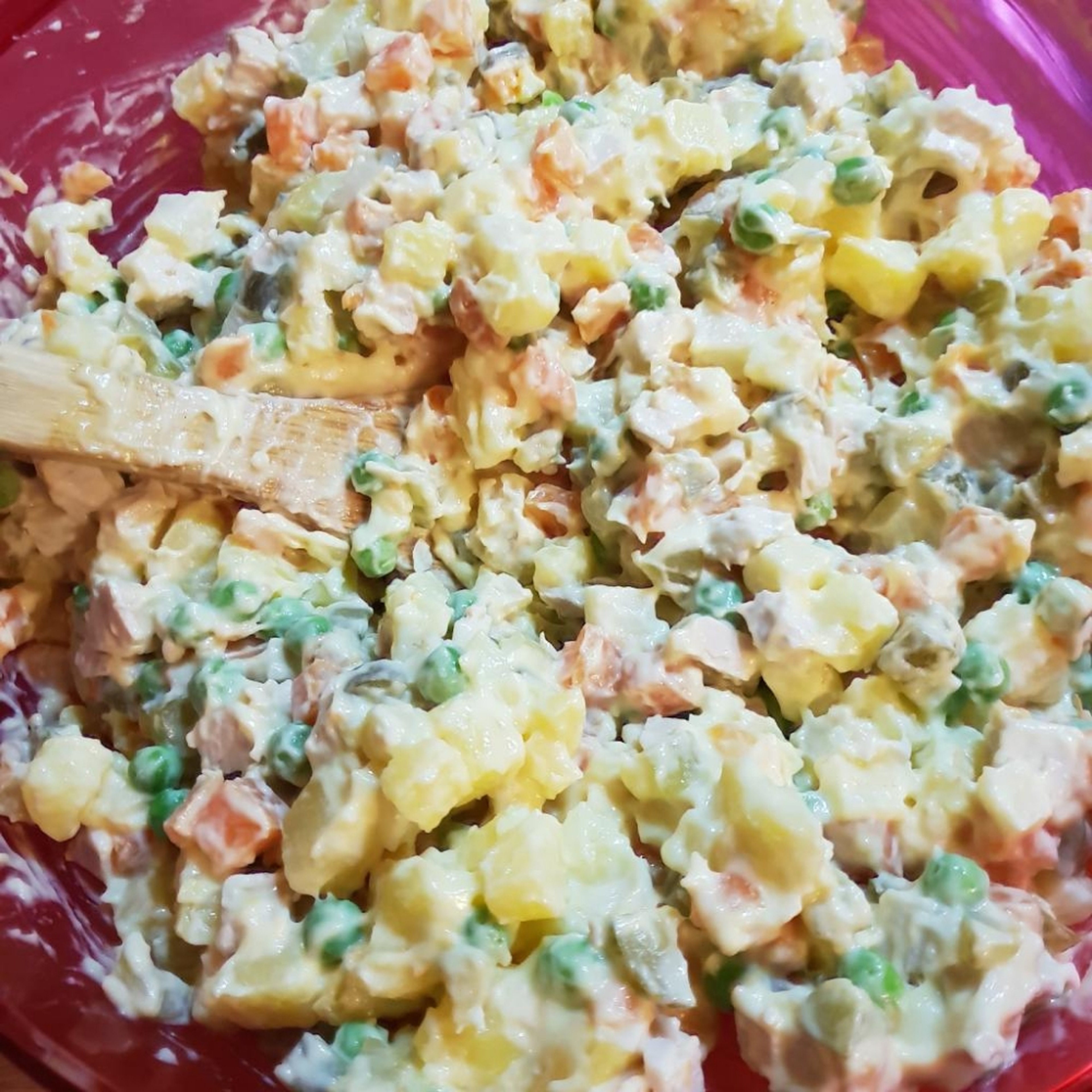 Beef salad
"A dish which cannot be missing from any New year's eve table in Romania and probably across Eastern Europe. Each family has an own variation to this recipe, here is mine!"
Utensils
2 pots (with lid), kettle, colander, 2 bowls, cutting board, knife, wooden spoon
Step 1/ 6

1

potatoes

1⅔

carrots

⅛

celery

⅓

parsnip

Put all the vegetables in a pot. I like to keep the potatoes and carrots unpeeled but feel free to also peel them if you like. Add just enough water to cover the vegetables, some salt, and boil until all are soft.

Step 2/ 6

Since the official name of this dish is "boeuf salad", the chosen meat should usually be the beef, but I have mostly until now used chicken or turkey breast for it. Regardless of your choice, put the meat in a pot, cover with water, add some salt, boil until cooked through.

Step 3/ 6

Boil some water in a kettle and pour it over the frozen peas to defrost them. Drain in a colander.

Step 4/ 6

After all the ingredients were cooked and have cooled down it's time for some knife work. Cut the cooked vegetables, the pickles and the meat into small cubes, preferably equal sized. Mix in a bigger bowl. Also add the peas to the mix. For best results the pickles should be only in salt water, no vinegar. At this point I like to keep the resulting broth from the meat and vegetables for later usage, like making a clear soup.

Step 5/ 6

1

egg yolks

⅓ tbsp

Dijon mustard

lemon juice

100 ml

vegetable oil

For the home made mayo, separate 3 egg yolks and let them get to room temperature. Add the mustard and start mixing with a wooden spoon until homogeneous. Start adding very small amounts of oil and keep mixing steadily and always in the same direction. As the mayo starts to form you can start adding more oil at a time. Keep mixing and adding oil until you reach the desired amount. In the end season the mayo with salt and plenty of freshly squeezed lemon juice. Taste it and adjust the amounts.

Step 6/ 6

Mix everything together and the salad is now ready. It can be kept a few days in the fridge, preferably in a well closed container as it easily picks up smells.

Enjoy your meal!
More delicious ideas for you