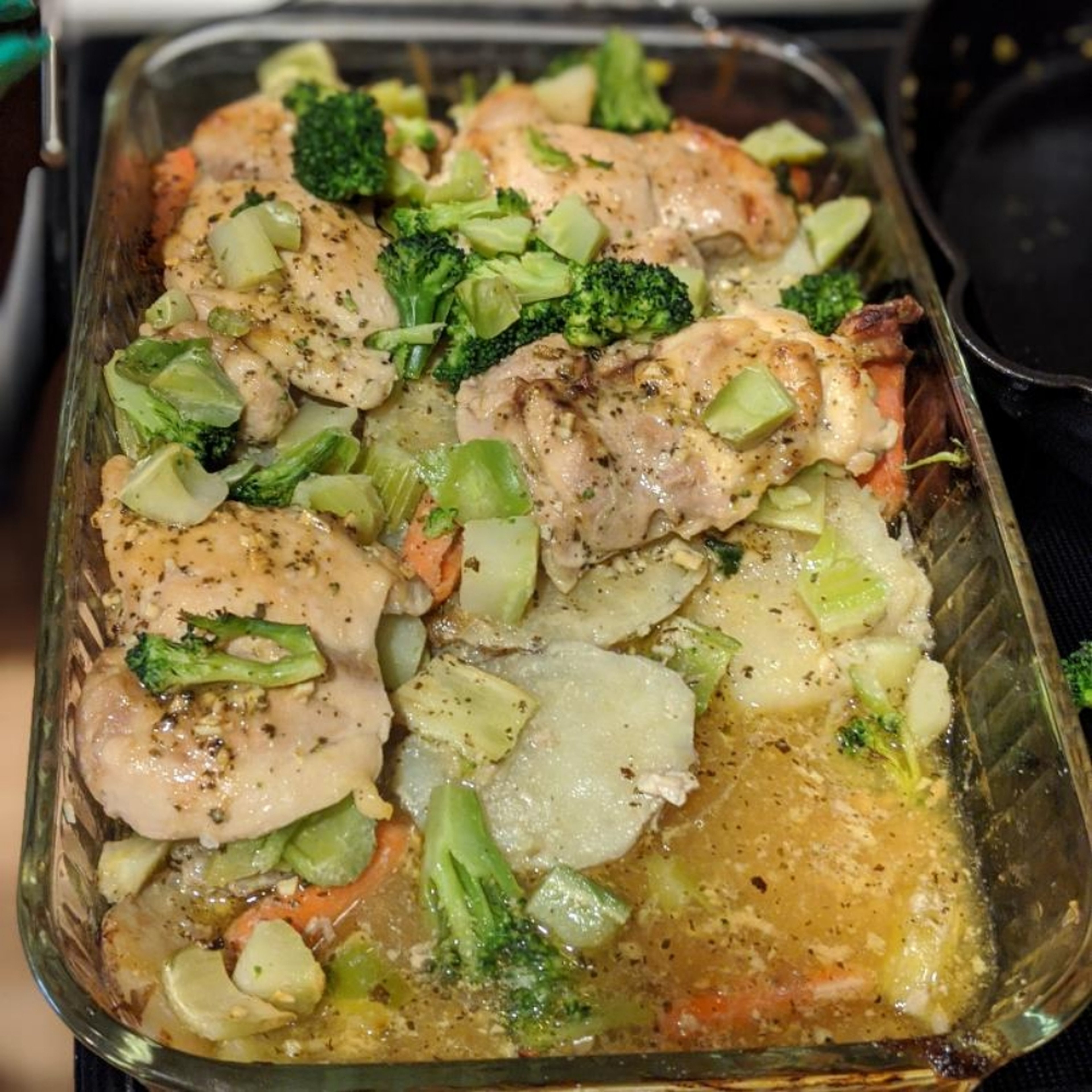 Baked chicken and potatoes
"Lately I have been experimenting with potatoes and came across a recipe for honey potatoes and chicken online. I tweaked it based on what ingredients I had plus I wanted to see how the baked potatoes did when I boiled them before baking. This experiment led to some amazing potatoes that my family enjoyed. We will be making this recipe again!"
Ingredients
olive oil (for marinating)
chicken breasts (boneless, skinless)
Utensils
bowl (large), bowl (small), whisk, pot (large), cutting board, knife, baking pan (9x13 in.), food thermometer
Step 1/ 6

3

russet potatoes

1 tbsp

olive oil (for marinating)

1 tbsp

unsalted butter (melted)

1 tbsp

honey

1 tbsp

brown sugar

½ tbsp

Dijon mustard

1½ tsp

garlic powder

¼ tsp

oregano

¼ tsp

basil

⅛ tsp

salt

¼ tsp

pepper

bowl (large)
bowl (small)
whisk

Wash potatoes and let soak in cool water for 15 minutes or longer in a large bowl. In a small bowl, mix together 2tbs olive oil, melted butter, honey, brown sugar, mustard, garlic, oregano, basil, salt and pepper. Set aside.

Step 2/ 6

Once potatoes have soaked your preferred length of time, (soaking longer helps remove starch and improve the overall texture of your potatoes), put them in a large pot of water on the stove and bring to a boil. Boil the potatoes for 15 minutes. Preheat your oven to 400 degrees F.

Step 3/ 6

cutting board
knife
baking pan (9x13 in.)

When potatoes are done boiling, remove from heat and carefully place on a cutting board. Cut potatoes into 1/2inch thick slices longways. Potatoes may break apart due to the boiling. Lightly grease a large baking pan with butter or Olive oil and carefully cover the pan with sliced potatoes.

Step 4/ 6

1 tbsp

olive oil (for coating)

2

chicken breasts (boneless, skinless)

Drizzle the potatoes with remaining olive oil and season to taste with salt and pepper. Add the chicken breasts in a single layer over the dish. (If they are too thick, you might cut them in half first to improve cooking time.) Marinate the chicken with honey mixture and pour any remaining mixture over the whole dish.

Step 5/ 6

Place into the oven and bake until the internal temperature of the meat reaches 165° F, about 30 minutes. During the last 10 minutes of cooking time, add broccoli florets to the dish and continue to bake.

Step 6/ 6

When chicken is cooked thoroughly to 165°, remove dish from oven and serve immediately!

Enjoy your meal!
More delicious ideas for you