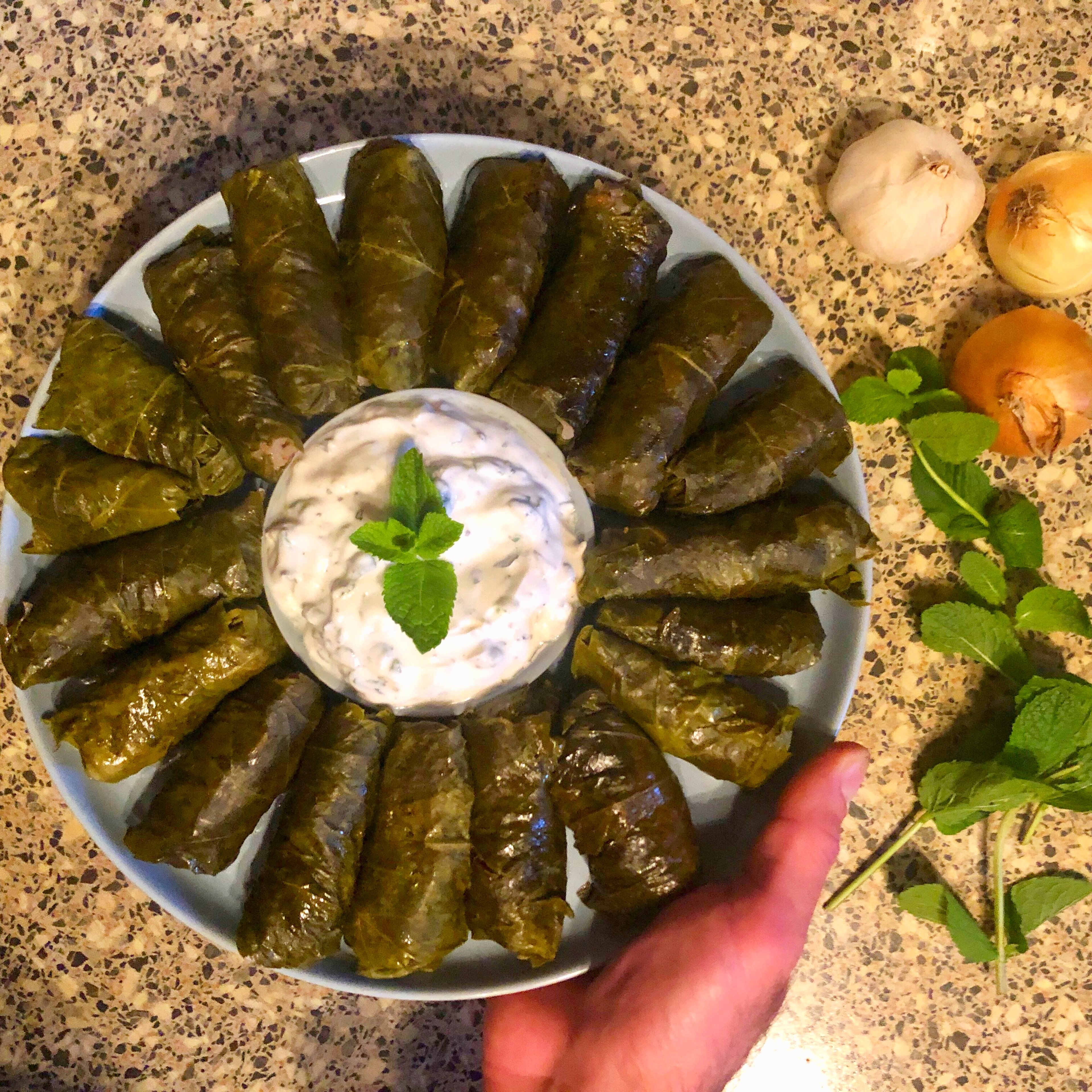 Armenian Dolma (Tolma) Served With Yoghurt-Mint Sauce.
"Dolma: is a family of stuffed dishes common in Mediterranean cuisine and surrounding regions including the Balkans, the South Caucasus, Central Asia, India and the Middle East."
Ingredients
medium fine chopped onions
big bunch of coriander and parsley
clove chopped garlic for the sauce
Step 1/ 9

500 g

minced beef

3

medium fine chopped onions

3

cloves chopped garlic

1

big bunch of coriander and parsley

150 g

tomato sauce

15 g

salt

3 g

black pepper

In a large bowl, mix all ingredients, except rice and grape leaves, well by hand.

Step 2/ 9

Add rice and mix by hand. For those who don't eat rice for some reason , they can make it without rice!

Step 3/ 9

If using fresh grape leaves, cut off the stems and blanch them in boiling water first. But if you are using canned leaves, wash in hot water.

Step 4/ 9

Next, prep your pot. Place some grape leaves on the bottom of a medium to large pot to prevent the dolma from sticking.

Step 5/ 9

Now the fun part. Spread a leaf on a plate or cutting board, wrong side up and stem end towards you. Put a teaspoon of filling near the stem end. With your hands fold the sides and then roll up like a cigar.

Step 6/ 9

Place the rolled dolma in the pot. Layer the dolma in two or three layers.

Step 7/ 9

To ensure stability, place a plate over the top and fill the pot with 2 cups of water. You can add more tomato sauce for extra flavor.

Step 8/ 9

Heat stove to 150C, and cook for 50 minutes.

Step 9/ 9

1

cup plain yoghurt

1

clove chopped garlic for the sauce

Sauce: yoghurt, mint and garlic mix together. Salt and pepper to taste.

Enjoy your meal!
More delicious ideas for you