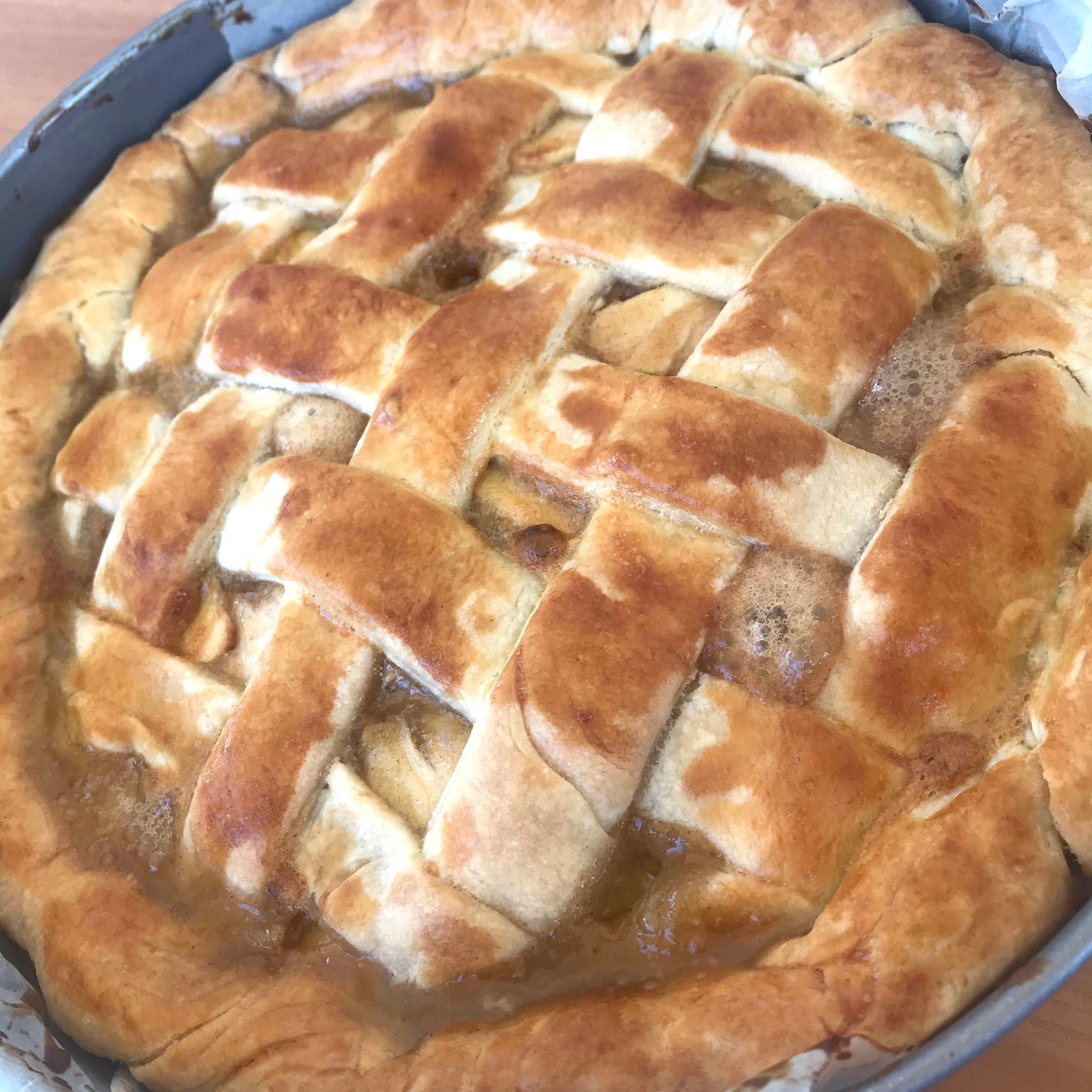 Ingredients
egg (room temperature, for coating)
Utensils
food processor, plastic wrap, saucepan, wooden spoon, peeler, knife, heatproof bowl, pie dish, rolling pin, pastry brush, wire rack
Step 1/ 9

78¼ g

flour

⅛ tbsp

sugar

⅛ tsp

sea salt

56¾ g

unsalted butter (diced)

Using a food processor,mix the flour, sugar and salt. Add the cold diced butter and pulse the mixture until it forms into crumbs, then stop mixing. Mixture should be dry and powdery.

Step 2/ 9

flour (for dusting)

22¼ ml

water (cold)

Add the cold water and pulse just until moist clumps form. Transfer dough to work surface, and gather it into a ball ( DO NOT KNEAD IT). Divide dough in half and form 2 disks. Cover them with plastic wrap and put in the fridge for 1 hour before using.

Step 3/ 9

27½ g

unsalted butter

5¾ g

flour

15 ml

water

50 g

sugar

Melt the butter in a saucepan. Mix in the flour then simmer for 1 minute, mixing continuously. Mix in the water, sugar and bring to a boil. Next,reduce the heat and continue simmering for 3 more minutes, mixing regularly.

Step 4/ 9

Peel, remove cores and thinly slice the apples,then place them in a bowl.

Step 5/ 9

Sprinkle the cinnamon on top of the apples and combine,then pour the sauce over the apples and stir to coat the apple slices.

Step 6/ 9

Sprinkle flour on the work surface and roll out the bottom pie crust into a circle. Wrap it around the rolling pin,then transfer it to the pie dish and add the apple mixture.

Step 7/ 9

Roll the second crust into a circle,as well and cut into 10 even strips (using a pizza cutter) that should be arranged in a woven lattice pattern on top of the pie.

Step 8/ 9

¼

egg (room temperature, for coating)

¼ tbsp

water

Beat together the egg and water and brush the top with the egg mixture.

Step 9/ 9

Bake at 220°C for 15 minutes,then reduce the heat to 180°C and bake for another 45 minutes. Finally,rest for 1 hour before serving!

Enjoy your meal!
More delicious ideas for you