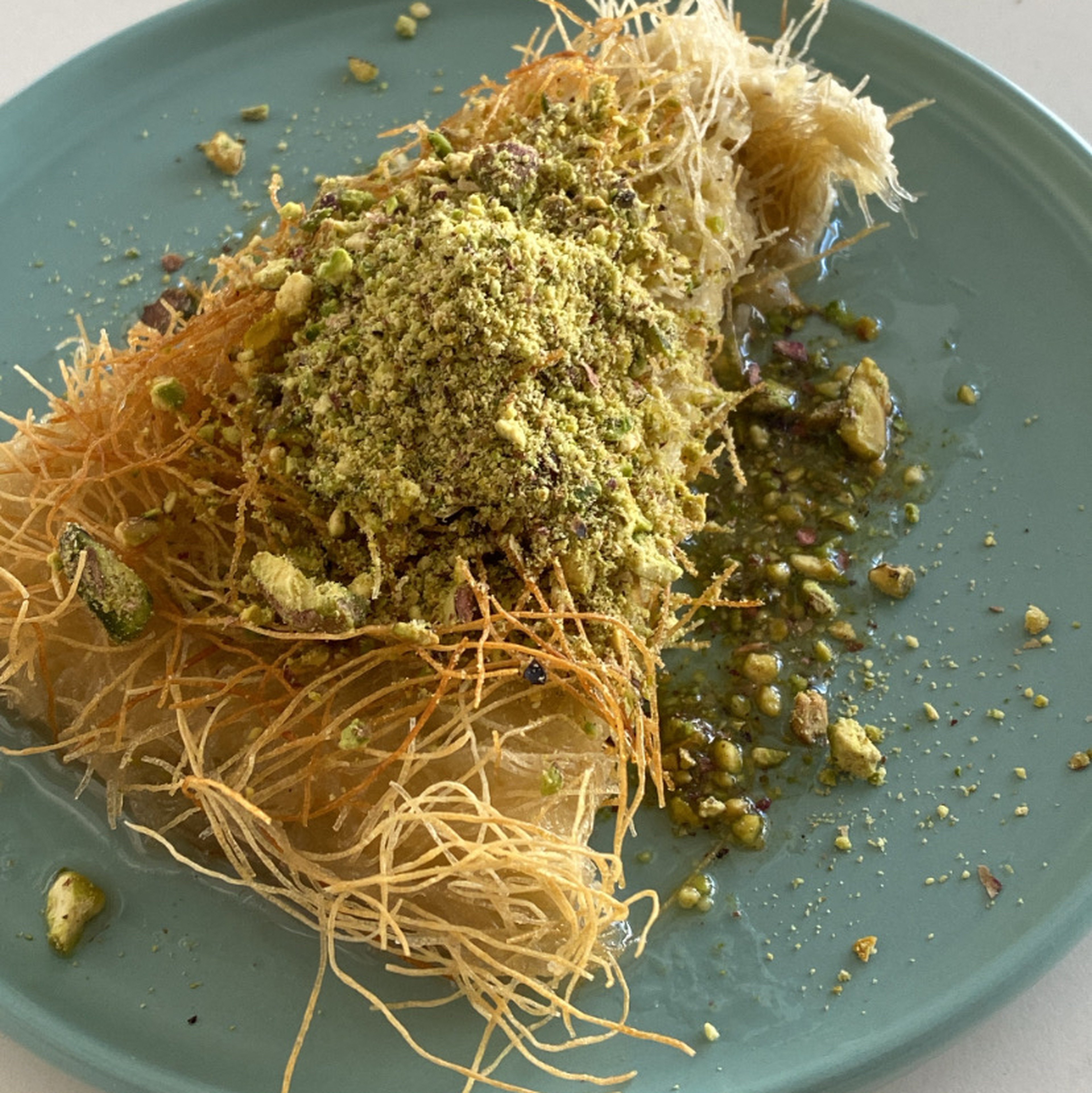 Amit's vegan Knafeh
"When I searched for a vegan knafeh, I had a hard time, a lot of weird ingredients, or too much work. So I came up with a recipe that I really liked, it has some work to do, but certainly a good one. I really hope you enjoy it as much as I do, and feel free to make small changes to make it more yours!"
Ingredients
pistachio paste (optional)
Utensils
blender, 2 pots, 2 whisks, oven
Step 1/ 8

Soak the cashews for 1-2 hours in hot water or 12 hours in lukewarm water. Make sure the water covers all the cashews.

Step 2/ 8

Make the cashew paste using a blander. Put all the soaked cashews (60g) and half of the soy milk, until combined to a refined paste, it will be thick, don't worry.

Step 3/ 8

¾ tbsp

tapioca starch

1¼ tbsp

sugar

¾ tsp

pistachio paste (optional)

⅛ tsp

salt

⅛ tsp

lemon juice

192 ml

soy milk

Make the filling, put the: cashew paste, soy milk, sugar, lemon juice, salt, sugar, tapioca starch, and pistachio paste (optional), ingredients inside a small pot (preferably non stick), and whisk until thickening, it will take sometime. You will know its ready once it will be hard to mix.

Step 4/ 8

100 g

Kadaif

20 ml

coconut oil

Combining the filling with the kadaif. In a low, 23~cm round baking tray place half of the kadaif. Make sure to cover the tray really good, and the sides as well. Distribute half the coconut oil as. Add the filling (can be warm so don't worry), and make sure it covers most of the tray, leaving just a small 1cm gap in the edge. Then add the remaining kadaif on top, and finish with the rest of the coconut oil.

Step 5/ 8

Bake the knafeh at 180 C° of 355 F°

Step 6/ 8

80 g

sugar

60 ml

water

2 tbsp

rose water

Make the sugar water while the knafeh is in the oven, to sweeten all up. In a small pot combine the sugar, water, and rose water, until disolved.

Step 7/ 8

Just before serving, when the knafeh is hot, pour the sugar water onto the knafeh, and slice :)

Step 8/ 8

Slice your knafeh, add some pistachios and enjoy!

Enjoy your meal!
More delicious ideas for you