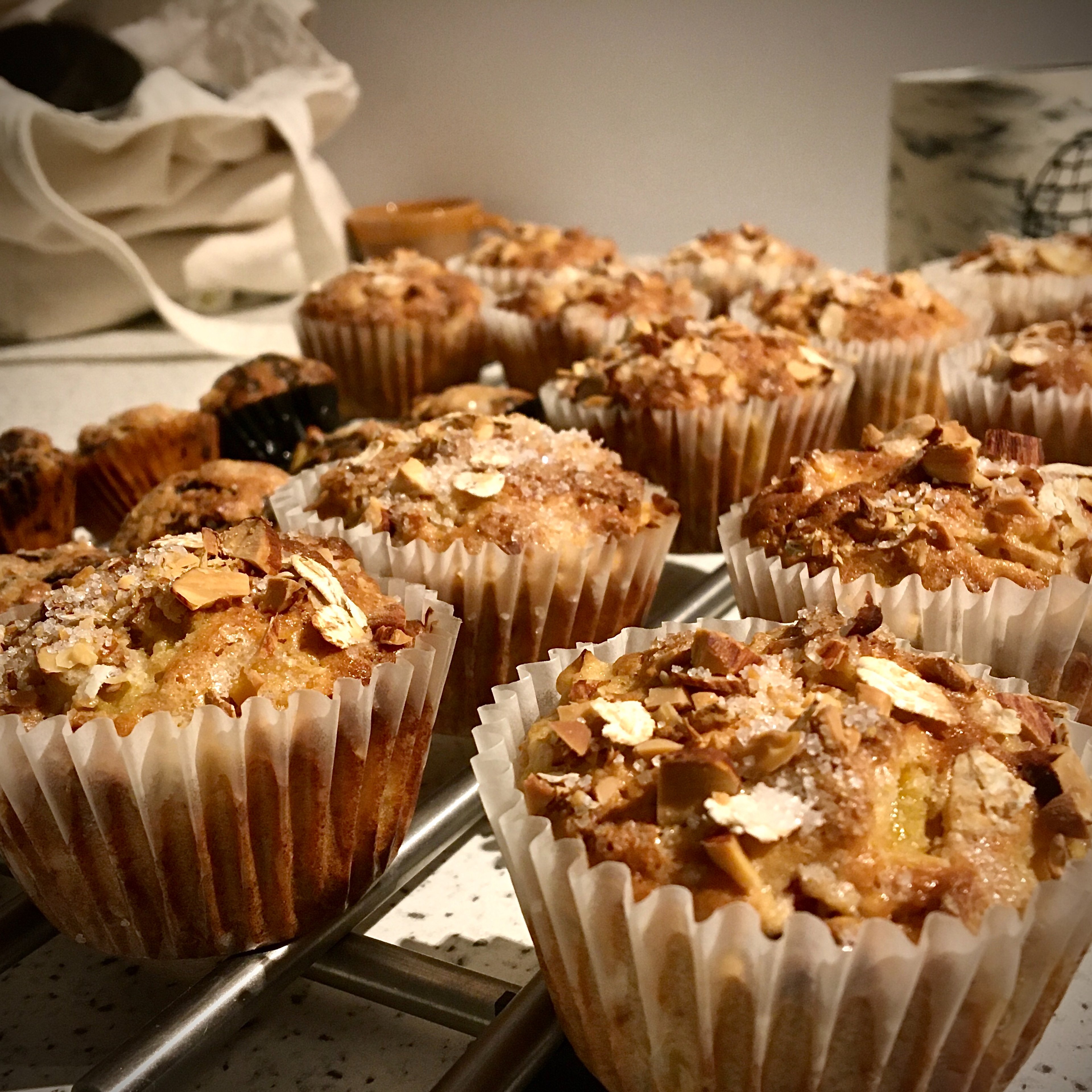 Almond Peach Oat Muffins
"These muffins are simply packed with flavors and texture. For me, there's nothing better than having one of them with a fresh, strong coffee in the morning. They can be baked in 14-16 normal muffin cases, or 10-12 muffins and 8-10 mini muffins."
Ingredients
semi-sweet chocolate chip (optional)
Utensils
knife, oven, muffin tin, 12 muffin liners, muffin tin (mini), 10 muffin liners (mini), 2 bowls (small), 1 bowl, whisk, 1 bowl (large), hand mixer with beaters, liquid measuring cup, rubber spatula, toothpick, wire rack
Step 1/ 7

knife
oven
muffin tin
12 muffin liners
muffin tin (mini)
10 muffin liners (mini)

Core and dice the peaches; you should have about 1 1/2 cups of cubed peaches. Set aside. Heat the oven to 190 C. Prepare a 12 cup muffin tray and 8-10 cups of a mini muffin tray by adding a paper liner inside each cup.

Step 2/ 7

½ tbsp

chopped almonds

5 g

rolled oats

25 g

flour

1¼ g

wheat bran

⅛ tsp

baking powder

⅛ tsp

salt

18¾ g

sugar

2 bowls (small)
1 bowl
whisk

In a small bowl mix half of the chopped almonds with 2 tbsp of rolled oats. In another small bowl reserve 1-2 tbsp of sugar. Set both aside. In a medium bowl whisk the remaining oats and almonds with flour, wheat bran, salt and baking powder.

Step 3/ 7

6¼ g

butter

3⅛ g

oil

⅛

egg

⅛ tsp

almond extract

⅛ tsp

almond extract

1 bowl (large)
hand mixer with beaters

Add the butter, oil, remaining sugar and a few drops of milk in a large bowl and beat until pale and creamed. Add the egg followed by vanilla and almond extract, continue beating until the mixture is getting a bit thick.

Step 4/ 7

9⅜ ml

milk

⅛ tsp

vinegar

9⅜ ml

cream

liquid measuring cup
rubber spatula

In a measuring cup, add the vinegar and milk, let stand for 5 min. Add the flour mixture alternating with buttermilk and cream into the batter in batches, folding until just combined, a few clumps of flour is totally acceptable here.

Step 5/ 7

6¼ g

semi-sweet chocolate chip (optional)

Spoon three quarter of the batter into the prepared 12 muffin cases, about a tbsp and half for each one. Add chocolate chips, if using, into the remaining batter. Carefully fill the mini muffin cases with the chocolate-batter, about a tsp and half for each.

Step 6/ 7

Sprinkle the 12 muffins with almond-oat mixture, then sprinkle all of them with the reserved sugar. Bake for 20-25 min. until all the top of mini muffins are golden brown and a toothpick inserted into their center, comes out clean. Remove them from the oven, continue baking the rest for 5-10 min. until the tops are golden and the toothpick checking works for them as well.

Step 7/ 7

Cool briefly on a wire rack. Enjoy as a simple breakfast or a light evening treat!

Enjoy your meal!
More delicious ideas for you