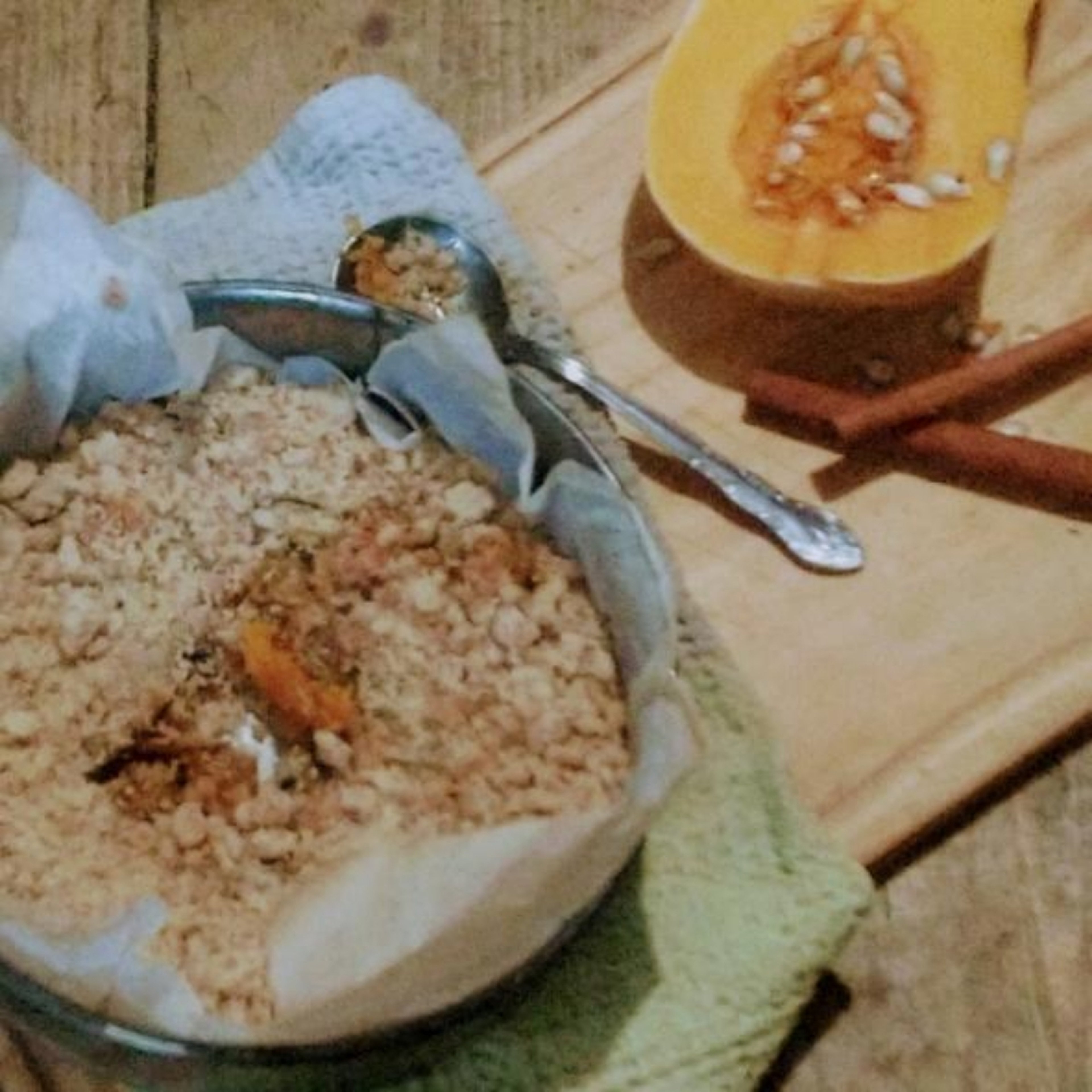 A twist on the classic fruit crumble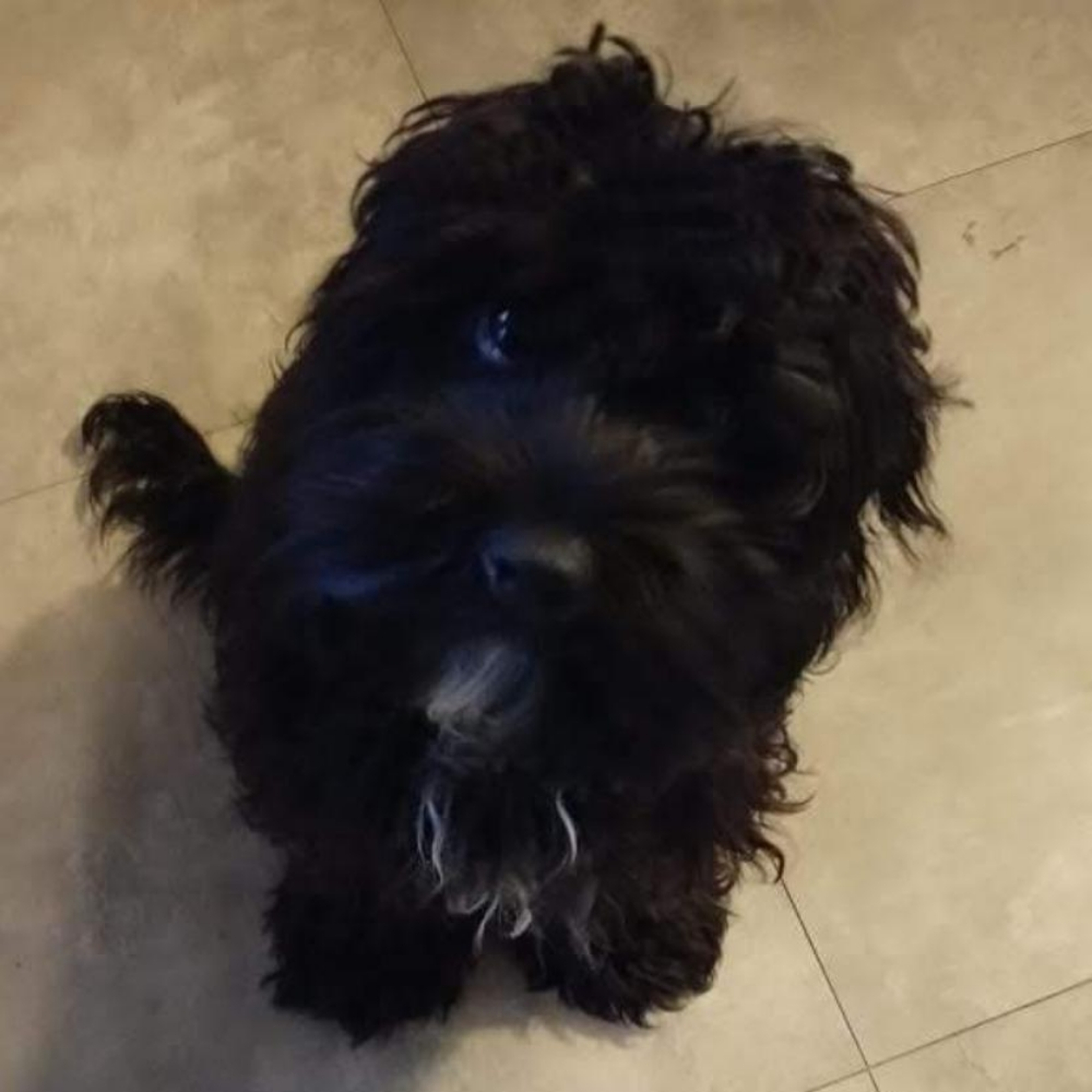 "The flavours may sound strange, but you need to trust me - it really is delicious and comforting. Perfect for when you really want something to cure your sugar cravings. You can change the amount of crumble/filling to your liking, but I love it when there's plenty of crumble topping!"
Ingredients
a knob of unsalted butter
zest and juice of an orange
Utensils
baking pan, saucepan (small), mortar and pestle, saucepan, 2 baking tins, frying pan, fine grater, food processor, a spoon, a cup of tea and a good film
Step 1/ 7

⅛

butternut squash

⅔ tbsp

neutral oil

⅔ tsp

caraway seeds

⅔ sprigs

rosemary

Preheat oven to gas 6/200C/ 180C fan. Peel and cut the butternut squash, into bite sized pieces. Place on a baking tray with the caraway seeds, oil, and rosemary. Roast for 60-80 mins. Remove rosemary after about 30 mins, before it is burnt but after it has imparted flavour, and add to the syrup (see step 2).

Step 2/ 7

43⅓ g

caster sugar

2

cardamom pods

16⅔ ml

lime juice

zest and juice of an orange

⅓

cinnamon stick

16⅔ ml

water

saucepan (small)
mortar and pestle

While the squash is roasting, make the syrup. Crush open the cardamom pods in a pestle and mortar. Combine the lime juice, water, 100g of the sugar, half the orange zest, cardamom (shells and all) and cinnamon in a small saucepan, and heat over a medium heat until bubbling, then turn the heat down and bubble for about 3 mins, then turn off the heat and let cool. Don't worry if it is runny - it will thicken a lot as it cools. Once the squash is ready, add to the syrup.

Step 3/ 7

70 g

flour

26⅔ g

unsalted butter

⅔ tsp

fennel seeds

Once the butternut squash has been cooked, preheat the oven to gas 3/170C/150C fan. Mix 160g of the flour and 30g remaining sugar together. Toast the fennel seeds and 40g pine nuts in a dry pan, then blitz. It's very important to let the fennel/pine nut mix cool before adding to the mixture, as it will melt the butter if hot. Once cooled, mix it in. Rub in the butter. Place on a lined baking tray and bake for 10-15 mins, shaking or 'stirring' the mix occasionaly.

Step 4/ 7

33⅓ g

pine nuts

zest of 1/2 a lemon

juice of 1 lemon

thumb-sized piece ginger

⅔ tbsp

tahini

a knob of unsalted butter

⅓ pinch

nutmeg

baking tin
frying pan
fine grater
food processor

Preheat oven to gas 5/190C/170C fan, assuming the butternut squash and crumble is ready. For the toasted pine nut base, toast 60g of the pine nuts in a knob of unsalted butter. Peel and grate the ginger. Blend with the zest of half a lemon and juice of one - and don't forget all that delicious butter from the toasting! Add the tahini, peeled and grated ginger and some freshly grated nutmeg. Add the remaining 50g of flour, and mix. Bake in a greased and lined baking tin for 15-20 mins.

Step 5/ 7

⅓ tsp

ground cinnamon

⅓ tsp

vanilla extract

To bulk up the syrup and squash mixture, mix together the remaining half of the orange zest, juice of the whole orange, cinnamon and vanilla extract. Add to the syrup and mix.

Step 6/ 7

Place the squash mixture over the base, then sprinkle with the crumble mixture. Place in the oven for 10-15 minutes at gas 4/180C/160C fan, just to warm it through.

Step 7/ 7

a spoon, a cup of tea and a good film

Serve and enjoy.

Enjoy your meal!
More delicious ideas for you