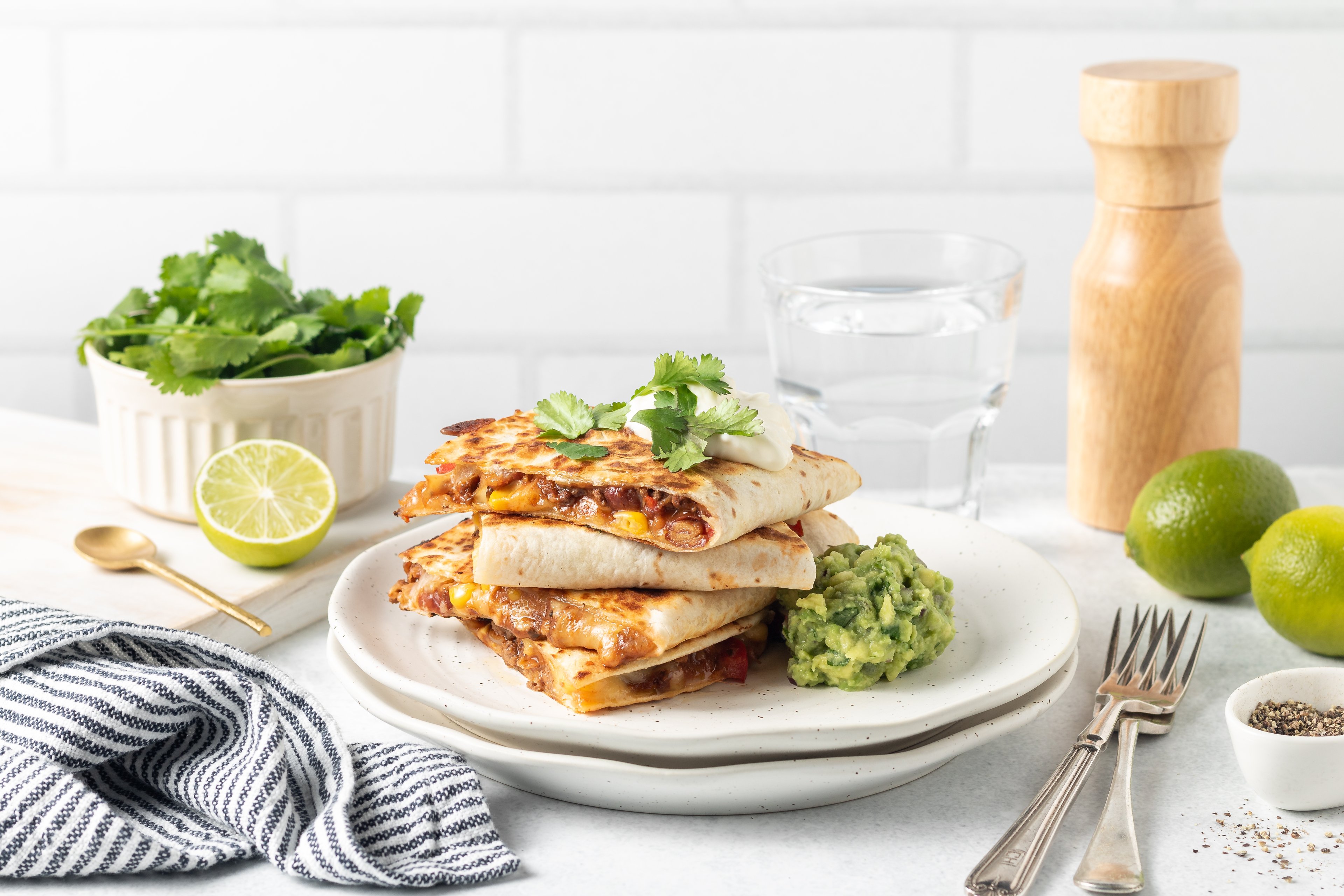 Venison Quesadillas
Ingredients
shredded mozzarella cheese
vegetable oil (for greasing)
Utensils
knife, cutting board, 2 frying pans (large), wooden spoon, oven, spatula, baking sheet, bowl, fork
Filling

⅓

red bell pepper

¼

red onion

⅔ tsp

olive oil

133⅓ g

ground venison

knife
cutting board
frying pan (large)
wooden spoon

Finely dice bell pepper and onion. Heat oil in a large frying pan on medium-high. Cook bell pepper and onion until soft (3-4 minutes). Add mince and cook, breaking up with a wooden spoon, until browned all over.

Step 2/ 6

⅓ tsp

beef stock

⅔ tsp

ground cumin

½ tsp

garlic powder

½ tsp

smoked paprika powder

⅓ tsp

dried oregano

⅓ tbsp

tomato paste

133⅓ g

canned kidney beans

20 ml

water

salt

pepper

Crumble in stock cube, then add cumin, garlic powder, paprika and oregano. Cook for 30 seconds. Stir in tomato paste, chilli beans and water. Simmer for 5 minutes (add a little extra water if mixture dries up too much). Season to taste with salt and pepper.

Quesadillas

3⅓

flour tortillas

33⅓ g

shredded mozzarella cheese

33⅓ g

shredded cheddar cheese

133⅓ g

canned sweet corn

Preheat oven to 100°C fan bake. Lay the tortillas out on a work surface. Sprinkle approximately half of the mozzarella and cheddar on one half of all the tortillas. Top with corn kernels, then spoon the filling on top. Add remaining cheese. Fold the other half of each tortilla over to enclose (forming 8-10 quesadillas).

Step 4/ 6

vegetable oil (for greasing)

frying pan (large)
spatula
baking sheet

Spray a large frying pan lightly with cooking oil spray on medium heat. Cook quesadillas in batches, pressing down lightly, for about 2 minutes each side (flip over the folded edge), until cheese has melted and tortillas are crisp. Place on a rack set over an oven tray and keep warm in oven while you cook the rest.

Serve

⅛

red onion

⅓ clove

garlic

⅓

avocado

⅛ tsp

ground cumin

⅛

lime (for serving)

Finely dice onion and crush garlic. Place in a bowl with the avocado and cumin. Add a squeeze of lime and a little salt and pepper; mash well to make guacamole.

Step 6/ 6

41⅔ g

sour cream (for serving)

5 g

cilantro (for serving)

½

limes (for serving)

Serve quesadillas with guacamole, sour cream, cilantro and remaining lime wedges.

Enjoy your meal!
More delicious ideas for you