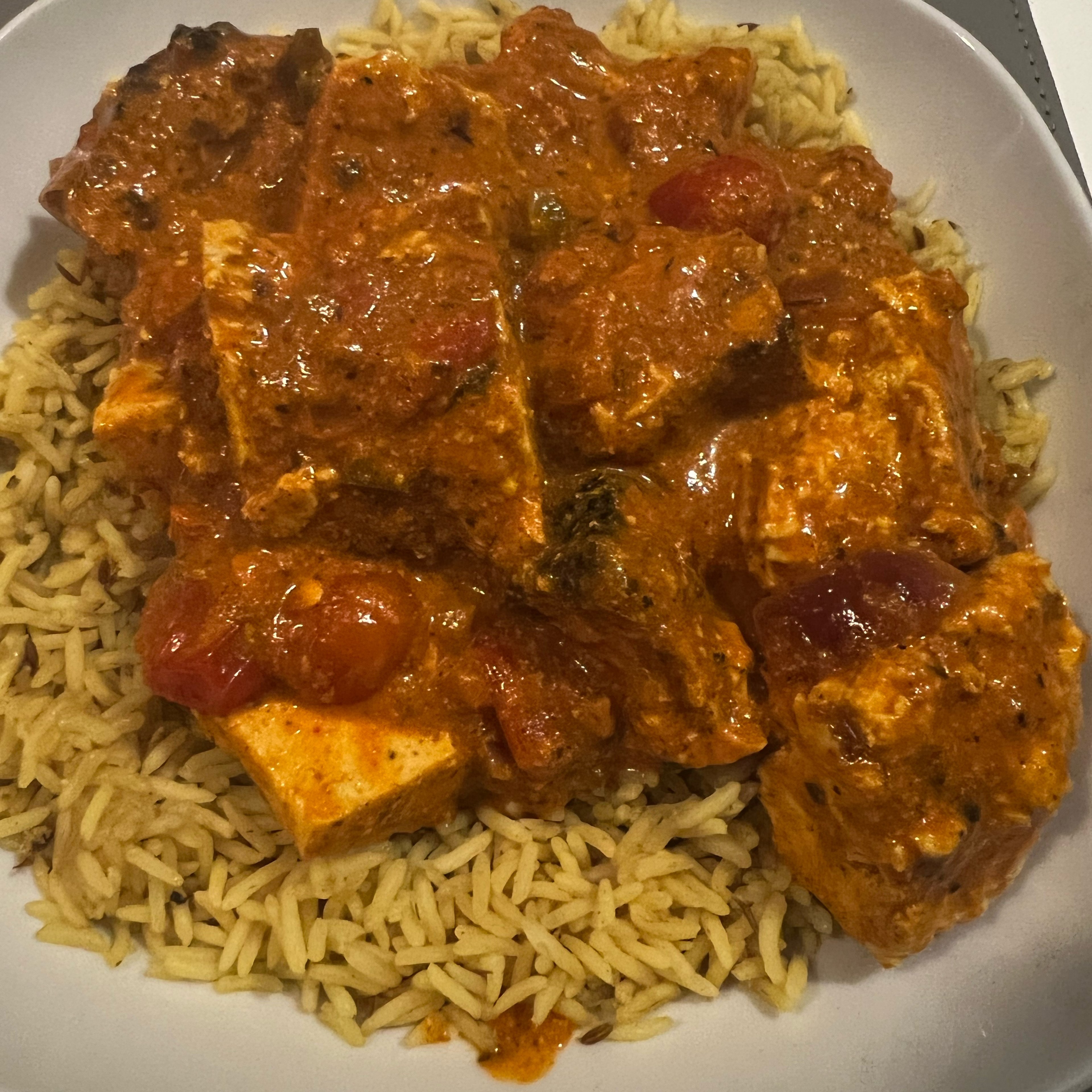 Tofu Tikka Masala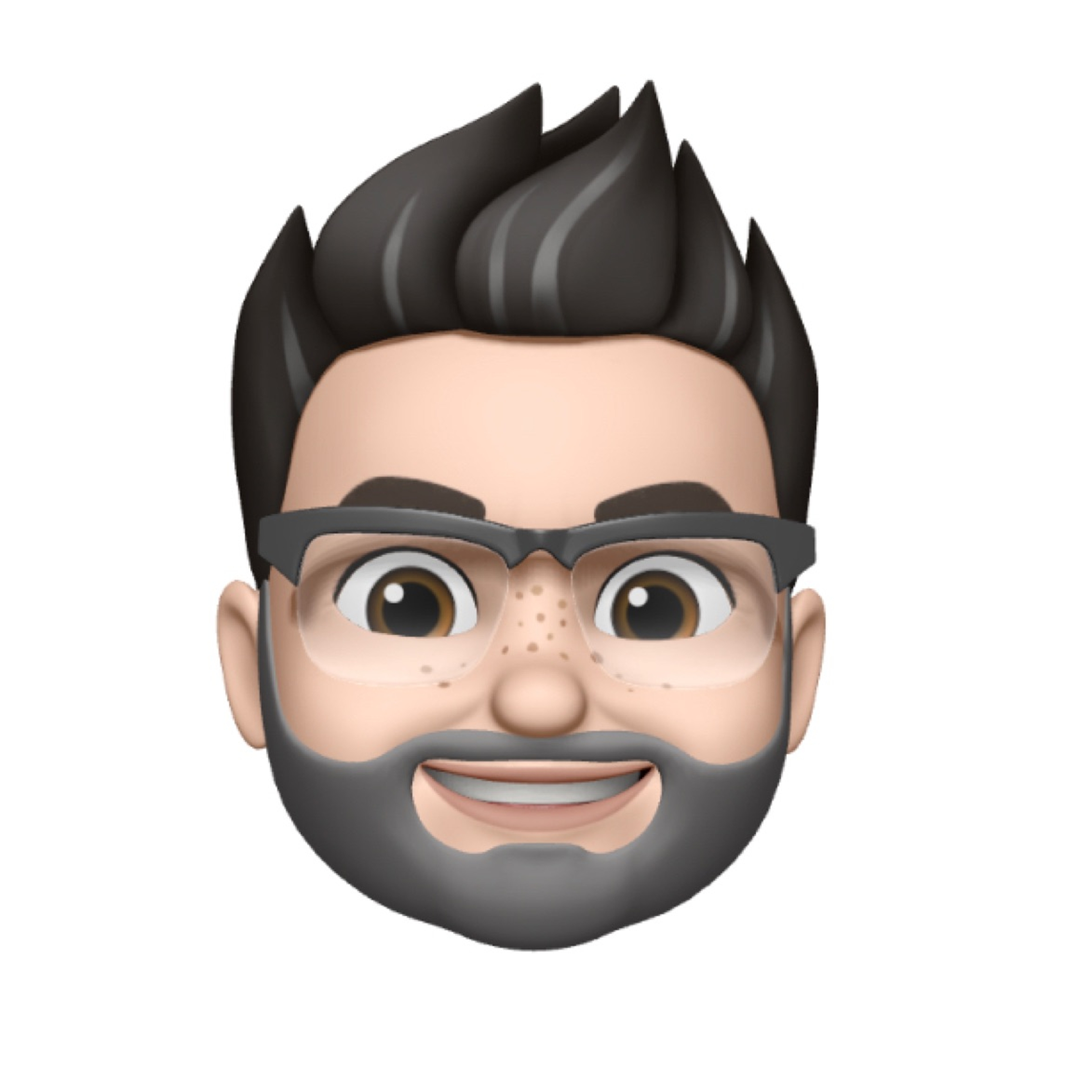 "In this Tofu Tikka Masala, the tofu chunks get marinated in a homemade spice blend and creamy yoghurt, then broiled until charred and coated in a rich tomato-onion gravy. Feel free to adjust the spices to suit your own taste!"
Utensils
2 bowls, frying pan, coffee grinder, mortar and pestle, cast iron pan, sauté pan
Step 1/ 18

First step is to prepare the tofu. Use a tofu press or wrap the drained tofu in a clean towel and several layers of paper towel weighed down with a heavy book or a large plate. Press the tofu for 20-30 minutes to remove as much water as possible. Once dried, tear the tofu into bite-sized chunks with your hands and transfer the chunks into a large bowl. Irregular shapes are better than sliced cubes.

Step 2/ 18

1½ tsp

cumin seeds

4 tsp

coriander seeds

6

cloves

30

black peppercorns

6

cardamom pods

2

cinnamon sticks

½ tbsp

fenugreek leaf

Make the spice blend by adding the spices to a small, dry frying pan over a medium heat. Once warm, add the whole spices (cumin, coriander seeds, cloves, peppercorns, cardamom seeds (discard the pods), cinnamon sticks and fenugreek leaves.

Step 3/ 18

Toast the spices, shaking the pan frequently, until they are very fragrant and toasty and until the lighter seeds have browned. Should take 2-3 minutes. Transfer the seeds out of the pan and allow to cool.

Step 4/ 18

1½ tsp

chili powder

1 tsp

ground turmeric

1 tsp

sweet paprika powder

1 tsp

ground ginger

½ tsp

ground nutmeg

coffee grinder
mortar and pestle

Once cool, add them to a spice grinder (or into a mortar and pestle) and crush until they are all finely ground. Pour them into a bowl then add the ground spices and toss them together to combine.

Step 5/ 18

225 g

natural yogurt

3 cloves

garlic

ginger

2 tbsp

lemon juice

1½ tbsp

vegetable oil

1½ tsp

sea salt

Now make the marinade for the tofu. In a medium bowl, mix together the cooled spice blend you've just made with the yoghurt, minced garlic and minced ginger (thumb-sized piece), lemon juice, oil and salt. Mix together then pour over the tofu chunks and use your hands (or a spatula) to gently coat all the crevices of the tofu, taking care not to mash it.

Step 6/ 18

Cover and refrigerate for at least 2 hours (but ideally overnight)

Step 7/ 18

When ready to bake the tofu, arrange an oven rack 6" from the heat source (usually the second rack). Add a 12" cast iron skillet or baking tray and preheat the oven to 500 F / 260 C

Step 8/ 18

Once the pan is smoking hot, transfer it to the stove. Turn your grill to high.

Step 9/ 18

Add enough oil to lightly coat the bottom of the pan. Add the marinated tofu to the pan, leaving any excess marinade behind. It should be pretty tightly packed into the pan. Return the pan to the second oven rack and broil (or grill) until the tofu is cooked through and charred in some spots, around 10 minutes but check regularly (every 1-2 minutes) to prevent burning as every oven is different).

Step 10/ 18

3 tbsp

grapeseed oil

1 tbsp

cumin seed

6

dried chilis

Now it's time to make the masala sauce by heating 3 tablespoons of oil in a deep 12-inch sauté pan over a medium-high heat. Once hot, add the cumin seeds and cook for 1 minute, swirling the pan frequently. Add the dried chillis and cook for another 30 seconds, swirling frequently to prevent burning.

Step 11/ 18

Add the finely diced onions with a couple of pinches of salt and cook until golden brown, about 6-8 minutes (if the onions start browning too quickly, lower the heat and add a few tablespoons of water).

Step 12/ 18

ginger

6 cloves

garlic

ginger

1

green chili

½ tsp

ground turmeric

1 tsp

chili powder

1½ tsp

ground coriander

2 tbsp

tomato paste

Add the minced garlic and ginger, diced chilli and turmeric and cook for 1 minute, stirring regularly. Add the red chilli powder, coriander, and tomato paste. Stir for another 30-60 seconds.

Step 13/ 18

Add the chopped tomatoes (and their juices) and cook until broken down and softened (around 2-3 minutes).

Step 14/ 18

14 g

cilantro

3 tbsp

water

1½ tsp

salt

Add the cilantro stems (save the leaves for the garnish), 3 tablespoons of water, and 1.5 teaspoons of salt and stir. Cover the pan and bring to a simmer.

Step 15/ 18

Simmer the masala for around 10 minutes, opening the pot to stir occasionally or until the liquid has mostly evaporated. Scoop out the dried chillis and discard.

Step 16/ 18

1 tbsp

garam masala

2 tbsp

fenugreek leaves

400 g

coconut milk

1 tbsp

butter

Add in the coconut milk, garam masala and butter. Crush the fenugreek leaves in your hand to release the aroma and add to the masala, increase the heat slightly and stir until everything is combined and the butter has melted. If you prefer a smoother texture, feel free to run an immersion blender through the masala.

Step 17/ 18

Add the baked tofu, thinly sliced chilli (if using) and lemon juice. Simmer for 2 minutes and coat the tofu in the sauce. Taste, and if it's a bit too spicy, add a tiny bit of sugar (half a teaspoon).

Step 18/ 18

rice (for serving)

natural yogurt

naan bread (optional)

Garnish the masala with the cilantro leaves and season to taste with salt and pepper. Serve tofu tikka masala over rice and / or Indian flatbread. Add some natural yoghurt (optional) to cool down the spices if necessary).

Enjoy your meal!
More delicious ideas for you