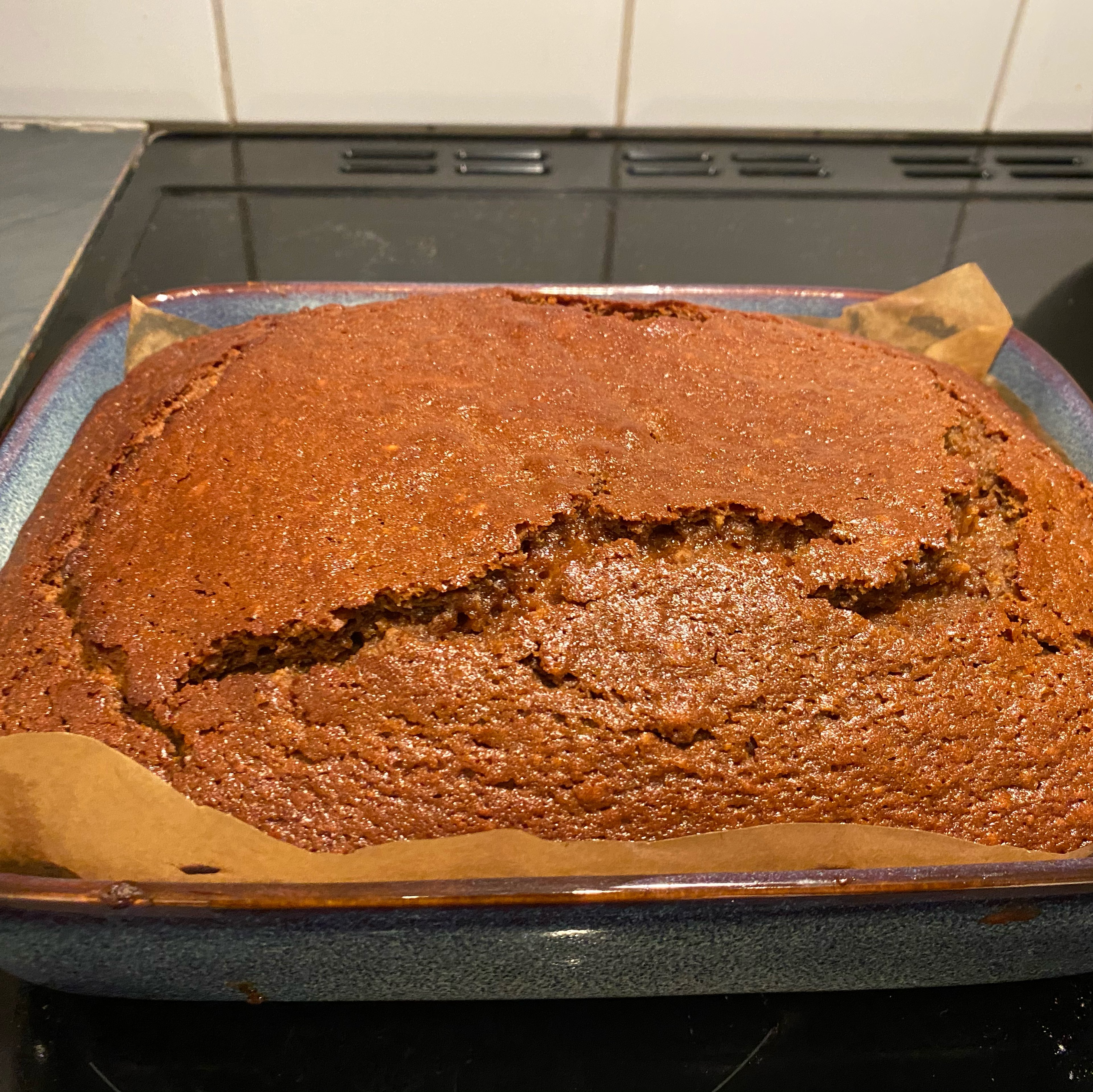 Sweet and Spicy Treacle Ginger Cake
"This is a dish that I made after finding an open can of Black treacle in February still left over from making my Christmas cake of 2020. This inspired me to use up what I had in my kitchen cupboards and fill it with the warm and comforting smells that the gingerbread creates when baking away. It is lockdown after all! This smell brings me nostalgic memories of my Gran baking her gingerbread and fruit loaves in her cosy home."
Ingredients
salted butter or margarine
Mixed spice (or just cinnamon would do)
milk (semi-skimmed or whole milk)
Utensils
pot, 2 bowls, fork, wooden spoon, baking tin, oven
Step 1/ 7

28⅛ g

dark brown sugar

28⅛ g

golden syrup

28⅛ g

molasses (treacle)

28⅛ g

salted butter or margarine

Melt sugar, butter, treacle and syrup in a pan

Step 2/ 7

56¼ g

Self-raising Flour

¼ tsp

ground ginger

¼ tsp

Mixed spice (or just cinnamon would do)

Mix flour, ginger, mixed spice in a bowl

Step 3/ 7

¼

eggs

37½ ml

milk (semi-skimmed or whole milk)

Gently whisk the eggs with the milk.

Step 4/ 7

Add the milk and eggs mixture and melted butter mixture to the bowl containing dry flour mix.

Step 5/ 7

Pour into greased baking tray/loaf tin (30 x 23 x 4cm) lined with grease proof paper.

Step 6/ 7

Place in the top shelf of your oven set to 160°C/325°F/Gas Mark 3 for ~50 minutes or until risen and golden. I like to cook it to the point that it's still gooey inside.

Step 7/ 7

Allow to cool in baking tray slightly and then place on a cooling rack. You should be able to cut it into 16 generous slices.

Enjoy your meal!
More delicious ideas for you