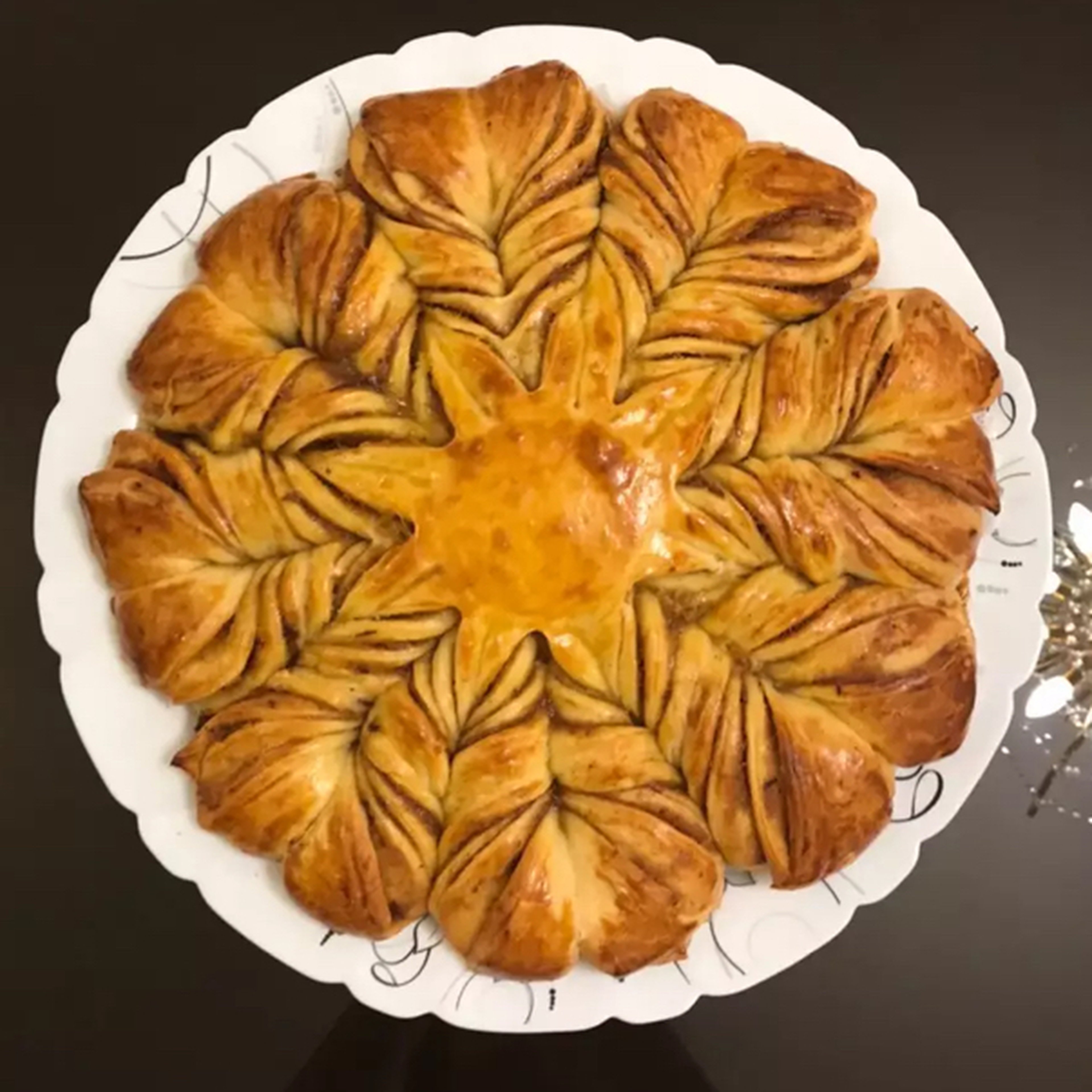 Sun bread
"You can make this beautiful bread with dates, chocolate or chocolate pastry or any dark colored spread that you like. I made it with soft dates. You can use one whole egg (beaten) instead of 2 egg yolks."
Ingredients
Peeled and seedless dates
More egg yolks(or 1 whole egg beaten)
Step 1/ 12

½

Egg yolks

¾ tbsp

Sugar

¼ tsp

Salt

⅞ tbsp

Oil

Mix egg yolks with sugar, salt and oil.

Step 2/ 12

½ tsp

Baking Powder

¼ tsp

Baking soda

¼

Cups thick yogurt

Dissolve baking powder and baking soda in yogurt and then add yogurt to the egg mix.

Step 3/ 12

Then add the flour little by little and mix until the dough remains a little sticky. Cover the dough with a freezer bag and set aside for three hours. After resting, the stickiness of the dough becomes very low.

Step 4/ 12

2½

Peeled and seedless dates

¼ tbsp

Butter

¼ tsp

Cinnamon powder

⅛ tsp

Ginger powder

⅜ tbsp

Hot water

If you use dates,mix them with hot water , butter, cinnamon and ginger. You can use a fork to do this.

Step 5/ 12

Now divide the dough into four or five equal parts. Open a part with a thickness of 0.5 cm.

Step 6/ 12

Put a plate with a diameter of 25 cm and cut the extra.

Step 7/ 12

On the first layer of dough, rub the date paste. Now open the second part of the dough and cut the additions around the plate. Wrap the second dough around the rolling pin and gently place it on the previous part of dough and open it. Spread the date paste on this layer again and spread the third part of the dough and ... until the last layer.

Step 8/ 12

Arrange the layers and smooth a little, just a little with a rolling pin on all layers. Now put something like a ring or glass(5 cm diameter) in the middle of the round dough and press a little. With a greased knife, make four equal slices around the dough. Then cut each part into two equal parts. And again, each part is divided into two equal parts. At the end you'll have 16 equal slices around dough. Now turn on the oven at 180 degrees Celsius to heat.

Step 9/ 12

Now start twisting from a cut. Turn the first one to the right, the second one to the left. Third to the right and fourth to the left. In the same way, until the last cut, twist one to the right and left. Then take the ring or glass.

Step 10/ 12

¼

More egg yolks(or 1 whole egg beaten)

Now brush the yolk on the whole surface of the dough.

Step 11/ 12

Then bake in the oven for 45 minutes or more. It turns almost brown and swells a little. Then let it cool. When it cools completely, it tastes good.

Step 12/ 12

Enjoy it!

Enjoy your meal!
More delicious ideas for you