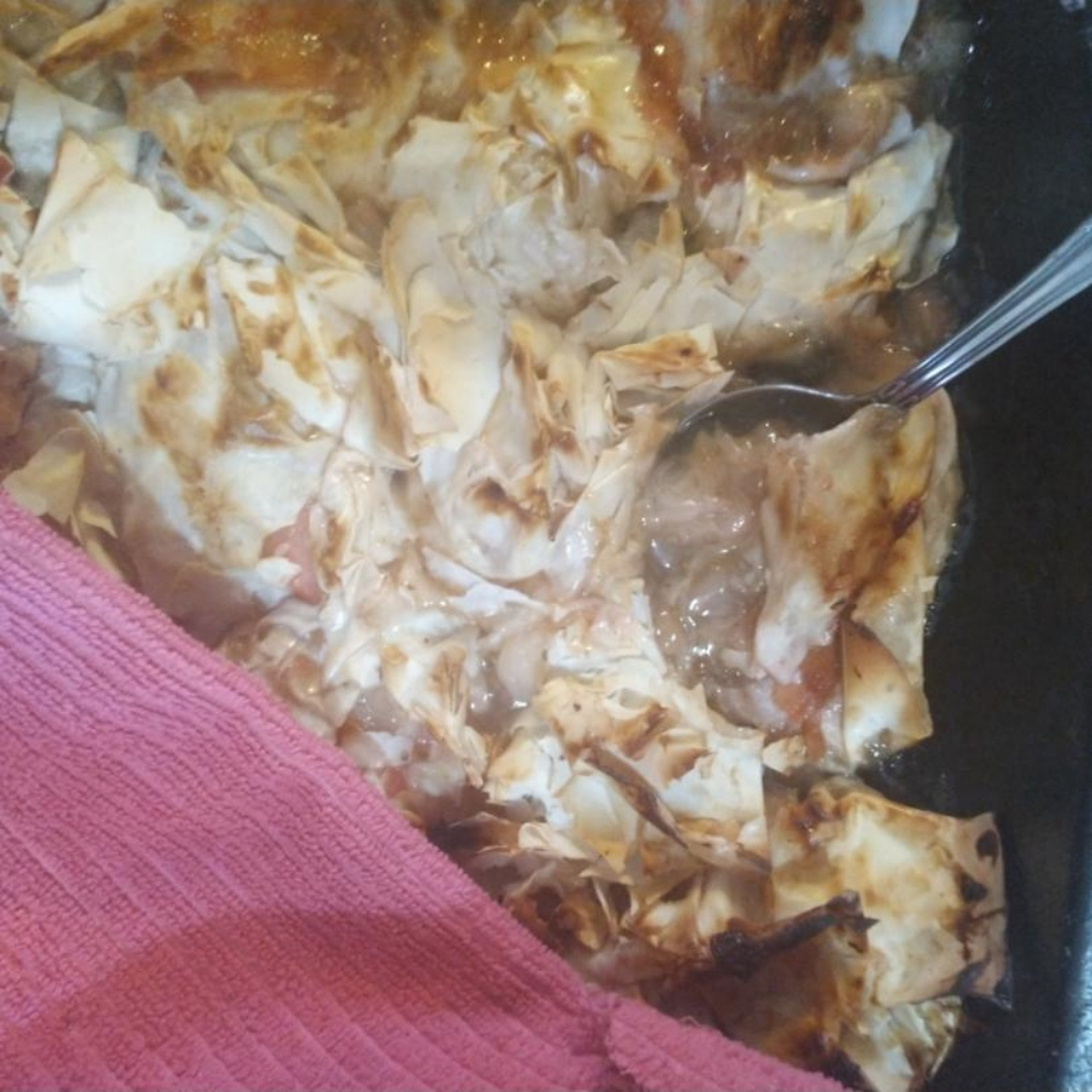 Sticky, messy and delicious syrup and rhubarb filo pie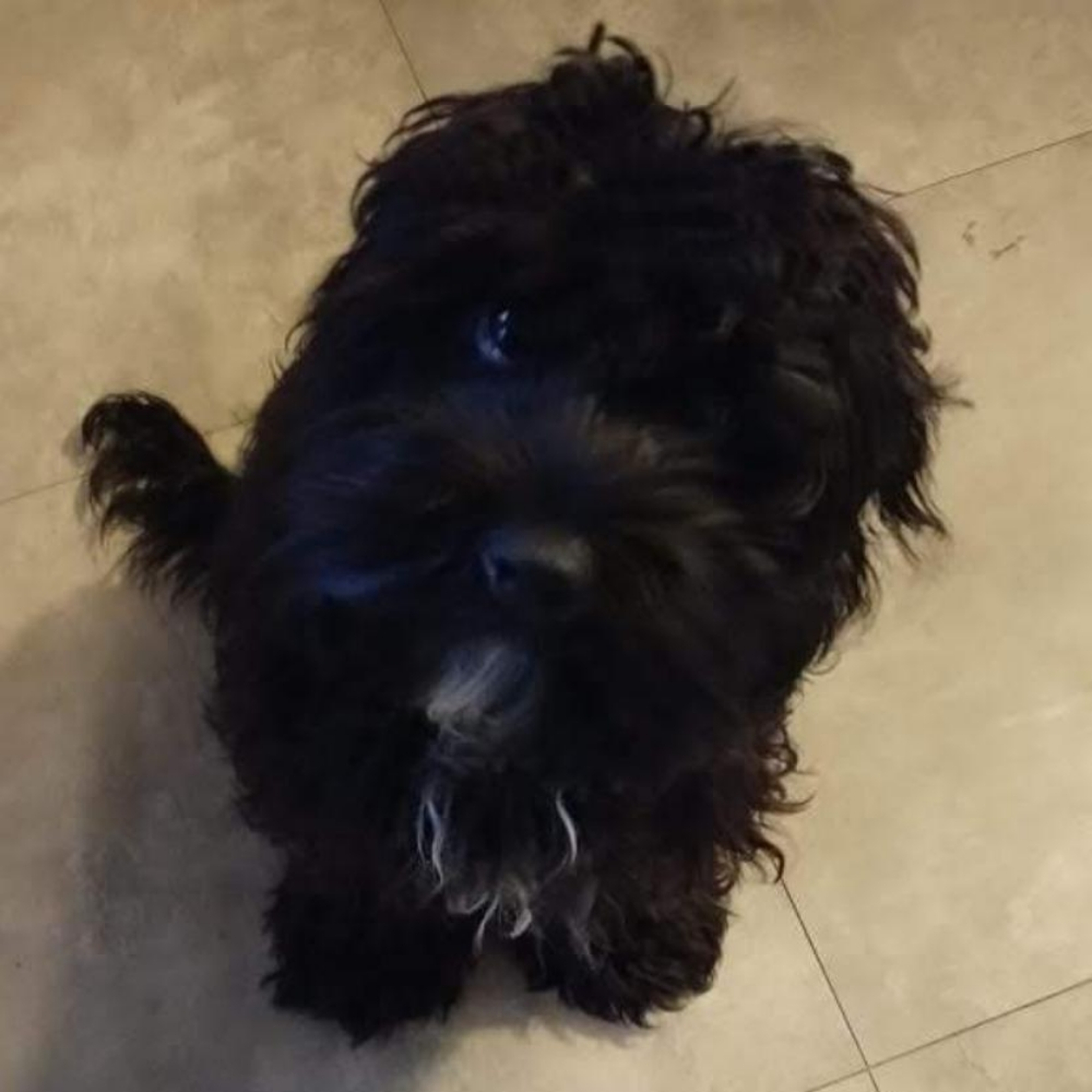 "Yes, it's very messy, but also sticky and juicy and absolutely delicious. The rhubarb goes wonderfully soft, absorbing all that lovely syrup. The coriander seeds may seem strange, but they bring a zesty, earthy flavour to the syrup, complementing the rhubarb perfectly. This is the kind of dessert you eat straight from the baking tray. Enjoy!"
Ingredients
zest of half an orange and juice of one
finely chopped stem ginger in syrup
Utensils
knife, cutting board, mortar and pestle, 2 saucepans, spoon, whisk, pastry brush, baking tray
Step 1/ 7

Preheat the oven to gas mark 6/200C/180C fan. Cut the rhubarb into 2cm chunks.

Step 2/ 7

⅝

cloves

⅜

cardamom pods

¼

star anise

Crack open the cardomom pods and grind the seeds in a pestle and mortar. Add the coriander seeds and grate in some nutmeg. Grind together.

Step 3/ 7

35 g

sugar

zest of half an orange and juice of one

nutmeg

⅜ tsp

coriander seeds

20 ml

water

⅓ tbsp

finely chopped stem ginger in syrup

⅓ tbsp

cornstarch

⅝ tbsp

water

Place the sugar, orange juice and zest, and water in a pan, as well as half of the juiced orange. Heat over a low heat until simmering. Simmer for two mins. Add the ground spices as well as the cloves, empty cardomom pods and star anise. Simmer for another two mins. Add the rhubarb, simmer for two mins. Mix together the cornstarch and water, add to the pan, and simmer until thickened. Stir occasionally throughout the whole process. Finally, add the stem ginger in syrup.

Step 4/ 7

⅜

large knobs margarine

¼ tbsp

cranberry sauce/jam

Melt together the cranberry sauce and margarine. Whisk to break up any clumps of cranberry sauce/jam.

Step 5/ 7

Using a pastry brush, brush the margarine onto the sheets of filo pastry. Now here comes the extremely, extremely messy part (but also fun, and worth it.) Grease a baking tray with margarine, place a half sheet (just tear them in half with your hands) of filo brushed with butter on the tray. Spoon the mixture into the filo pastry and close quickly, using some extra butter to 'glue' it together. The chances are, the syrup will leak everywhere - don't worry, it will still come out delicious.

Step 6/ 7

Continue this process, and fill in gaps with torn extra filo pastry dipped in the syrup and scrunched up into balls. Also use any additional pastry to patch up holes/soak up any syrup on the tray. Brush the top of this delicious mess with margarine as well as you can, and put in the oven for 10-12 minutes or until delicious, golden brown and crispy. There should be a collection of parcels sitting together on the tray, as well as additional scraps of filo to soak up any syrup leaking out.

Step 7/ 7

Leave to cool for 10 minutes, and enjoy!

Enjoy your meal!
More delicious ideas for you