Steak with celery root rösti and kimchi butter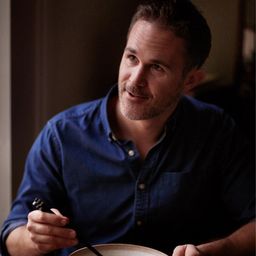 "It pays to make a block's worth of butter every time you do this. You can use it fresh from the fridge for a few days, but it's particularly useful kept in the freezer as you might any butter: wrapped in clingfilm or greaseproof paper and rolled into a sausage shape, from which you can slice a piece of butter anytime you want to cook with it or melt it over something. Good things to do with kimchi butter include: adding to the pan during the last minutes of cooking a steak (as in this recipe); adding to a sizzling pan of prawns (plus some fresh coriander once they're cooked; stuffing between the skin and breast of a chicken before roasting the bid; melting over cooked salmon, cod or trout; frying pre-cooked rice in it (for kimchi butter fried rice), to spreading on bread (obviously). Don't worry too much if your eyes fancy a bigger portion of the butter than might seem healthy — remember, it's almost 50% kimchi, so you're not *just* consuming butter..."
Ingredients
flaky sea salt (for sprinkling)
Utensils
2 tongs, 2 fine sieves, bowl, food processor, box grater, bowl (large), kitchen towel, plate, 2 nonstick pans, spatula, citrus press
Take an
easy quiz

and discover more recipes you'll love!
How-To Videos
How to reach the perfect temperature for frying
How to cut an onion
How to easily clean a blender
How to cook the perfect steak
Step 1/ 5

175 g

kimchi

250 g

unsalted butter

tongs
fine sieve
bowl
food processor

Place drained kimchi in a food processor and blend until as fine and smooth as possible. Add two thirds of the butter and continue blending. When the kimchi seems fully incorporated, add the remaining butter bit by bit.

Step 2/ 5

1

celery root (small)

600 g

waxy potatoes

¼ tsp

salt

2 tbsp

flour

2

eggs

box grater
fine sieve
bowl (large)
kitchen towel
plate

Peel and grate the celery root and potato. Add salt. Mix and place into a sieve or colander lined with a clean tea towel, and rest that on a bowl. Squeeze as much liquid from the gratings as possible and leave to drain for 15 min. Squeeze again, discard the liquid and transfer the gratings to the bowl. Add the flour and eggs and mix well. Shape handful sized quantities into tennis ball-size patties, place on a plate.

Step 3/ 5

Add oil to a non-stick frying pan over a low-medium heat. Allow to warm up for approx 1 min., add the rösti, then cook over a low-medium heat for around 10 min. Press into shaping rings if you have them, or otherwise cook them free-form, compressing with a spatula from time to time. Don't flip them until they've got a slightly browned base and are firming up, probably 4 min. or more. After cooking for 10 min. in total, when the rösti are beginning to turn golden and crisp at the edges, add one quarter of the kimchi butter to the pan so it foams and releases its fragrance. Flip the rösti in butter and cook for a further 1-2 min., but no more. Keep in a warm oven until serving.

Step 4/ 5

flaky sea salt (for sprinkling)

2½ ml

vegetable oil

Place a non-stick frying pan over medium-high heat. Add the oil and allow to heat for 1 – 2 min. Season the steak with salt. When the pan is very hot, lay the steak in and leave it to sizzle and cook without touching it for 1 min. Flip the steak and cook for 1 min. more, then add roughly another third of the remaining butter, finishing the steak for 45 seconds on each side. If you have a food thermometer, check the middle of the steak is about 53°C/125°F, this will mean that once rested it's a medium rare, perfect for this type of steak. Remove the steak and leave it on a warm plate or platter to rest for 4 min.

Step 5/ 5

100 g

parsley

1

shallot

1 tbsp

caper

½

lemon

1 tbsp

extra-virgin olive oil

Wash and pick the parsley. Slice the shallot very finely. Mix the parsley, shallot and capers. Dress at the last minute before serving with extra virgin olive and lemon juice. Serve the steak with the buttery pan juices as a glaze alongside the rösti and parsley salad. Enjoy!

Enjoy your meal!
More delicious ideas for you