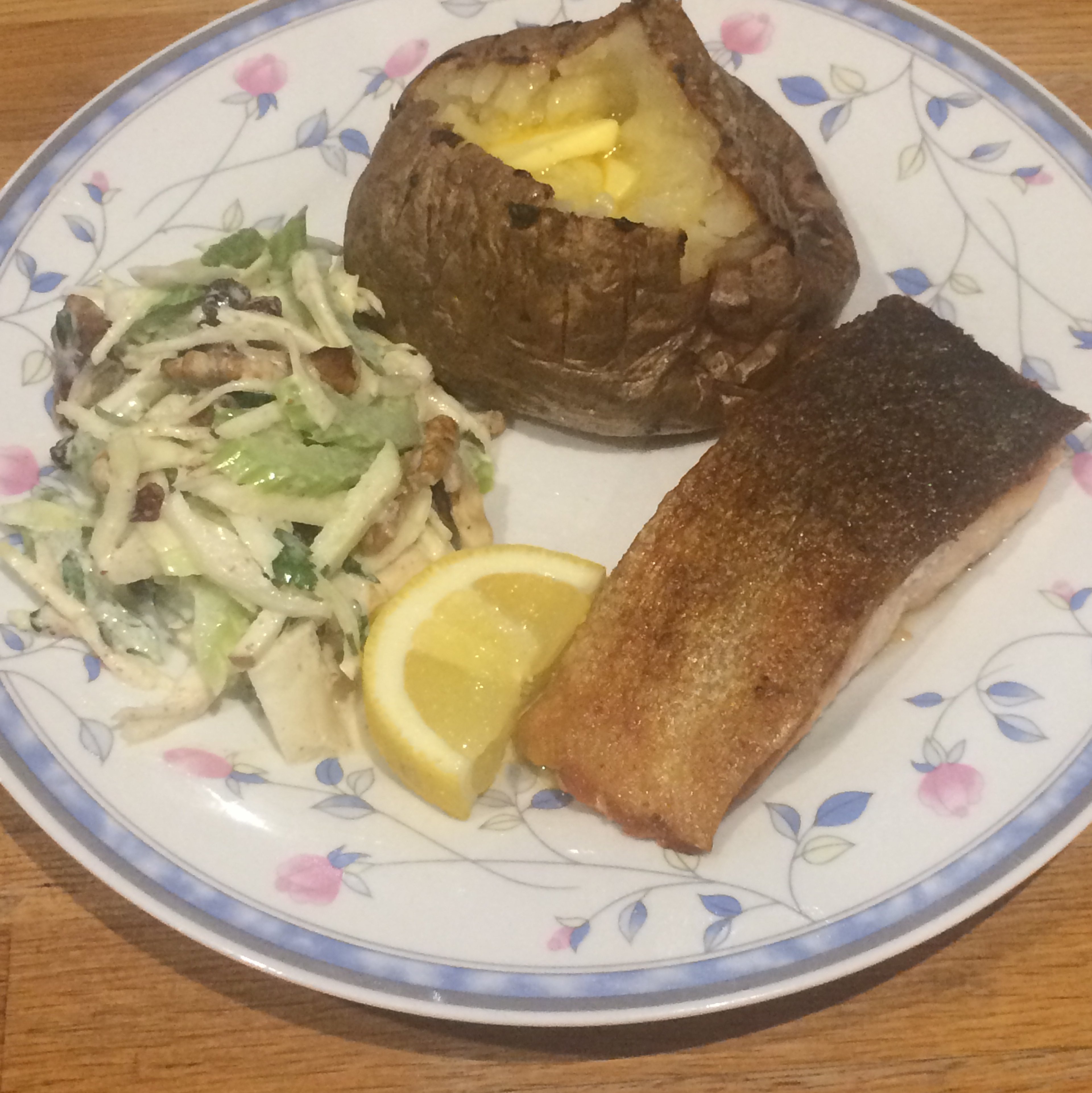 Quick-brined salmon, baked potato and waldorf slaw
"Wild salmon has less fat than farmed so brining helps ensure you retain moisture and it doesn't dry out"
Ingredients
oil for seasoning skillet
medium size white cabbage
Step 1/ 11

2

baking potatoes

2 tsp

oil

Preheat oven to 220°C and prepare potatoes by piercing all over with a butter knife and then score a cross on the top. Rub a teaspoon of oil onto each potato and grind over plenty of salt. Place in the oven and leave to cook for 1 hour

Step 2/ 11

After 1 hour turn the oven down to 180°C and leave to finish cooking for another 30 minutes

Step 3/ 11

⅓ tbsp

oil for seasoning skillet

Quick season a stainless steel skillet with 1/2 tablespoon of oil and heat over medium-high heat until the oil starts to move easily around the pan. Remove from the heat and wipe out with kitchen roll. I find this step ensures a stress free, non-stick cooking experience with consistently good crispy salmon skin

Step 4/ 11

2

wild keta salmon fillets

333⅓ ml

water

1⅓ tbsp

kosher salt

Mix 2 tablespoons of kosher salt into 500ml of water and brine the salmon fillets between 10 and 15 minutes

Step 5/ 11

⅛

medium size white cabbage

1⅓

celery

⅔

apple

Prepare waldorf slaw by finely chopping cabbage, celery and matchstick the apple

Step 6/ 11

handful of walnuts

handful of raisins

handful of parsley

2 tbsp

mayonnaise

⅓

lemon

⅔ tsp

apple cider vinegar

⅛ tsp

salt

⅛ tsp

sugar

1⅓ tsp

maple syrup

⅔ tsp

ground flaxseeds

Mix in raisins and parsley then stir the mayonnaise, lemon juice, apple cider vinegar, salt, sugar and maple syrup through the slaw. The ground flaxseeds are optional but I find they give the slaw a better consistency and stops it getting too runny when not served instantly

Step 7/ 11

Drain water from salmon and rinse with fresh water

Step 8/ 11

1⅓ tbsp

flour

salt and pepper

Pat salmon dry with kitchen roll and sit the skin in the seasoned flour to lightly dust. Wipe off excess flour with kitchen roll

Step 9/ 11

Pour oil in skillet and preheat to medium-high heat before adding salmon. Lower the heat slightly after 1 minute

Step 10/ 11

When salmon has cooked 2/3 of the way up the flesh lower heat to low-medium and add the 25g of cubed butter around the fillets. When butter is foaming carefully turn salmon using a fish slice to instantly finish cooking the salmon. Remove pan from the heat and baste butter over the skin.

Step 11/ 11

Place salmon onto serving plate with baked potato and waldorf slaw

Enjoy your meal!
More delicious ideas for you