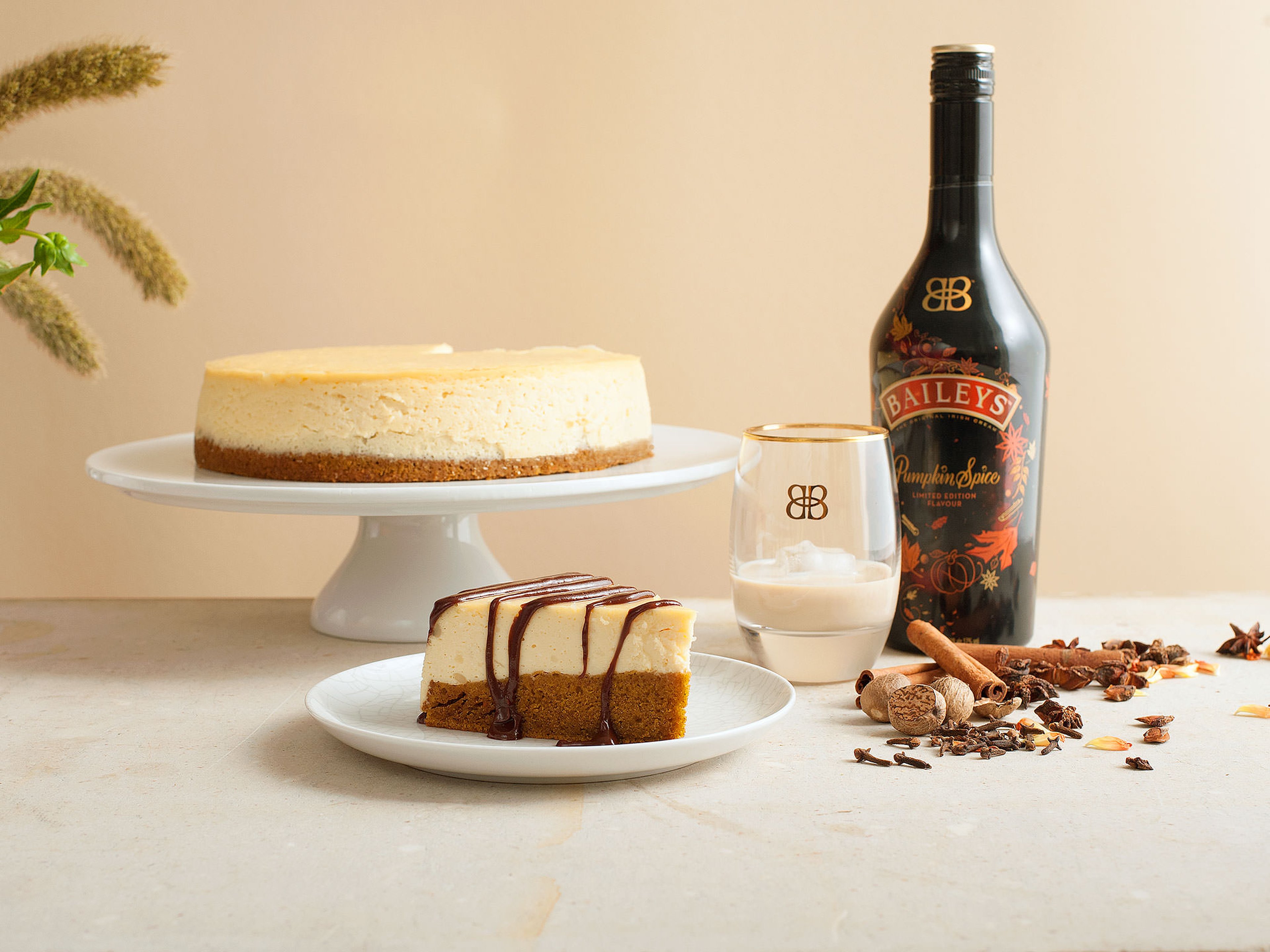 Pumpkin spice cheesecake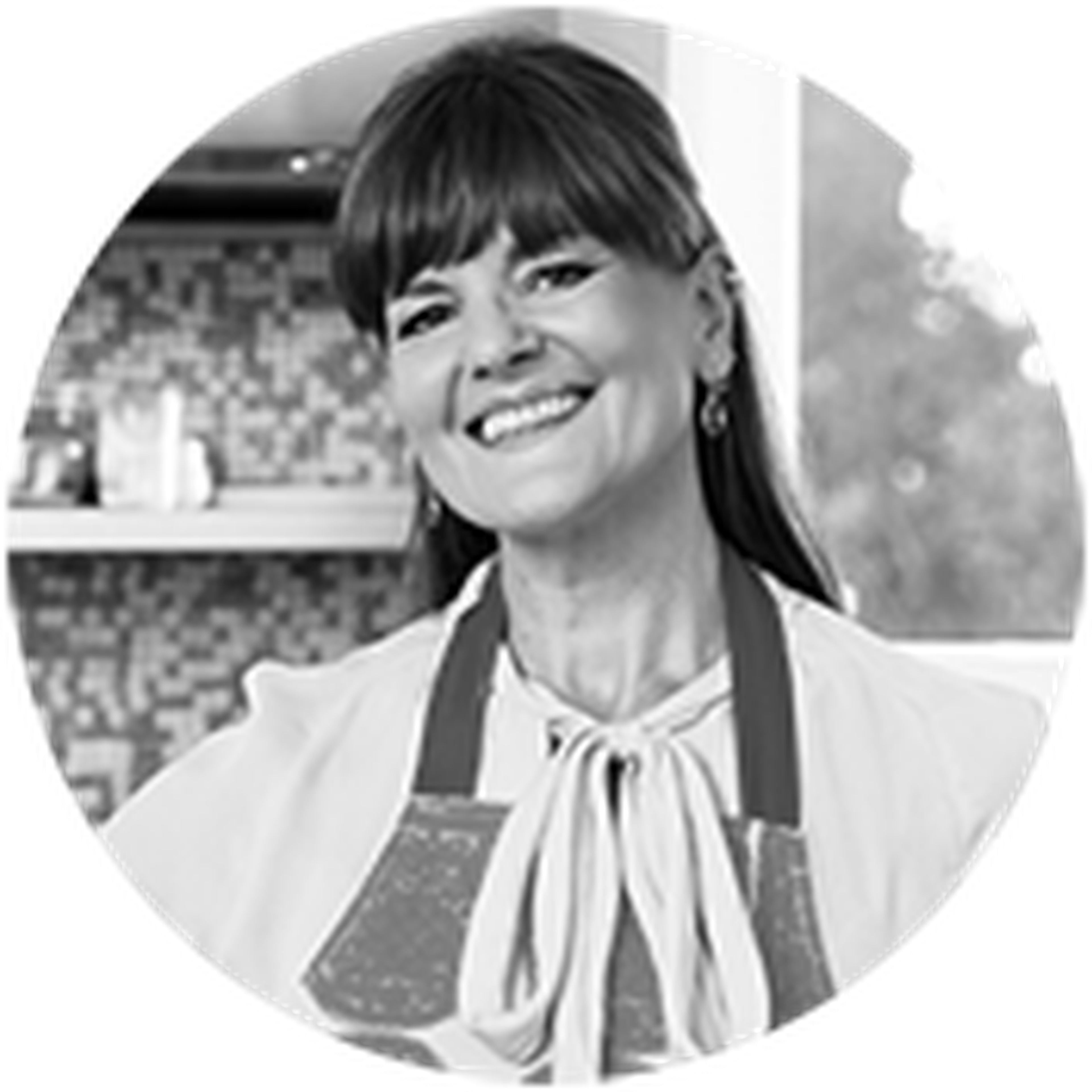 Ingredients
Bailey's Pumpkin Spice (divided)
Utensils
Dutch oven, cutting board, knife, immersion blender, fine strainer, 23-cm/9-in cake pan with removable bottom, mixing bowl, oven, whisk, hand mixer with beaters, cooling rack, rubber spatula, medium saucepan, aluminum foil, refrigerator, deep baking dish, thin knife, small saucepan
How to cream butter and sugar
How to make ganache
How to test a cake for doneness
How to cut Hokkaido pumpkin
Step 1/ 12

⅛

Hokkaido pumpkin

16⅔ ml

water

Dutch oven
cutting board
knife

To prepare pumpkin purée, deseed and cut Hokkaido pumpkin into pieces. Place in a Dutch oven along with some water. Steam over medium heat with lid slightly cracked until soft, approx. 25 min.

Step 2/ 12

immersion blender
fine strainer

Purée pumpkin and place in a fine strainer to drain.

Step 3/ 12

11⅔ g

flour

5 g

cornstarch

⅛ tsp

baking soda

⅛ tsp

baking powder

⅛ tsp

salt

¼ tsp

ground cinnamon

¼ tsp

ground ginger

⅛ tsp

ground nutmeg

⅛ tsp

ground cloves

butter for greasing

23-cm/9-in cake pan with removable bottom
mixing bowl
oven
whisk

Preheat oven to 180°C/350°F. Lightly grease the cake pan with butter. Combine flour, cornstarch, baking soda, baking powder, salt, and spices.

Step 4/ 12

12½ g

butter, soft

25 g

sugar

½

eggs

⅛ tsp

vanilla extract

29⅛ g

pumpkin purée

mixing bowl
hand mixer with beaters

Beat butter and sugar until creamy. Add some of the eggs, vanilla extract, and some of the cooled pumpkin purée. Mix until combined.

Step 5/ 12

cooling rack
rubber spatula

Gently fold dry ingredients into wet ingredients until combined. Transfer batter to cake pan and bake at 180°C/350°F for approx. 20 – 22 min., or until the base bounces back when pressure is applied. Leave to cool on a cooling rack.

Step 6/ 12

87½ g

cream cheese

25 g

sugar

½

eggs

To make the filling, beat cream cheese and sugar on low speed until combined. Add eggs one at a time and continue mixing until incorporated.

Step 7/ 12

25 ml

Bailey's Pumpkin Spice

33⅓ g

sour cream

2½ g

cornstarch

Add sour cream, starch, and Bailey's Pumpkin Spice to mixture. Continue to beat on low speed until evenly incorporated.

Step 8/ 12

medium saucepan
aluminum foil

Wrap the baking form in 2 sheets of aluminum foil. Bring some of the water to a boil. Reduce the oven temperature to 160°C/320°F.

Step 9/ 12

Spread filling evenly over cheesecake base.

Step 10/ 12

refrigerator
oven
deep baking dish
cooling rack
thin knife

Place cake pan into a deep baking dish and fill with approx. 2 cm./1 in. of boiling water so that the bottom of the pan is submerged. Bake on lowest rack of oven at 160°C/320°F for approx. 50 min. Check on the cheesecake after 30 min. and cover with parchment paper if the top of the cake is getting too dark. When cake is done baking, remove the aluminum foil from the pan. Run a thin knife around the edge of cake to loosen it and prevent it from cracking as it cools. Leave to cool on a rack for approx. 2 hours. Transfer to refrigerator and chill for a minimum of 6 hours before serving.

Step 11/ 12

12½ ml

water

8⅓ g

sugar

12½ g

sugar beet syrup

8⅓ g

unsweetened cocoa powder

8⅓ g

dark chocolate (chopped)

12½ ml

Bailey's Pumpkin Spice

To make chocolate sauce, combine remaining water, sugar, syrup, unsweetened cocoa powder, and chopped chocolate in a small saucepan over medium heat. Stir constantly until melted and combined. Remove from the heat and add Bailey's Pumpkin Spice.

Step 12/ 12

Allow the sauce to cool to room temperature. To serve, slice cheesecake and drizzle sauce over each piece. The sauce will keep for approx. 2 weeks when stored in an airtight container and refrigerated. Enjoy!

Enjoy your meal!
More delicious ideas for you