Pumpkin gnocchi with sage butter, walnuts, and smoked bacon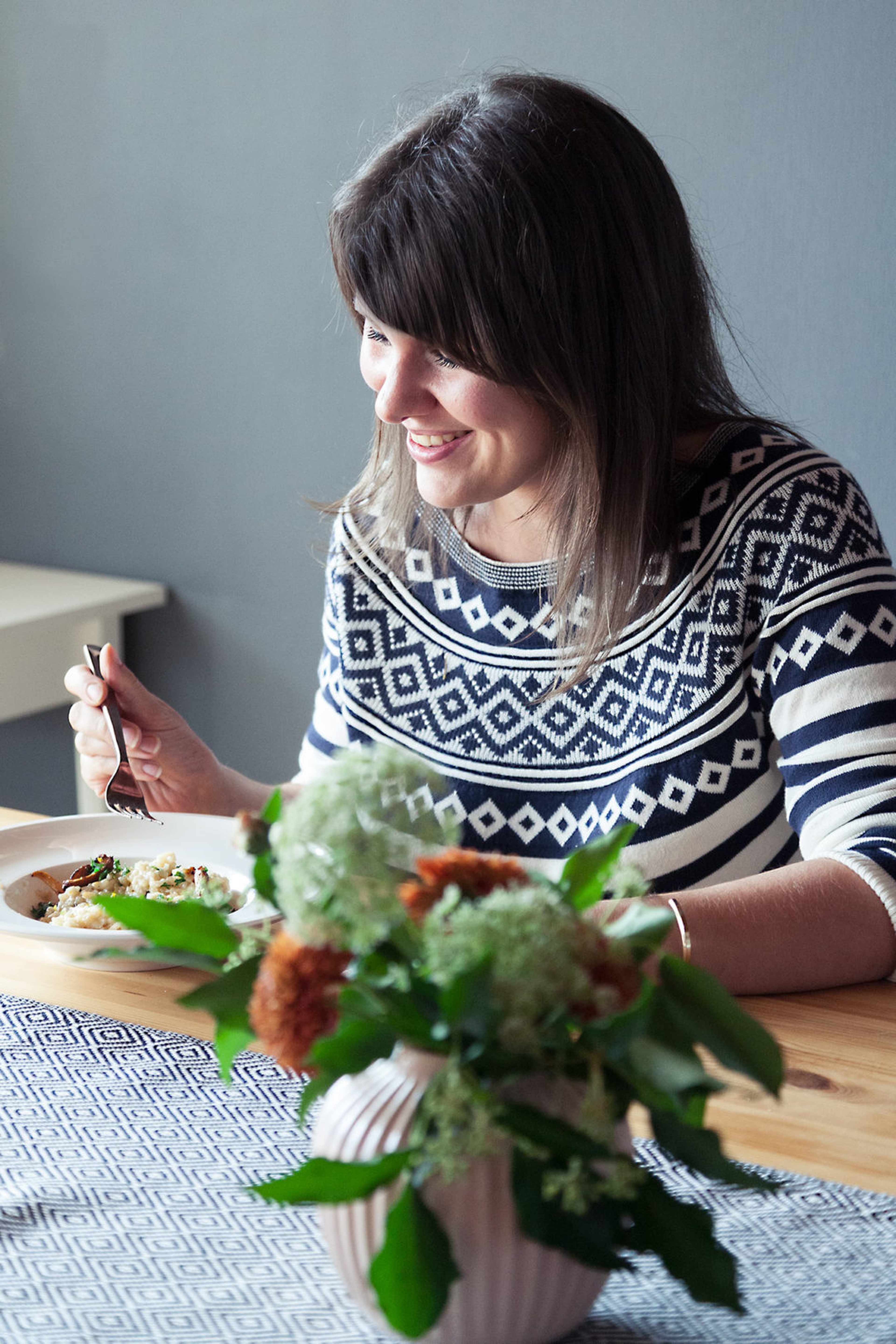 Utensils
baking sheet, oven, cutting board, knife, peeler, potato masher, pot, large bowl, colander, garlic press, immersion blender, rubber spatula, slotted spoon, large frying pan, cooking spoon, grater
How-To Videos
How to chop nuts
How to grate cheese
How to cook potatoes
How to cut Hokkaido pumpkin
Step 1/ 7

baking sheet
oven
cutting board
knife

Preheat oven to 200°C/400°F. Halve Hokkaido pumpkin and remove the seeds. Cut into wedges, then dice the pumpkin and transfer it to a baking sheet. Bake for approx. 30 min., or until the pumpkin is soft, then remove from the oven and set aside to cool.

Step 2/ 7

peeler
potato masher
pot
large bowl
colander

In the meantime, peel potatoes and add them to a pot with water. Cook until soft, then drain, and transfer them to a large bowl. Mash the potatoes until they are smooth.

Step 3/ 7

100 g

potato starch

4 tbsp

cornmeal

25 g

Parmesan cheese

½

egg yolk

½ tbsp

ricotta cheese

1 cloves

garlic

salt

ground caraway

ground nutmeg

garlic press
immersion blender
large bowl
rubber spatula

Add diced pumpkin to a liquid measuring cup and puree until smooth using an immersion blender. Add pumpkin puree, potato starch, cornmeal, Parmesan cheese, egg yolk, ricotta cheese, and grated garlic to the mashed potatoes. Season with salt, pepper, ground caraway and ground nutmeg. Stir well until it becomes a slightly sticky batter.

Step 4/ 7

Flour a clean working surface, add some dough and roll into a log. Repeat with remaining dough. Cut into bite-sized pieces and roll into small balls. To create the classic gnocchi indentations, roll each gnocchi over the tines of a fork, then transfer onto a floured baking sheet.

Step 5/ 7

Bring water to a boil in a large pot and add gnocchi in batches to the boiling water. Once they float, they're ready, and can bet gently removed using a slotted spoon.

Step 6/ 7

75 g

smoked bacon

35 g

walnuts

large frying pan
cooking spoon
cutting board
knife

In the meantime, heat a large frying pan over medium-high heat and fry diced smoked bacon until crispy. Remove from the pan and set aside. Roughly chop walnuts.

Step 7/ 7

½ tbsp

olive oil

25 g

butter

10 leaves

sage

salt

pepper

Heat oil in the frying pan and add butter. Add the gnocchi and fry, tossing from time to time. Add walnuts, sage leaves and fried bacon. Fry until the sage is crispy and the butter browns. Season with salt and pepper, remove from the heat, and serve immediately. Enjoy!

Enjoy your meal!
More delicious ideas for you