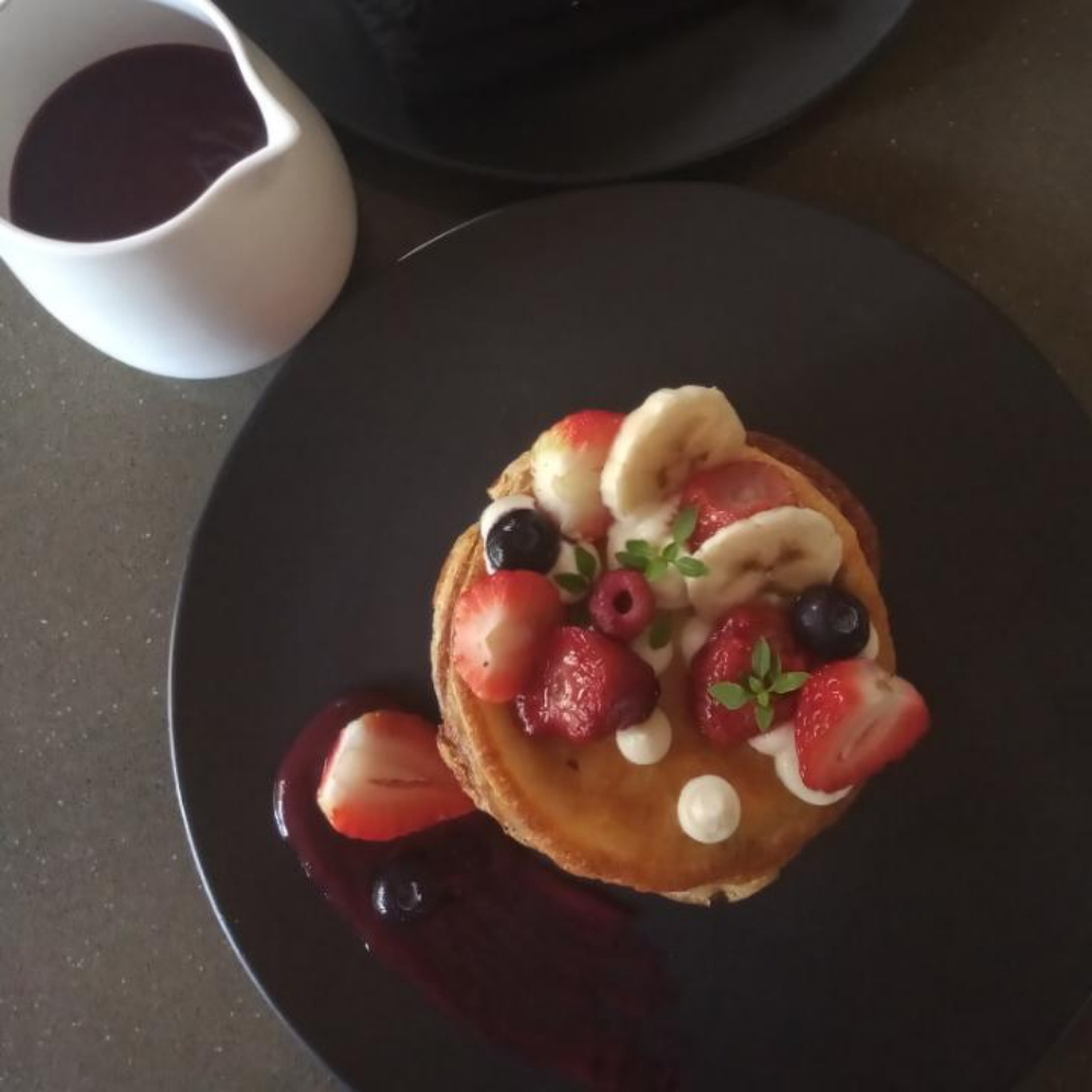 Pancakes with berries and ricotta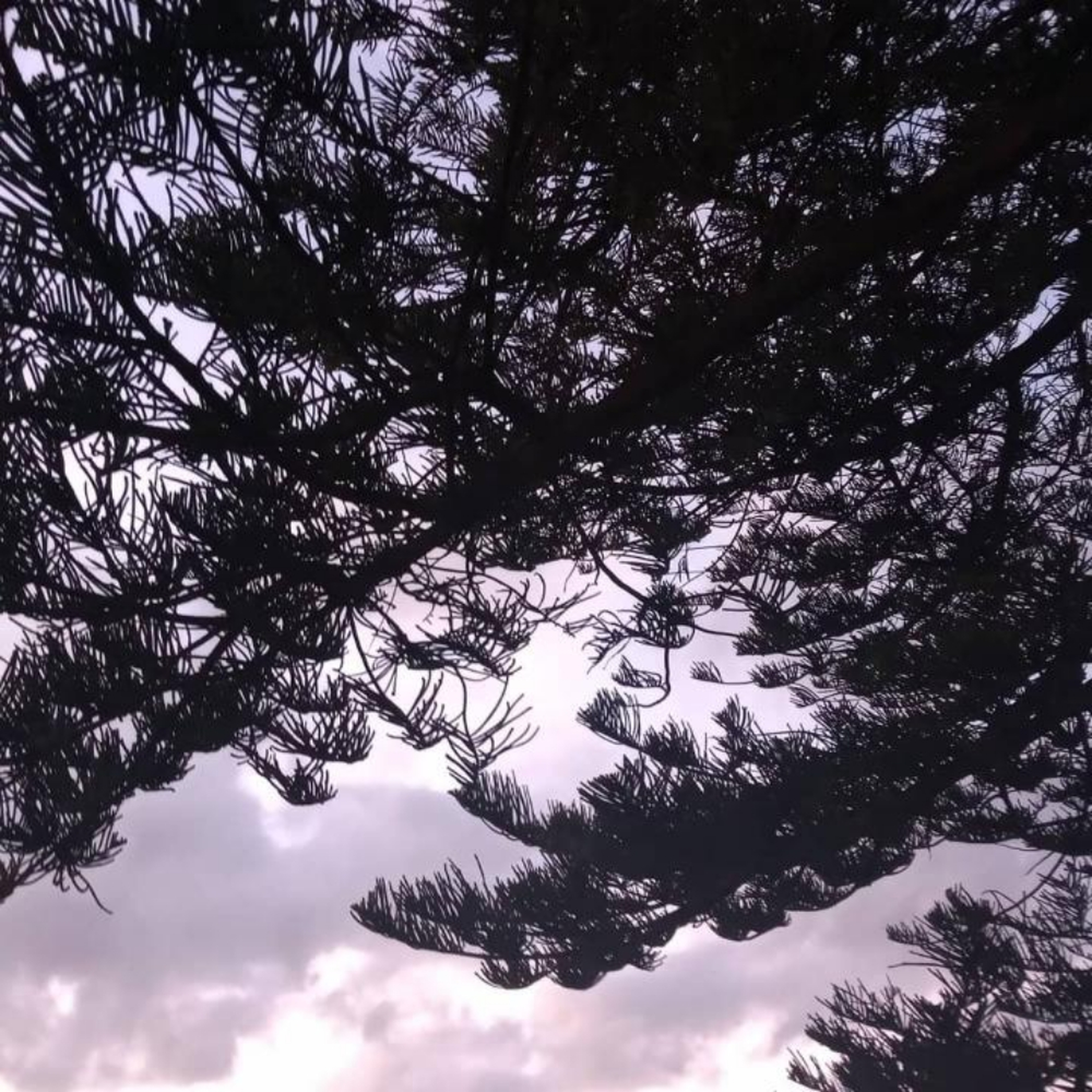 "Canadian fluffy pancakes with roasted strawberries, honey whipped ricotta and spiced berry puree. Feel free to add whichever toppings you like, I used fresh fruit as well as micro herbs as a garnish 🌿🍓🥞"
Utensils
2 ovens, 2 bowls, baking sheet, baking dish, 2 saucepans, 2 wooden spoons, cutting board, knife, fine strainer, blender or food processor, 3 rubber spatulas, jug, 2 hand mixers with beaters, piping bag, sieve, 2 bowls (large), frying pan, spatula, plate (for serving)
Step 1/ 11

Gather ingredients and preheat oven to 190°C

Step 2/ 11

4¾

strawberries

⅜ tbsp

extra-virgin olive oil

micro herbs

bowl
baking sheet
baking dish
oven

Roasted Strawberries - place strawberries, oil and salt in a mixing bowl, and toss together. Pour onto a lined baking tray, roast strawberries for 20-25 minutes at 190°C, or until slightly caramelized, but still firm enough to keep their shape.

Step 3/ 11

¼ tsp

salt

180 g

mixed berries (frozen)

12 g

brown sugar

⅜ tsp

cinnamon

⅜ tsp

vanilla extract

Start to make berry cinnamon puree. Place frozen mixed berries, sugar, cinnamon, vanilla extract and water in a saucepan over medium heat. Cook, stirring, for 3-4 minutes or until sugar has dissolved

Step 4/ 11

Once roasted, remove strawberries from the oven, and allow to cool. Continue making puree - simmer over medium-high heat, stirring occasionally, for 5 minutes or until berries have softened. To achieve your desired consistency, use more water to create a thinner sauce, or cornflour to thicken. Ensure any cornflour is mixed in and cooked through, and set berry cinnamon compote aside to cool.

Step 5/ 11

Prepare fresh fruit to serve - cutting banana into slices and strawberries in halves.

Step 6/ 11

fine strainer
blender or food processor
rubber spatula
jug

Once berry compote has cooled, using a blender or food processer, ensure the compote is a smooth consistency - that of a puree. Put through a mesh strainer in order to remove seeds (optional) and set aside in a jug.

Step 7/ 11

⅜ tbsp

extra-virgin olive oil

¼ tsp

salt

150 g

ricotta cheese

bowl
hand mixer with beaters
piping bag

Make whipped ricotta - place ricotta, honey and remaining salt in a bowl and beat with an electric mixer until light and fluffy. Transfer to a piping bag with a medium nozzle.

Step 8/ 11

cornflour

50 g

flour

⅜ tbsp

baking powder

100 ml

milk

sieve
bowl (large)
rubber spatula

Begin to make pancakes by sifting the flour and baking powder into a large bowl, and stirring in milk and egg yolk until smooth.

Step 9/ 11

bowl (large)
hand mixer with beaters
rubber spatula

In a large bowl, beat egg whites until stiff peaks form. Fold ⅓ of the whites into the batter. Fold in remaining whites until no streaks remain.

Step 10/ 11

Heat a lightly oiled frying pan over medium heat. Cook pancakes, ensuring they are all the same size (approx. 10cm diameter), until golden brown on both sides.

Step 11/ 11

Plate up the dish. Start by stacking pancakes on a black plate, with a thin layer of whipped ricotta between each pancake. Pipe on whipped ricotta, add roasted strawberries and fresh fruit. Top with micro herbs and add berry puree.

Enjoy your meal!
More delicious ideas for you