Mini carrot cakes with stewed apples and chocolate eggshells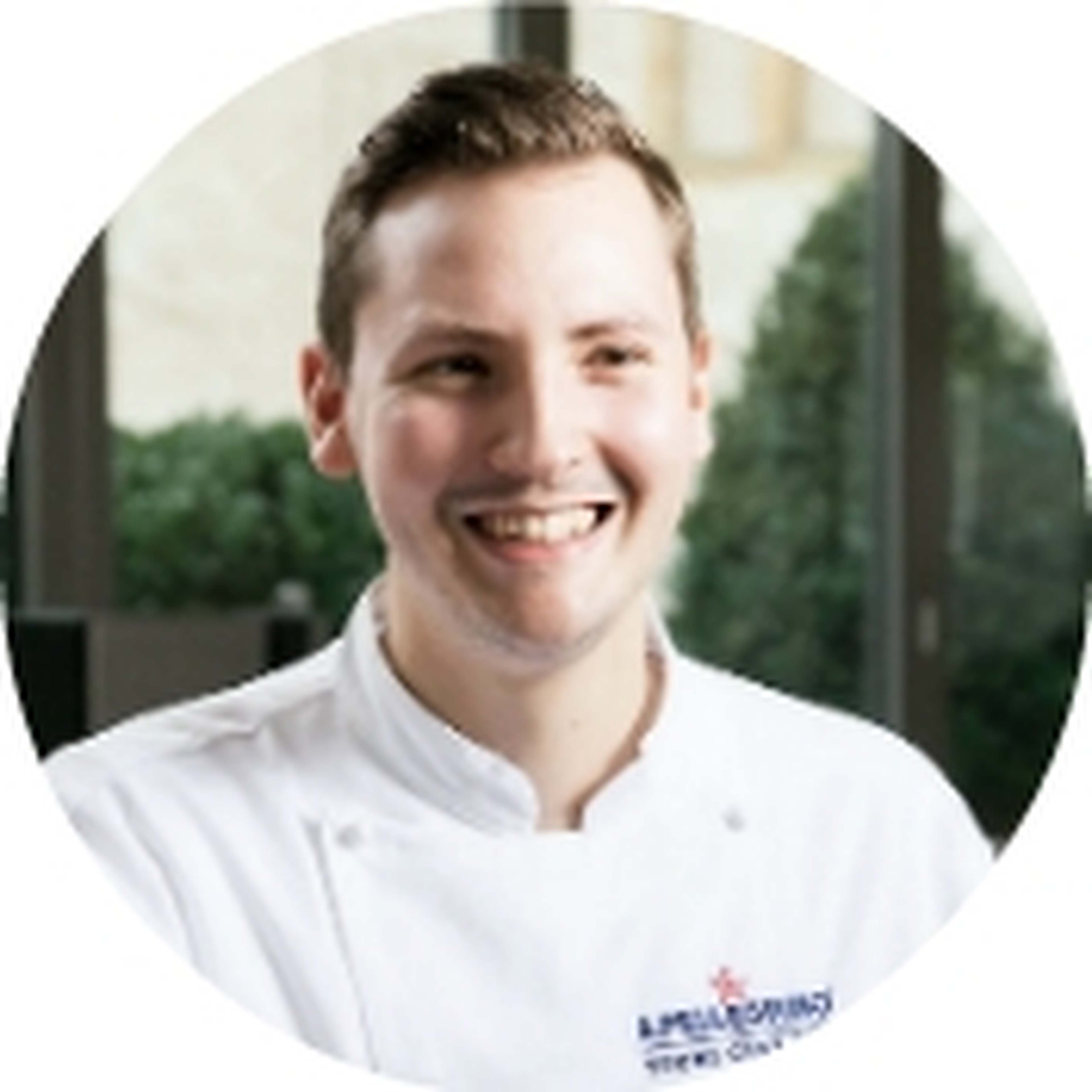 "Carrot cake is very popular at Easter, which is why my dessert is excellent for the holiday. Plus, the eggshell made of chocolate has great wow-factor."
Ingredients
vanilla bean (seeds and bean)
edible gold dust for decorating
Utensils
balloons, small saucepan, rubber spatula, cutting board, knife, heatproof bowl, cups, oven, stand mixer, 2 large bowls, citrus press (optional), box grater, ramekins, peeler, pastry brush, sauce boat
How to core and slice an apple
How to melt chocolate
How to scrape a vanilla bean
How to separate eggs
Step 1/ 8

balloons
small saucepan
rubber spatula
cutting board
knife
heatproof bowl

Chop dark chocolate. In a heatproof bowl, melt some of the chocolate over a saucepan filled with simmering water. Meanwhile, inflate and knot the balloons. Remove chocolate from heat and stir in the remaining chocolate until melted and smooth.

Step 2/ 8

Grease the balloon with a bit of oil. Dip balloon into the chocolate and gently turn to coat. Place each balloon on a cup, chocolate covered-side up, and refrigerate for at least 30 min.

Step 3/ 8

1

eggs

⅛ tsp

salt

⅛ tsp

ground cardamom

⅛

vanilla bean (seeds)

33⅓ g

sugar

41⅔ g

carrots

⅓

lemon

50 g

ground almonds

13⅓ g

flour

oven
stand mixer
2 large bowls
citrus press (optional)
box grater
rubber spatula
knife

For the carrot cakes, pre-heat oven to 180°C/360°F. Separate egg white from egg yolk and transfer to a stand mixer. Add salt and ground cardamom. Scrape out vanilla bean seeds and add to the egg whites, together with the sugar. Beat until stiff. Reserve the vanilla bean pod. Roughly grate carrots and zest lemon. Transfer grated carrots and lemon zest to a bowl, then juice lemon into the bowl. Add ground almonds and flour to a bowl and stir to combine. Add egg yolks to the beaten egg white and stir in ground almond-flour mixture and grated carrots.

Step 4/ 8

butter for greasing

flour for dusting

Grease ramekins with butter, then dust with flour before dividing batter between the ramekins. Bake at 180°C/360°F for approx. 20 – 25 min.

Step 5/ 8

peeler
small saucepan
cutting board
knife

Peel, quarter, and core apples, then cut into pieces. Transfer to a small saucepan and gently cook over medium heat for approx. 20 – 25 min., or until soft.

Step 6/ 8

30 ml

almond milk

⅛

vanilla bean (bean)

46⅔ g

white chocolate

Add almond milk and reserved vanilla bean pod to a saucepan and bring to a simmer. Chop white chocolate and stir into the almond milk until melted. Keep warm until served.

Step 7/ 8

16⅔ g

apricot jam

20 g

slivered almonds

Remove carrot cakes from the oven and allow them to cool for approx. 10 min. Meanwhile, crush soft cooked apples with a fork. Then unmold carrot cakes, brush with apricot jam, and garnish with slivered almonds.

Step 8/ 8

edible gold dust for decorating

Once the chocolate has dried, gently loosen the edges from the balloon. Deflate balloon with a knife, then remove it. Dust chocolate shell with edible gold dust. Remove vanilla bean from the almond-chocolate sauce and transfer it to a sauce boat. Serve carrot cakes on a plate and top with stewed apples. Place the chocolate eggshells over each cake. Pour warm white chocolate-almond sauce over it and enjoy!

Enjoy your meal!
More delicious ideas for you