Make oven-baked falafel with Steven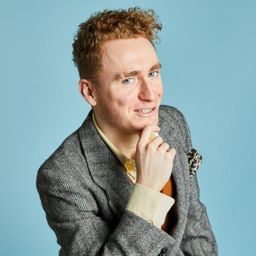 "This is a classic falafel recipe optimized for the oven: perfect if you don't want the hassle of deep-frying or just want a slightly lighter alternative (though, these falafel would be great fried as well). For me, the most important thing is the texture, so it's best to use to dried chickpeas, soaked overnight, to avoid the mushiness of canned chickpeas. Try to keep the falafel mixture fairly coarse and don't over-process it, or you'll end up with dense and gummy falafel. Finally, it's best to make them small, around 1 oz (25g) each, and bake them off in batches to ensure they cook quickly and don't dry out in the oven. The key to getting that great falafel flavor is through the combination of the earthy and fragrant spices and lots of fresh herbs, so that the falafel take on a vibrant green color. The end result is delicious and textured, almost nutty, falafel, which I opted to accompany with a rich and creamy tahini sauce, a fresh and zesty tomato and cucumber salad, and of course some good quality pita."
Ingredients
dry chickpeas (soaked overnight and drained)
Utensils
fine sieve, cutting board, knife, food processor, oven, baking sheet, parchment paper, whisk, bowl (small), bowl (large)
Take an
easy quiz

and discover more recipes you'll love!
How-To Videos
Homemade pita bread
How to chop herbs
How to cut an onion
Step 1/ 5

125 g

dry chickpeas (soaked overnight and drained)

1

onions

½ clove

garlic

20 g

parsley

20 g

mint

½ tsp

salt

½ tsp

ground cumin

½ tsp

oregano

½ tbsp

lemon juice

¼ tsp

ground coriander

¼ tsp

chili powder

¼ tsp

baking soda

pepper

fine sieve
cutting board
knife
food processor

Drain the chickpeas. Roughly chop onion and garlic, pluck parsley and mint leaves, and add to a food processor. Add salt, cumin, oregano, lemon juice, coriander, chilli powder, baking soda, and pepper, and blend until smooth.

Step 2/ 5

Add the chickpeas to the food processor and blend until the mixture starts to hold together slightly but is still relatively coarse in texture.

Step 3/ 5

oven
baking sheet
parchment paper

Preheat the oven to 230°C/445°F. Form the mixture into approx. 2.5cm/1in-wide balls, add to a baking sheet, lined with parchment paper, and place in the fridge for approx. 30 minutes.

Step 4/ 5

⅛ tsp

salt

⅛ tsp

ground cumin

⅛ tsp

garlic powder

2 tbsp

lemon juice

50 g

tahini

50 ml

water

250 g

tomatoes

125 g

cucumbers

5 g

parsley

5 g

mint

1½ tbsp

olive oil

salt

whisk
bowl (small)
bowl (large)

To make the tahini sauce, whisk salt, cumin, ground garlic, some of the lemon juice, tahini and water together. To make the salad, deseed and dice tomatoes, dice cucumber, finely chop herbs, and add to a bowl. Whisk together olive oil, remaining lemon juice, salt and pepper, add to the salad, and toss well.

Step 5/ 5

pita bread (for serving)

parsley (for serving)

hot sauce (for serving)

Place half the falafel on a baking sheet, drizzle with olive oil, transfer to pre-heated oven, and bake for approx. 15 min. Either bake the rest immediately, store in the fridge for up to a week, or store in the freezer for up to 6 months. Serve with pita, tahini sauce, and salad. Enjoy!

Enjoy your meal!
More delicious ideas for you