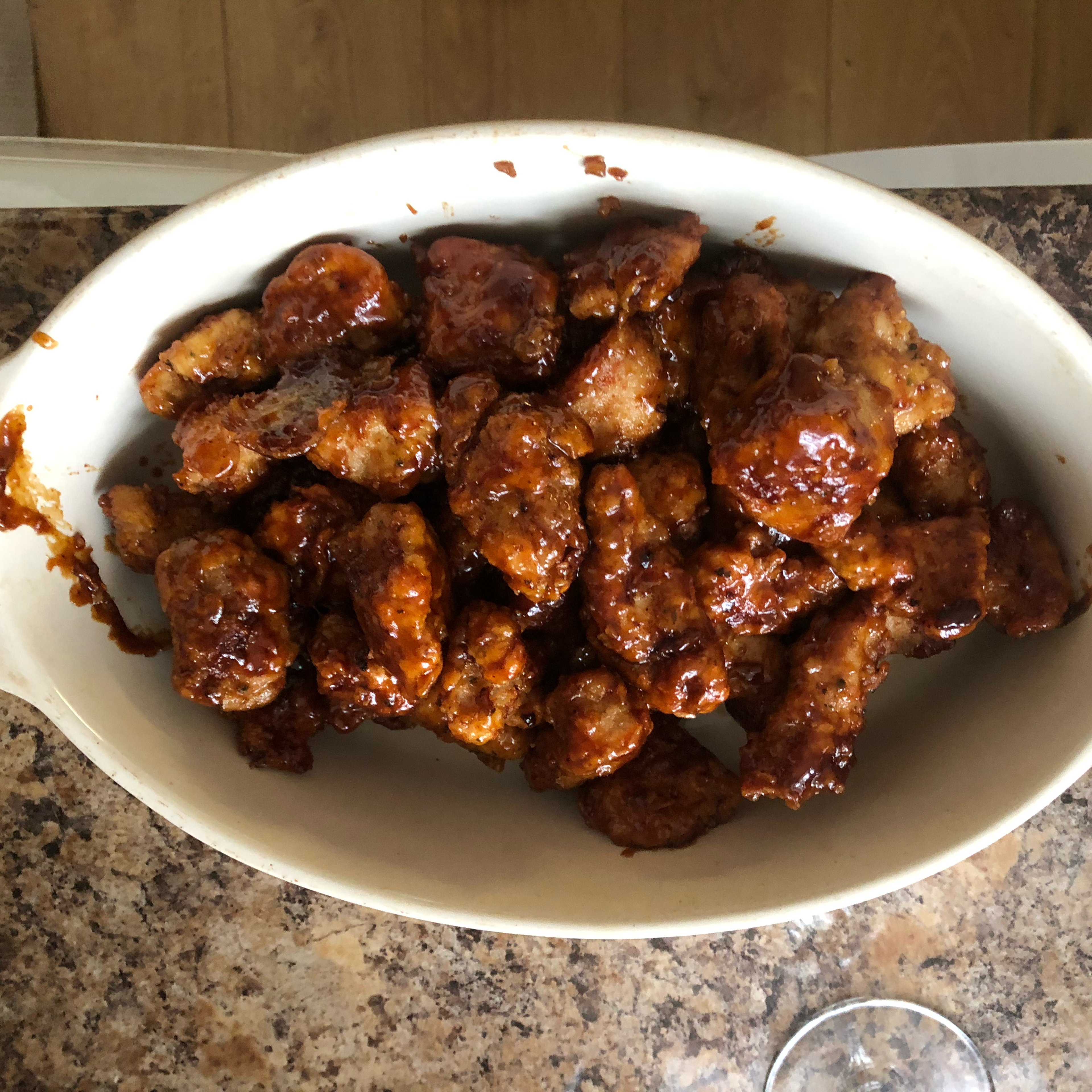 Step 1/ 7

60 g

- Flour

¾ tsp

- Salt

¾ tsp

- Black pepper

¾ tsp

- Dried parsley

1. In a mixing bowl add in the flour, salt, pepper and dried parsley. Stir together until the ingredients are nicely combined.

Step 2/ 7

2. Crack the eggs into a bowl and whisk until the yolks and whites have combined.

Step 3/ 7

3. Dice the chicken breast into smaller chunks. Add the chicken pieces into the same bowl as the eggs and make sure that all the pieces are covered in egg.

Step 4/ 7

4. Pass the chicken pieces from the egg bowl to the bowl with the dry ingredients and cover the pieces in a layer of the dry ingredients and place on a plate.

Step 5/ 7

5. Once all the pieces have been covered, get a deep pot and fill it with 1/2 an inch of oil. Put the pot onto the stove at a low flame. Pour the chicken pieces inside the pot once the oil has been left for about 4 minutes. Let them fry for until they are golden brown on the outside.

Step 6/ 7

⅜ tsp

- Unsalted butter

⅜ tsp

- Ginger paste

⅜ tbsp

- Brown sugar

¾ tbsp

- Honey

2¾ tbsp

- Hot sauce

⅜ tbsp

- Soy sauce

6. Once the chicken has fried, take the pieces and set them to the side. Grab another pot and add in the unsalted butter, ginger, brown sugar, honey, hot sauce and soy sauce. Then set the pot on a low flame and combine the ingredients.

Step 7/ 7

7. Add in the chicken to the paste and make sure to coat all the pieces. leave them in for 1-2 minutes. Take the pieces out and serve with rice or noodles.

Enjoy your meal!
More delicious ideas for you