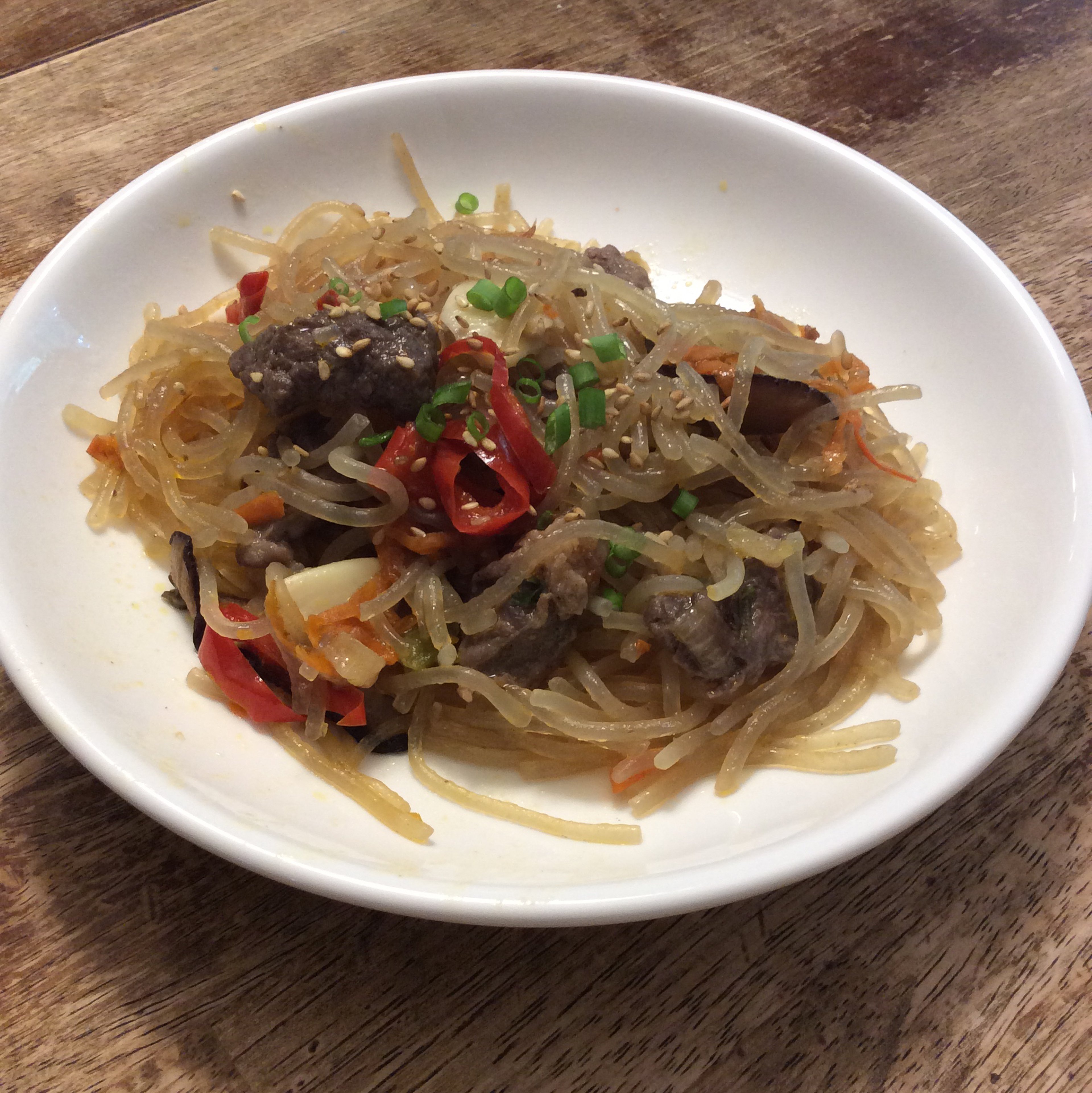 Ingredients
soy sauce (for marinating)
brown sugar (for marinating)
Utensils
box grater, knife, cutting board
Step 1/ 8

box grater
knife
cutting board

Begin to prep your ingredients by slicing your mushrooms and bell pepper into a rough julienne. Peel and shred your carrots. Put each ingredient into its own bowl.

Step 2/ 8

Next, thinly slice your lean beef and place it in a ziplock bag or air tight container. Add 3 smashed garlic cloves, thinly sliced scallions, brown sugar, and soy sauce. Put in the fridge to marinate while you prepare and cook the rest of the ingredients.

Step 3/ 8

In a large pot, boil water and cook glass noodles according to package instructions.

Step 4/ 8

While the noodles are cooking, sauté all the vegetables in olive oil separately. In this order: mushrooms, carrots, bell peppers, onions, garlic, and then spinach.

Step 5/ 8

Now, pour the meat into a skillet, juices and all. Cook for two to three minutes until just well done. You don't want your meat to be too cooked or else it will get dry when added to your noodles

Step 6/ 8

When your noodles are completely cooked, strain them and return them to the pot they were boiled in. Add sesame seeds, remaining soy sauce, and sesame oil. Stir carefully to combine, trying your best not to break the noodles.

Step 7/ 8

Add the sautéed meat and veggies. Stir to combine.

Step 8/ 8

For serving you can add extra sesame seeds and scallions on top, kimchi, or gochuchang. Enjoy!

Enjoy your meal!
More delicious ideas for you