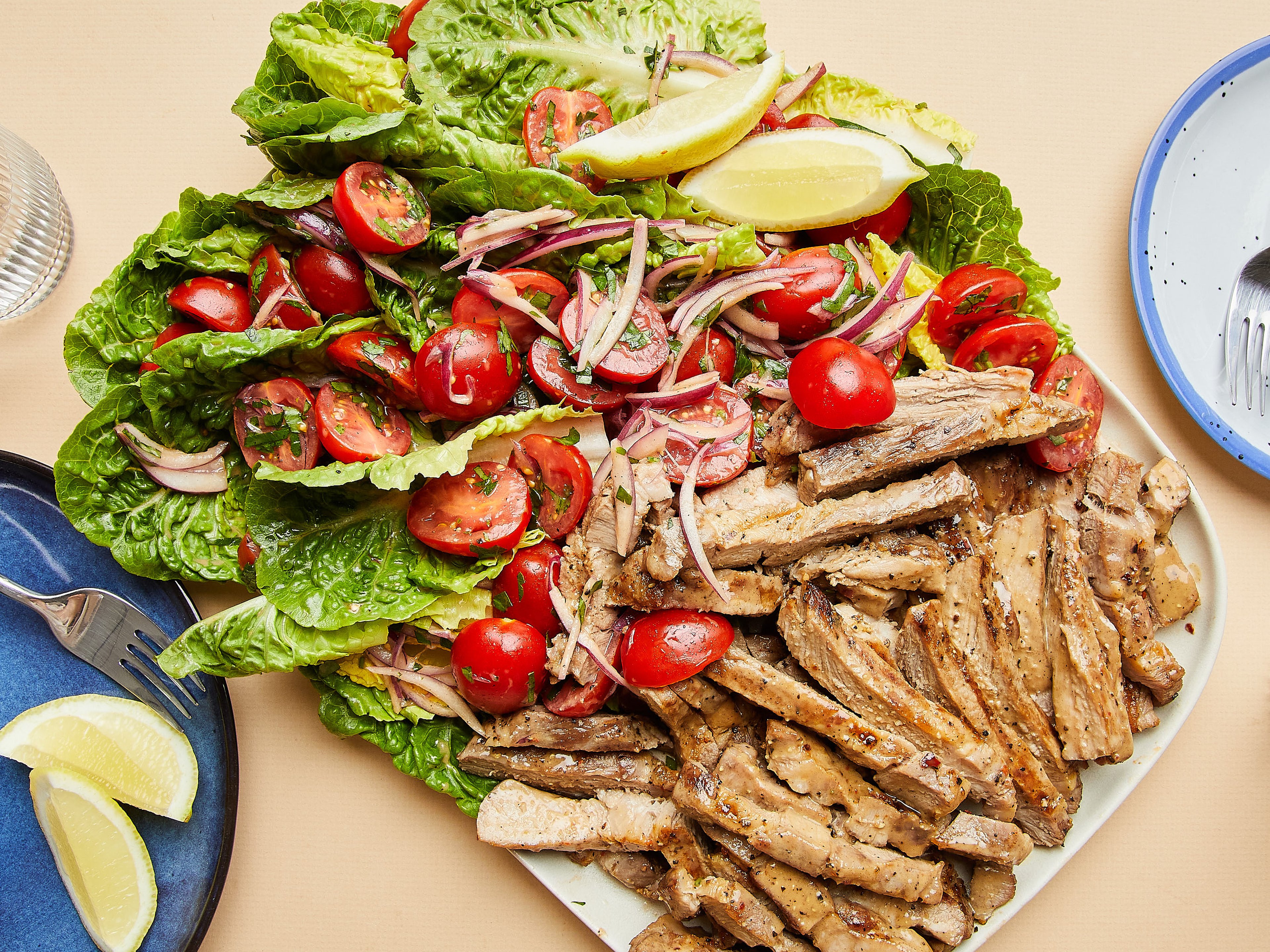 Grilled pork steak salad with tomatoes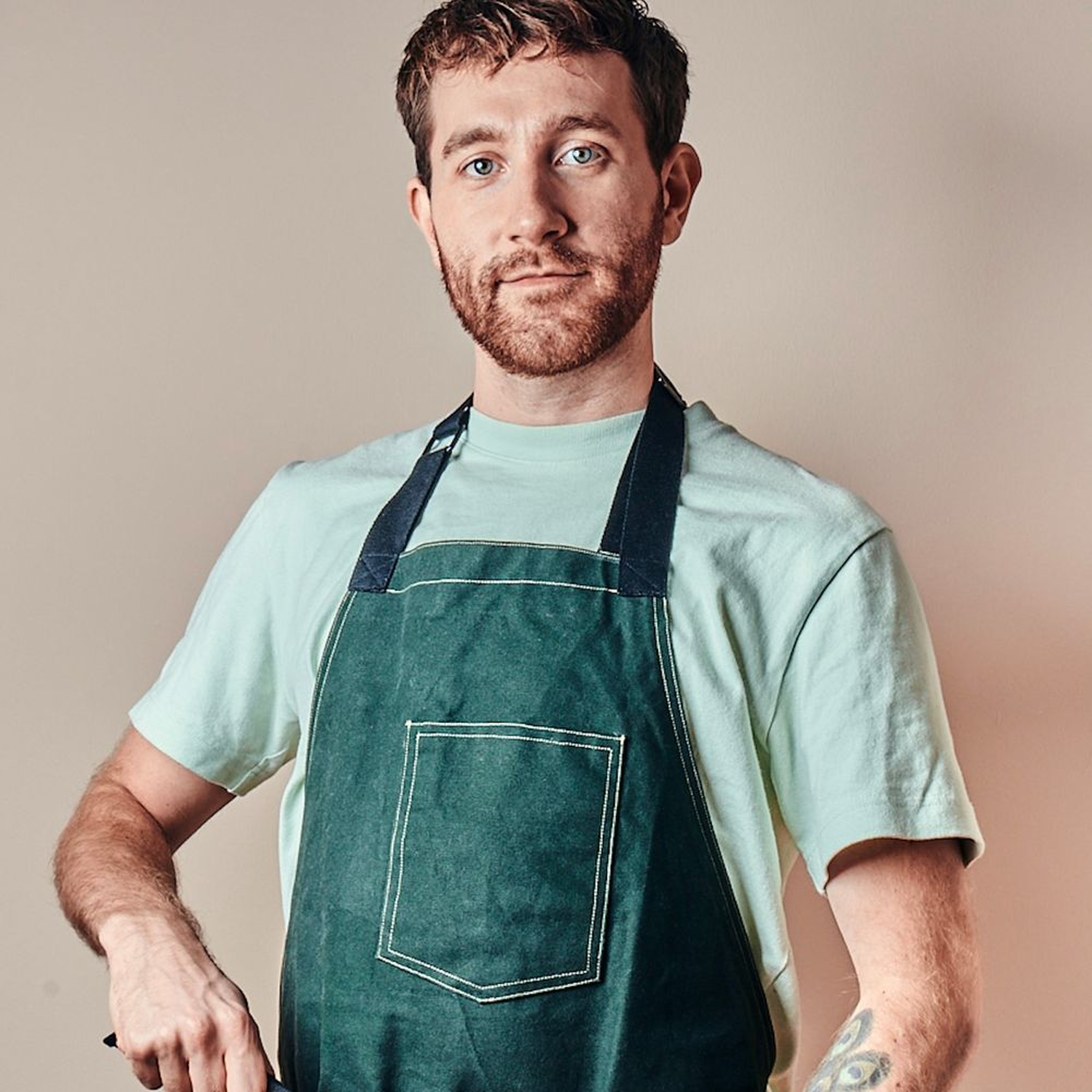 "Want a shortcut with more flavors? Try our MEAT LOVER seasoning in this recipe! Pork neck is a fantastic cut of meat. It's cheap and cooks quickly, making it ideal even for weeknight grilling. Salting it right from the start ensures it's seasoned throughout. The steaks cook in a matter of minutes, so make sure you are using high heat for a nice sear and a deliciously smokey flavor (this recipe works in a skillet as well!). Don't forget the herby tomato salad: it adds a lovely fresh contrast to the fatty meat."
Ingredients
Kitchen Stories Meat Lover seasoning (optional)
Utensils
grill, platter (large), cutting board, knife, bowl (large), bowl (small), whisk, tongs, Meat Lover seasoning
How-To Videos
How to halve cherry tomatoes
Basic mustard vinaigrette
How to chop herbs
How to cook the perfect steak
Step 1/ 5

400 g

pork neck steaks

chili flakes

salt

½ tsp

pepper

Prepare your grill for high heat. Generously season the steaks all over with salt and pepper and sprinkle with chilli flakes on both sides. Set aside and let marinate while you prepare the salad.

Step 2/ 5

1 heads

romaine hearts

250 g

cherry tomatoes

15 g

parsley

½

red onion

½ tbsp

Dijon mustard

½

honey

1½ tbsp

olive oil

1½ tbsp

red wine vinegar

½ tsp

pepper

salt

platter (large)
cutting board
knife
bowl (large)
bowl (small)
whisk

Separate the salad into leaves and place them onto a large serving platter. Halve cherry tomatoes and transfer to a large bowl. Roughly chop parsley and add to the bowl. Finely slice red onion and add to the same bowl. For the dressing, add mustard and honey to a small bowl. Slowly whisk in half of the olive oil to emulsify, then whisk in vinegar. Add coarsely cracked pepper and season with salt. Set aside.

Step 3/ 5

Once the grill is hot, coat the marinated steaks with the remaining olive oil. Place the steaks on the grill. Be careful - as the pork cooks the fat will render, which might cause some flare ups. Frequently move the steaks to avoid burning. After approx. 4 min. grilling, flip the steaks and grill for another approx. 3 min., until both sides have taken on a nice color. Transfer onto a cutting board and let rest for approx. 5 min.

Step 4/ 5

Toss half of the dressing with the tomatoes and onion mix, add to the platter on top of the lettuce.

Step 5/ 5

chili flakes

salt

pepper

Kitchen Stories Meat Lover seasoning (optional)

Cut the steaks into thin slices and add to the serving platter. Drizzle the remaining dressing over and finish with salt, pepper, a pinch of chili flakes, and our MEAT LOVER seasoning if liking. Garnish with lemon wedges.

Enjoy your meal!
More delicious ideas for you