Goat cheese crème brûlée with lamb's lettuce and apple dressing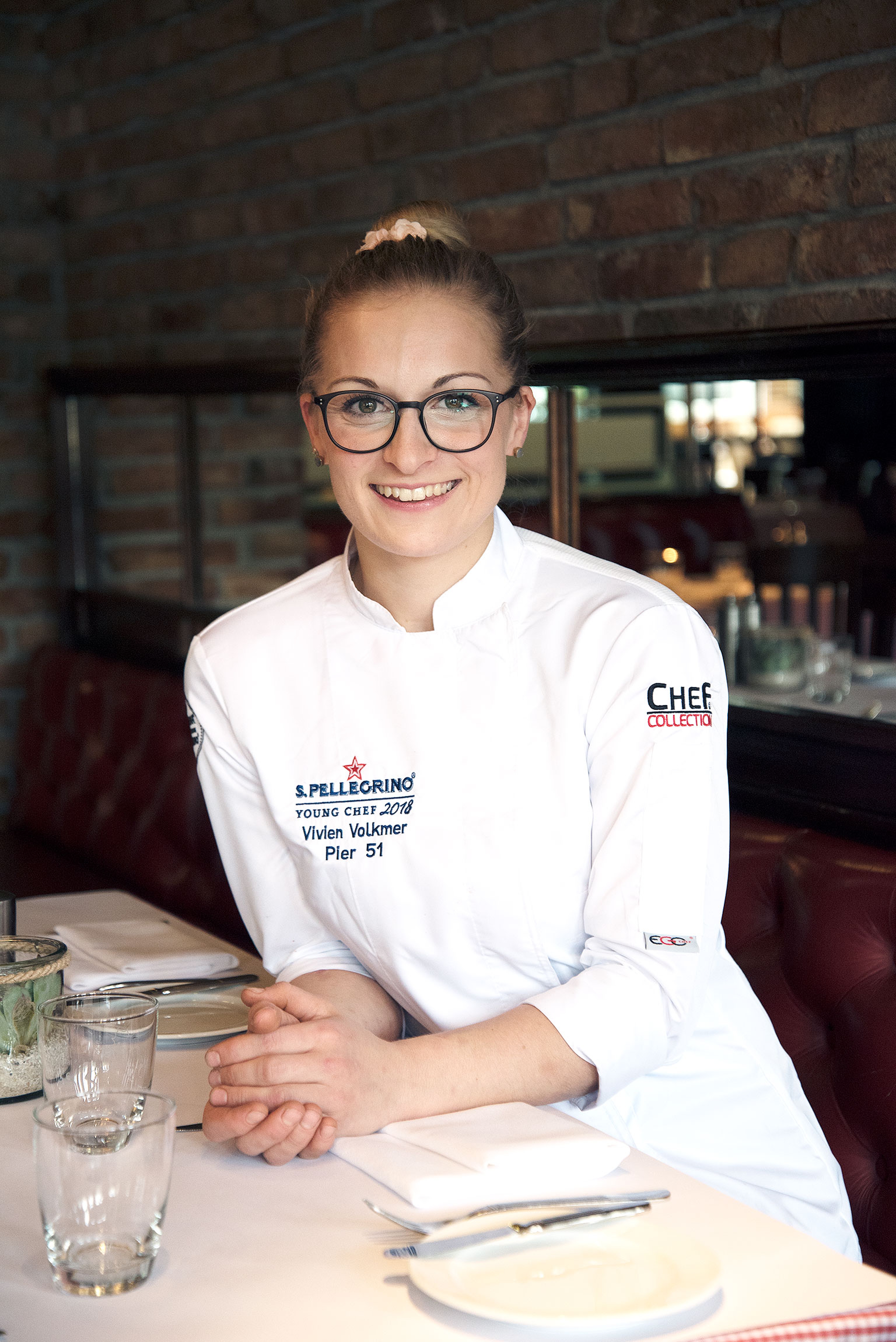 "My dish is ideal for Christmas because I created something special out of very simple products."
Utensils
saucepan, oven, sieve, whisk, large mixing bowl, baking molds, baking dish or deep baking sheet, frying pan, cutting board, knife, paper towel, parchment paper, hand blender, jar, vegetable peeler, grater, flambé torch
How-To Videos
How to prepare lamb's lettuce
How to core an apple
How to caramelize sugar
How to separate eggs
Step 1/ 8

1⅔

eggs

125 ml

cream

41⅔ ml

milk

⅔ sprigs

thyme

⅔ sprigs

rosemary

83⅓ g

goat cheese

sugar

salt

pepper

saucepan
oven
sieve
whisk
large mixing bowl

Preheat oven to 90°C/195°F. Separate egg yolks from egg whites, then beat egg yolks. Transfer cream and milk to a saucepan and add thyme, rosemary, and some sugar, salt, and pepper. Bring to a boil, then strain the mixture into a large mixing bowl. Mix in goat cheese and stir until melted.

Step 2/ 8

baking molds
large mixing bowl

Transfer egg yolks to a large bowl. Gently stir in goat cheese mixture and evenly distribute into small molds.

Step 3/ 8

baking dish or deep baking sheet

Place the molds into a deep, water-filled baking dish or baking sheet. Bake at 90°C/195°F for approx. 50 – 55 min. Let cool completely.

Step 4/ 8

frying pan
cutting board
knife
paper towel

Dice bacon. Add to a frying pan set over medium-high heat and fry until fat renders. Let drain and cool on a paper towel-lined plate.

Step 5/ 8

16⅔ g

brown sugar

16⅔ g

walnuts

⅔ tbsp

water

frying pan
parchment paper

Add a portion of the brown sugar and some water to another frying pan and cook over medium heat until caramelized. Add walnuts and toss to coat. Distribute over parchment paper and let cool.

Step 6/ 8

20 ml

cider vinegar

⅓ tsp

mustard

16⅔ g

honey

33⅓ ml

oil

salt

pepper

For the dressing, add vinegar, mustard, and honey to a jar, and blend shortly. Slowly stream in oil and blend again. Season to taste with salt and pepper.

Step 7/ 8

vegetable peeler
cutting board
knife
grater

Quarter and core apples, cut them into thin slices, and add to dressing. Peel and roughly grate carrot.

Step 8/ 8

10 g

brown sugar

83⅓ g

lamb's lettuce

16⅔ g

cranberries

salt

pepper

thyme for garnish

flambé torch
large mixing bowl

Evenly distribute remaining brown sugar over the tops of the goat cheese custards. Caramelize each one using a flambé torch. Mix salad, dressing, and grated carrots in a large mixing bowl and season to taste with salt and pepper. Transfer to plates and top with bacon, cranberries, and walnuts. Serve alongside goat cheese crème brûlée and garnish with thyme, if desired. Enjoy!

Enjoy your meal!
More delicious ideas for you