Glazed duck breast with mashed rutabaga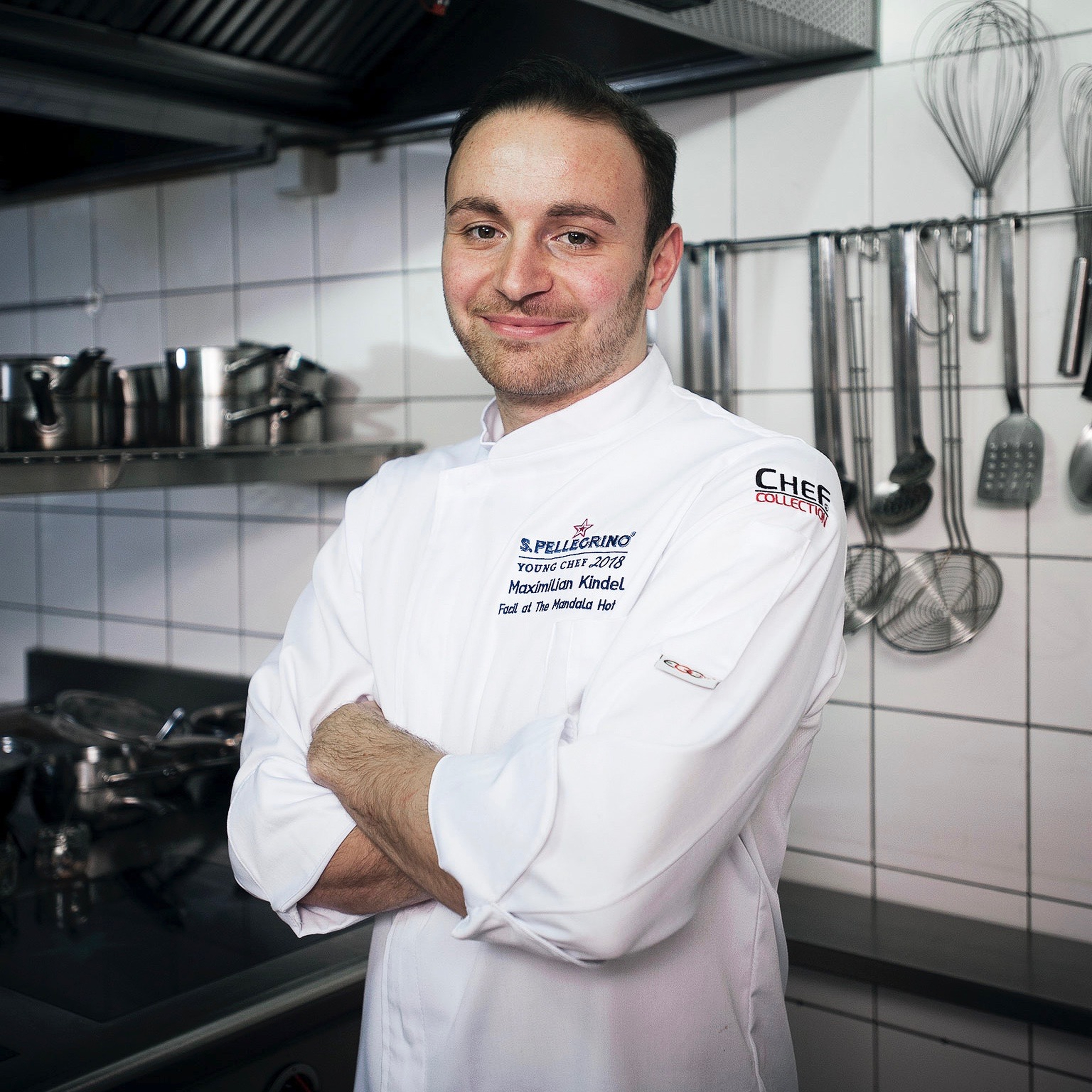 "My dish is special because regionality takes center stage. All ingredients are sourced from our local farmer. Christmas without duck is like December without Christmas cookies—you just can't skip it!"
Ingredients
savory blossoms for garnish
Utensils
kitchen towel, cutting board, knife, large mixing bowl, citrus press, small saucepan, large saucepan, vegetable peeler, cooking spoon, frying pan, oven, sieve, baking sheet
How to reach the perfect temperature for frying
How to strain
How to blanch
3 easy ways to juice a lemon
Step 1/ 7

2

duck breasts

salt

water

kitchen towel
cutting board
knife
large mixing bowl

Score duck skin in a diamond pattern. Soak in salted water for approx. 7 min., then pat try and set aside.

Step 2/ 7

6⅔ g

sugar

⅔ tbsp

water

166⅔ ml

tomato juice

⅓

lemon (juice)

⅓ tsp

starch

⅛ tsp

paprika powder

⅓ stick

cinnamon

salt

citrus press
small saucepan

Add sugar and some water to a small saucepan and caramelize over medium heat. Deglaze with tomato juice and lemon juice. Combine starch and the same amount of water to make a slurry. Add paprika powder, cinnamon, salt, and slurry to the pan. Let reduce for approx. 15 – 20 min.

Step 3/ 7

⅓ kg

rutabaga

33⅓ g

sushi ginger

50 g

butter

33⅓ ml

apple juice

salt

large saucepan
vegetable peeler
cooking spoon
cutting board
knife

Peel rutabaga and cut into bite-sized pieces. Finely chop sushi ginger. Add butter to a large saucepan and sauté rutabaga. Add salt and apple juice, cover with lid, and cook for approx. 15 – 20 min., or until soft. Mash sautéed rutabaga with a fork and season to taste with salt. Add sushi ginger and stir to combine.

Step 4/ 7

Heat oil in a frying pan set over medium-high heat. Sear duck breast. Spoon hot oil over the skin, then flip duck breast. Remove from frying pan and let oil drain from meat.

Step 5/ 7

83⅓ g

green beans

⅔

apples

3⅓ g

fresh savory

vinegar

salt

ice cubes

oven
small saucepan
large mixing bowl

Preheat oven to 150°C/300°F. Trim ends off beans and slice into small rings. Slice apples around the core and finely dice. Chop savory. Blanch beans in boiling water, then rinse in ice cold water. Mix beans, apples, and savory. Season to taste with salt and vinegar.

Step 6/ 7

2

shallots

133⅓ ml

Port wine

33⅓ ml

raspberry vinegar

⅔ sticks

cinnamon

⅓

bay leaf

33⅓ g

butter

vegetable oil for frying

frying pan
sieve
small saucepan
cutting board
knife

Peel and slice shallots. Heat oil in a frying pan over medium-high heat and sauté shallots. Remove from frying pan and set aside. Add Port wine to a new saucepan, together with vinegar, cinnamon stick, and bay leaf, and let reduce. Strain, then add butter to the liquid. Bring to a boil while stirring, then add shallots and let simmer for approx. 2 – 5 min. Set aside.

Step 7/ 7

savory for garnish

savory blossoms for garnish

coarse sea salt

Transfer duck breast to the oven at 150°C/300°F for approx. 10 – 15 min. Remove from oven and let rest for approx. 5 min. Serve mashed rutabaga on a plate, together with Port wine shallots, sauce, and apple-bean salad. Garnish with fresh savory and blossoms. Slice and glaze meat, season with coarse sea salt, and transfer on top of the mashed rutabaga. Enjoy!

Enjoy your meal!
More delicious ideas for you