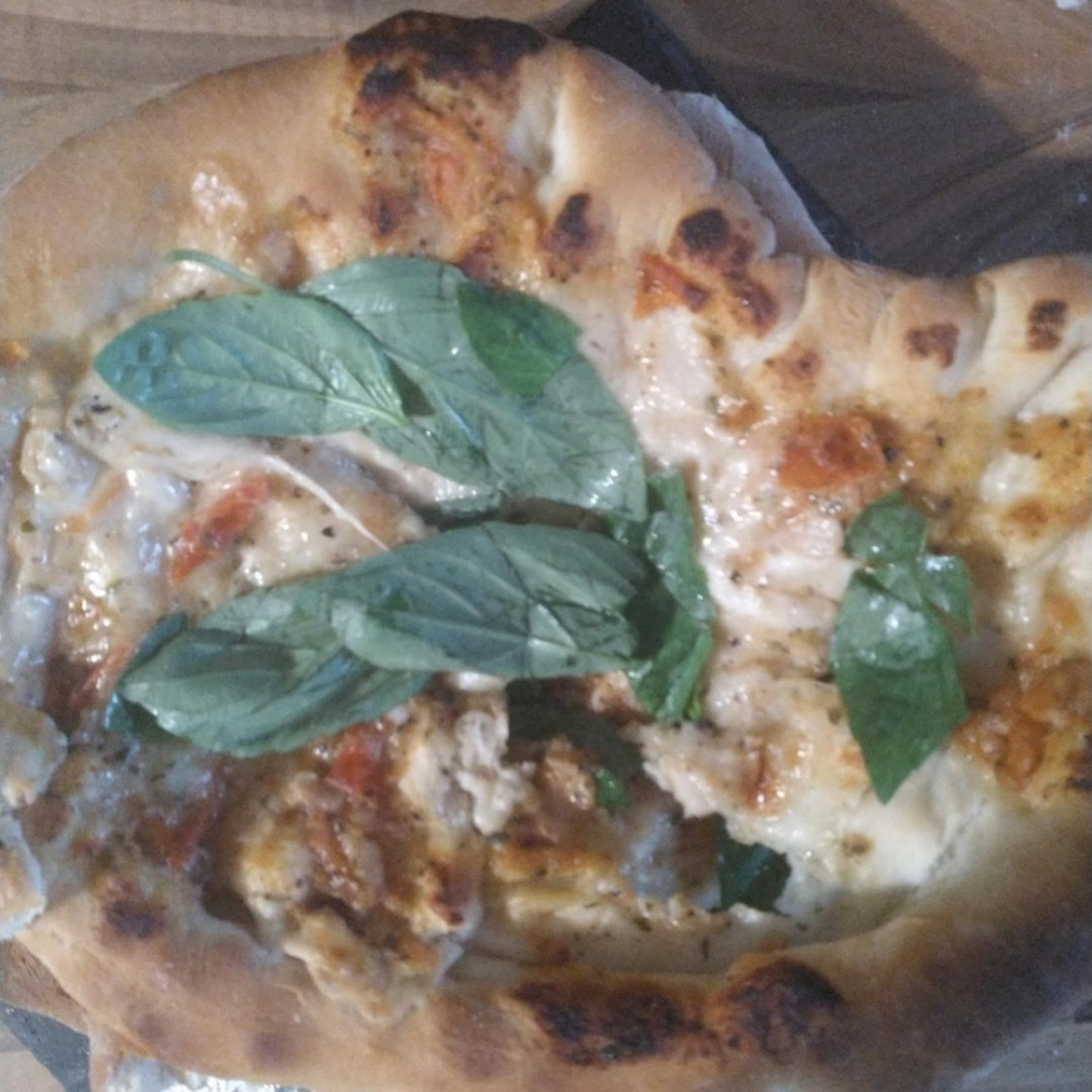 Fluffy Neopolitan Pizza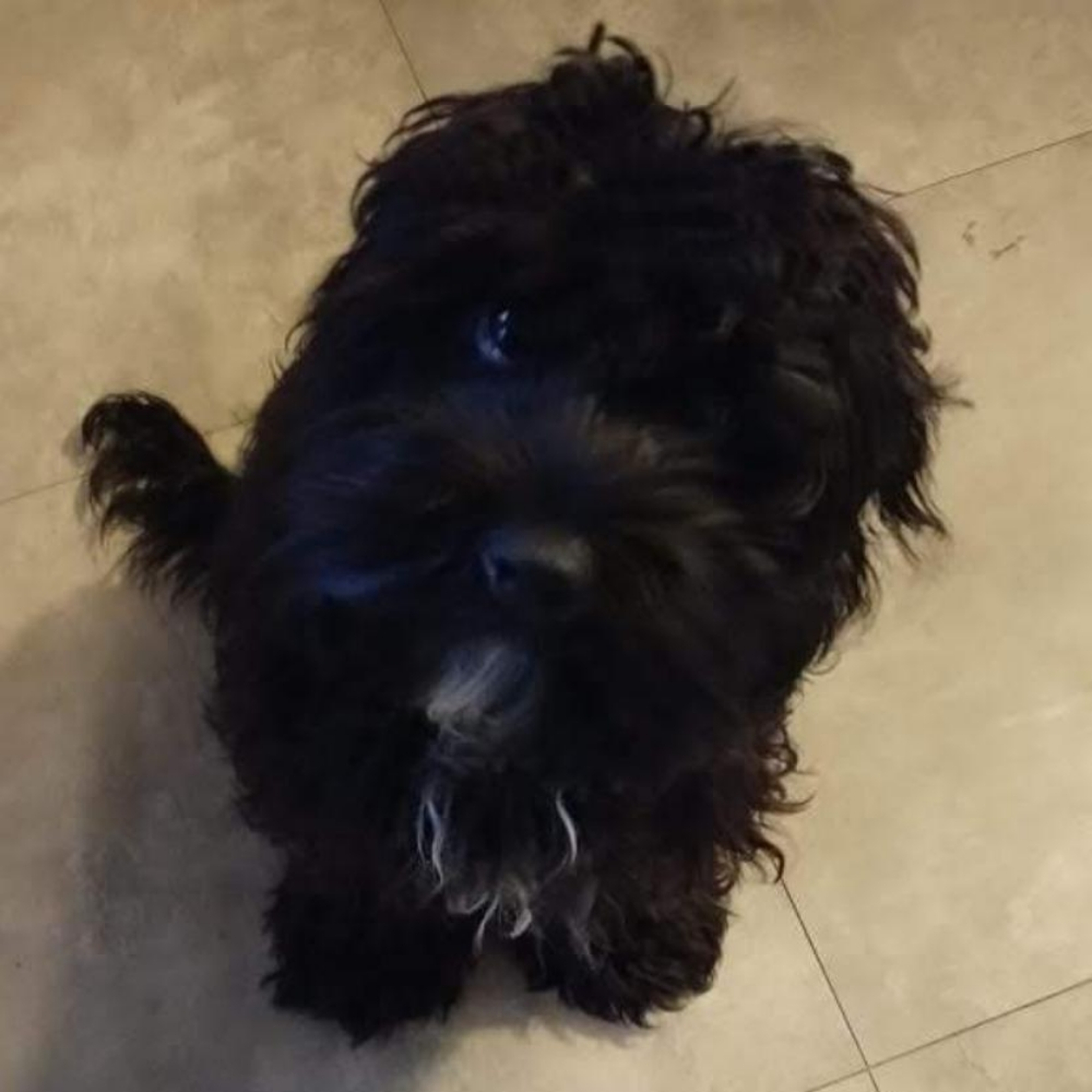 "You can make the sauce with half the ingredients, as I did (I only had 2 tomatoes), but beware you have to be quite stingy with the sauce. I found that for the dough, after much experimentation, this rising time, and this ratio of flour to water is perfect for a home baked pizza. For the sauce, simplicity is key, and you can use any dried Italian herb. Yes, there is a long wait to make this, but it's worth it."
Ingredients
plain flour, plus extra for sprinkling
tepid water, plus a little extra
olive oil, plus extra for oiling
about 1tbsp dried polenta or similar
Utensils
bowl, spoon, whisk, measuring jug, cling film, rolling pin, tea towel, saucepan, immersion blender, baking tray
Step 1/ 10

125 g

strong white bread flour

125 g

plain flour, plus extra for sprinkling

175 ml

tepid water, plus a little extra

¾ tbsp

olive oil, plus extra for oiling

salt

½ pinch

sugar

about 1tbsp dried polenta or similar

bowl
spoon
whisk
measuring jug

Mix together the flours, salt and yeast together, making sure the salt and yeast don't touch. Whisk the sugar with the water until it is mostly dissolved. Gradually add in the tepid water with the olive oil until a soft and slightly sticky dough is formed - you may need more or less water depending on various factors.

Step 2/ 10

Knead the dough on a lightly floured surface (watch video above). Push the dough away from you with the palm of your hand for about 10mins.

Step 3/ 10

Tuck the dough underneath itself, so it forms a smooth, round ball. I do this by tucking my hands underneath and pulling on the dough as if I am 'stretching' the dough from the top down.

Step 4/ 10

Lightly oil some cling film, and the bowl, and let the dough rise for around 1 1/4 hours until doubled in size, although it may take more or less time depending on the weather.

Step 5/ 10

Knead the dough again for about 3mins on a lightly floured surface, adding a tiny drop more water and working it into the dough to ensure the it remain moist (although if it is already quite wet, don't do this - only use this recipe as a general guide). Lightly oil the bowl again, cover in lightly oiled cling film, and leave to rise in the fridge overnight.

Step 6/ 10

Need once more for a few minutes to bring the dough back together, after punching it down. Try to fold the dough onto itself whilst kneading to get rid of any air bubbles.

Step 7/ 10

Quarter the dough and roll each quarter out on a floured surface (flour it quite heavily this time, as it may stick), and again work in any extra drops of water if needed. The dough pieces should be around 1/2cm in thickness, and thicker on the edges. Drizzle with olive oil, cover with a damp tea towel, and yes, again, let them rise again, whilst you get on with the sauce.

Step 8/ 10

salt

3½ g

sachet fast action yeast

2

tomatoes

2 cloves

garlic

garlic granules

any dried italian herb

splash water

pepper

saucepan
immersion blender
spoon
baking tray

Meanwhile, preheat the oven to gas 9, and place a baking tray in the oven. Get on with sauce. Dice the tomatoes, and roughly slice the garlic. Fry the garlic in a. preheated pan with olive oil for about 2 mins until golden brown over a medium heat. Add the tomatoes, and 2 generous splashes of water, and let simmer until reduced and the tomatoes began to break down. Add some seasoning, garlic granules, and any dried italian herb you have. Blend the sauce - you can have it smooth, chunky or 50/50.

Step 9/ 10

Chop the mozzarella roughly. Carefully remove the baking tray from the oven and sprinkle on some dried polenta or similar. Place one of the discs of dough on the hot baking tray, and place some sauce and mozzarella on top. Bake for about 12 minutes until the cheese has melted and it looks delicious.

Step 10/ 10

Give the pizza a final drizzle of olive oil, top with fresh basil and serve!

Enjoy your meal!
More delicious ideas for you