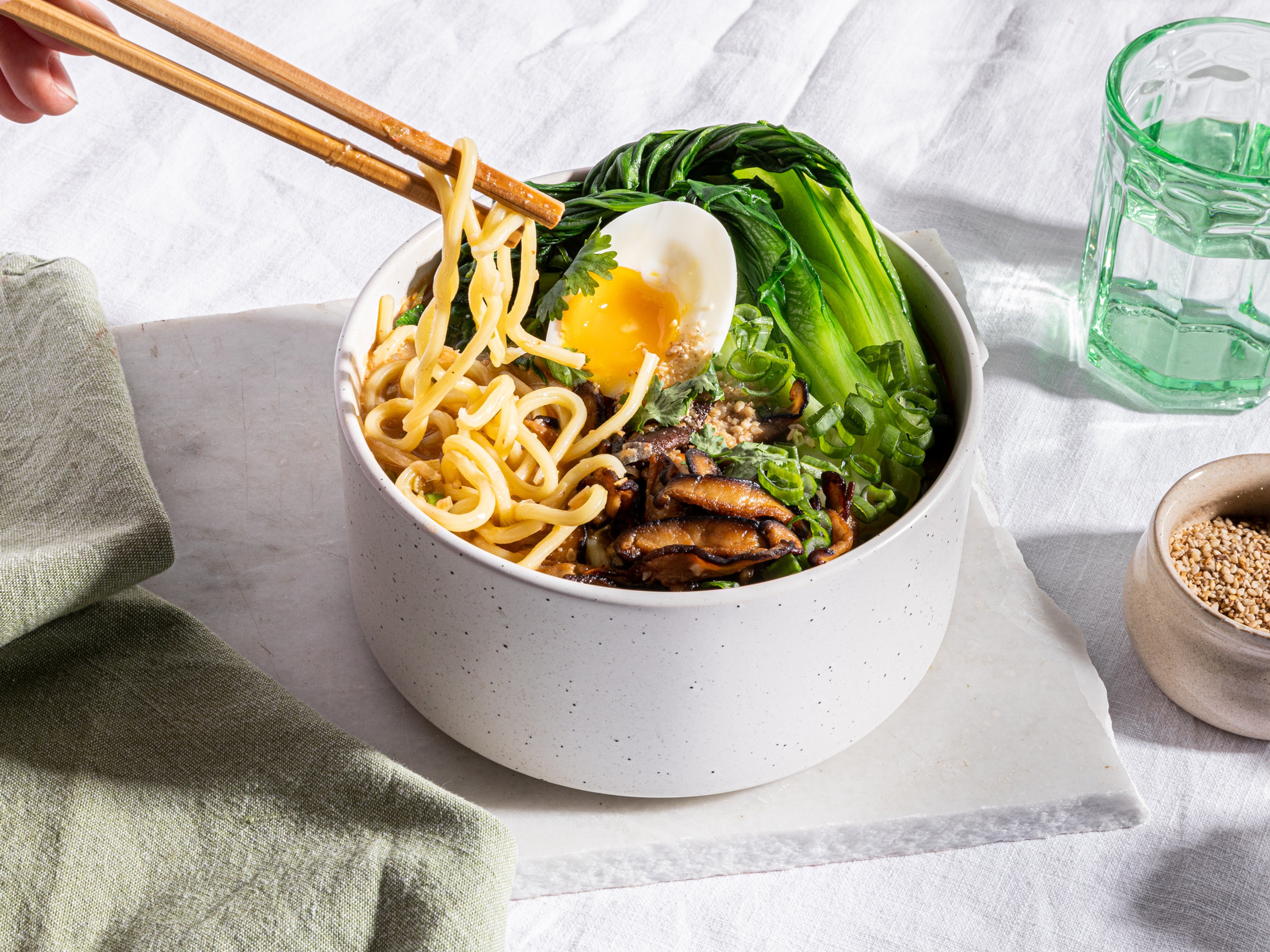 Feel good vegetarian miso ramen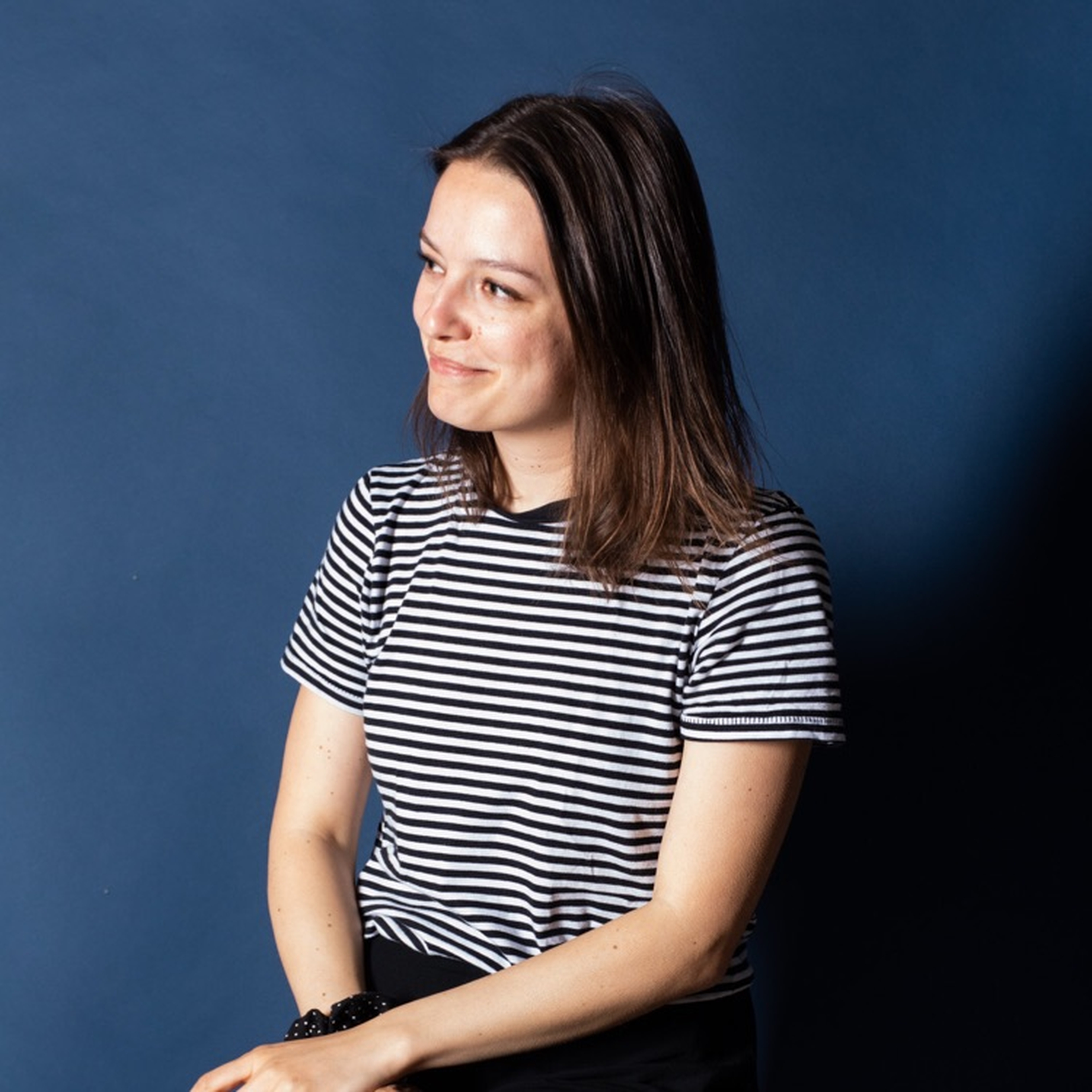 "I developed this recipe to be the closest version of the restaurant ramen I've come to love so much for its ability to pick me up no matter the weather or the mood—and eating it reminds me of all the equally enriching conversations I've had in crowded ramen restaurants. Ramen is a varied, complex Japanese soup that chefs spend years mastering, so 100% truly authentic, this recipe is not. Instead, here's a recipe that you can achieve at home with less ingredients, in a relatively short amount of time. Thanks to countless hours spent researching (including on the Youtube channel 'Just One Cookbook' by Nami, who gave me the decisive tip for the creamiest possible of vegan broths: soy milk) and even more hours spent testing, I've arrived at this vegetarian recipe, one that I'm happy with and I hope serves you as much! You can find dried kombu, dried shiitake mushrooms, and dried or fresh ramen noodles in most Asian supermarkets. While you're there, I recommend picking up Gomasio, Japanese toasted sesame salt, which is excellent for finishing the dish! This recipe is part of "The Community Issue," a collaboration with Infarm—the urban farming revolutionaries based in our Berlin community; with global reach across 10 countries and 30 cities. Check out their website for more information and to check if their 100% locally grown produce is available in your community."
Utensils
liquid measuring cup, 2 pots (small), slotted spoon, frying pan, food processor, knife, cutting board, pot (large), cooking spoon, pot, colander
How-To Videos
How to reach the perfect temperature for frying
How to prepare garlic
How to cut an onion
How to peel ginger
Step 1/ 5

300 ml

water

¼ sheet

kombu

2

dried shiitake mushrooms

liquid measuring cup
pot (small)
slotted spoon

For the vegetarian dashi broth, add water, kombu and dried shiitake mushrooms to a measuring cup. Leave to sit for at least 30 min. In the meantime, continue with step 2. Then, once the 30 min has elapsed, add the dashi broth, plus the kombu and dried shiitake to a small pot and heat up over medium-high heat to intensify the flavor. Just before it reaches a boil, remove the kombu and mushrooms, turn off the heat and set aside for later.

Step 2/ 5

2 tbsp

sesame seeds

15 g

ginger

2

garlic

2

scallions

2

eggs

100 g

shiitake mushrooms

2

bok choy

frying pan
food processor
knife
cutting board
pot (small)

In a frying pan roast the sesame seeds until golden brown. Add to a food processor and pulse or grind finely with a mortar and pestle. Finely chop ginger and garlic, slice scallions into fine rings, separating the whites from the greens. Slice the fresh shiitake mushrooms and slice cut the pak choi lengthwise into quarters. Soft-boil the eggs by adding them to a saucepan boiling water and letting cook 6.5 min. before draining, and cooling under cold running water.

Step 3/ 5

1 tbsp

vegetable oil

1 tsp

Sriracha

2 tbsp

white miso paste

1 tsp

agave nectar

2 tbsp

soy sauce

300 ml

soy milk

Heat vegetable or sesame oil in a saucepan over medium heat. Sauté the shiitake mushrooms, remove and set aside. Add extra oil if needed, then add garlic, ginger and the white of the scallions in the same pot and sauté approx. 2 min. Add Sriracha, miso paste, agave nectar, soy sauce and ground sesame seeds. Sauté briefly. Now add the soy milk, stirring to remove any paste from the bottom of the pot.

Step 4/ 5

For a 2-person portion, add 200 ml/0,8 cup of the dashi broth and bring to boil. Reduce the heat and continue to simmer gently. In the meantime, prepare the ramen noodles according to the packing instructions. In the last minute, add the pak choi, blanch and drain.

Step 5/ 5

scallion (for garnish)

cilantro (for garnish)

Divide the noodles and pak choi between two serving bowls. Pour the broth evenly on top. Garnish with shiitake mushrooms, halved waxy eggs and the green of the spring onions. Finish with fresh herbs, such as coriander, and gomasio (sesame salt) if you have it, or more sesame seeds. Enjoy!

Enjoy your meal!
More delicious ideas for you