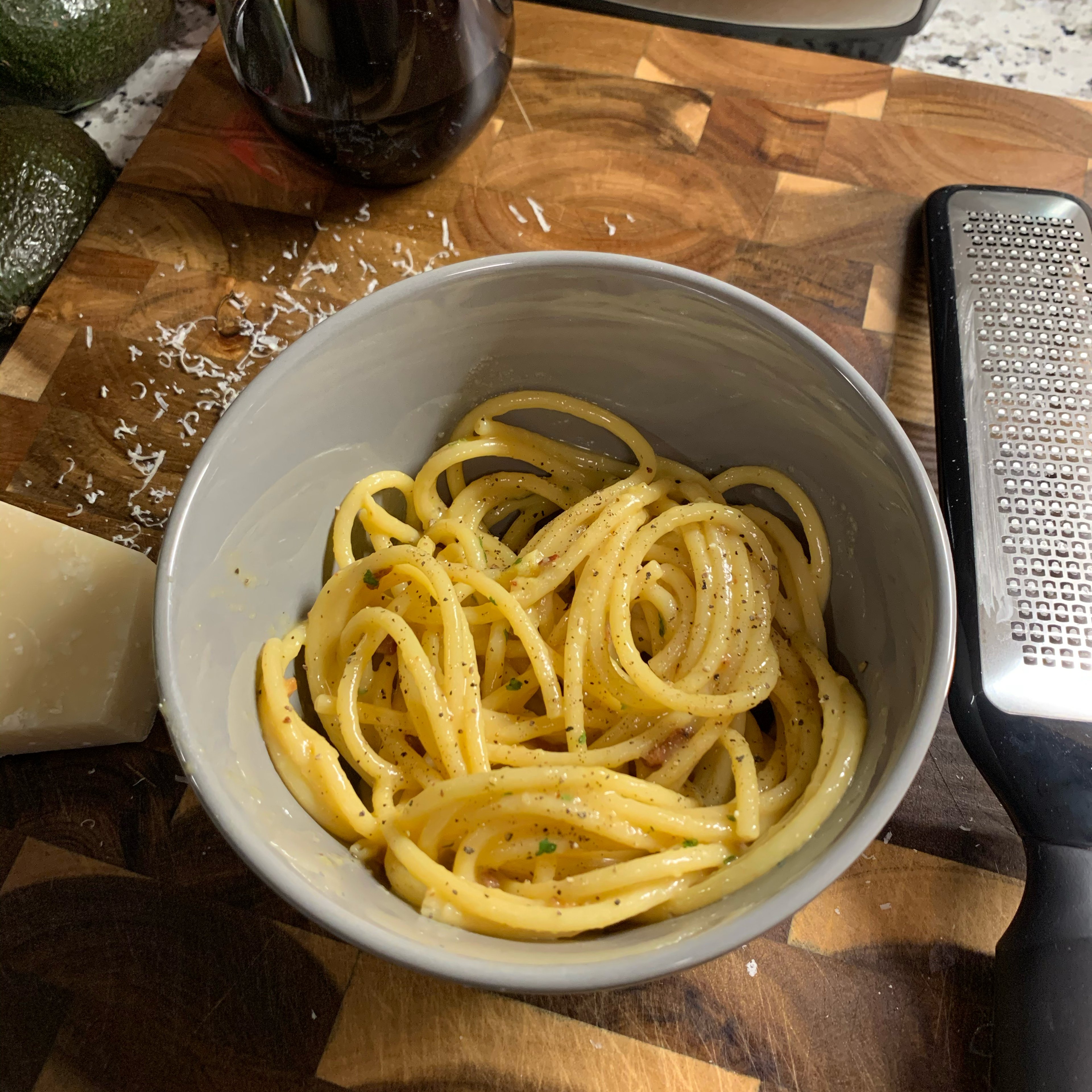 Easy Delicious Pasta Carbonara
"This is not healthy, but amazing! The key is to use good noodles and good cheese, so don't cheap out!"
Step 1/ 12

Start by bringing water to a boil. Add salt to the water.

Step 2/ 12

Add pancetta and a little olive oil to pan over medium heat. Cook until brown and crispy. You'll want to cover the pan halfway with the lid to stop oils from splashing everywhere. My deli had a 2 serving pack available.

Step 3/ 12

2 cups

Parmesan cheese

2

eggs

1

egg yolk

Add 3 eggs and grated Parmesan cheese into a bow. It's not scientific how much to put in, more cheese can be added later. Use a microplane or the smallest size of a grater.

Step 4/ 12

This is the consistency you are looking for while mixing. Add more if it looks runny.

Step 5/ 12

When pancetta is crispy, reduce to low heat.

Step 6/ 12

When water starts boiling, add half a package of bucatini and reduce heat to medium high to prevent boiling over. Follow cooking instructions on package. About halfway through cooking, turn heat off on pancetta.

Step 7/ 12

With tongs, or noodle scoop, add noodles directly to the pan and mix with the pancetta oils.

Step 8/ 12

Add egg and Parmesan mix to noodles and mix right away.

Step 9/ 12

Add more Parmesan cheese and mix.

Step 10/ 12

You want sauce to be smooth, not clumpy like mine is. Add very small amounts of left over pasta water until it is smooth.

Step 11/ 12

This is about perfect. I added 1.5 tablespoons of pasta water. Make sure to taste it to make sure the balance of Parmesan and egg is good. Add more as needed.

Step 12/ 12

Add pepper, parsley flakes, and some salt to taste. Careful not to over-salt. Always taste your food when seasoning!

Enjoy your meal!
More delicious ideas for you