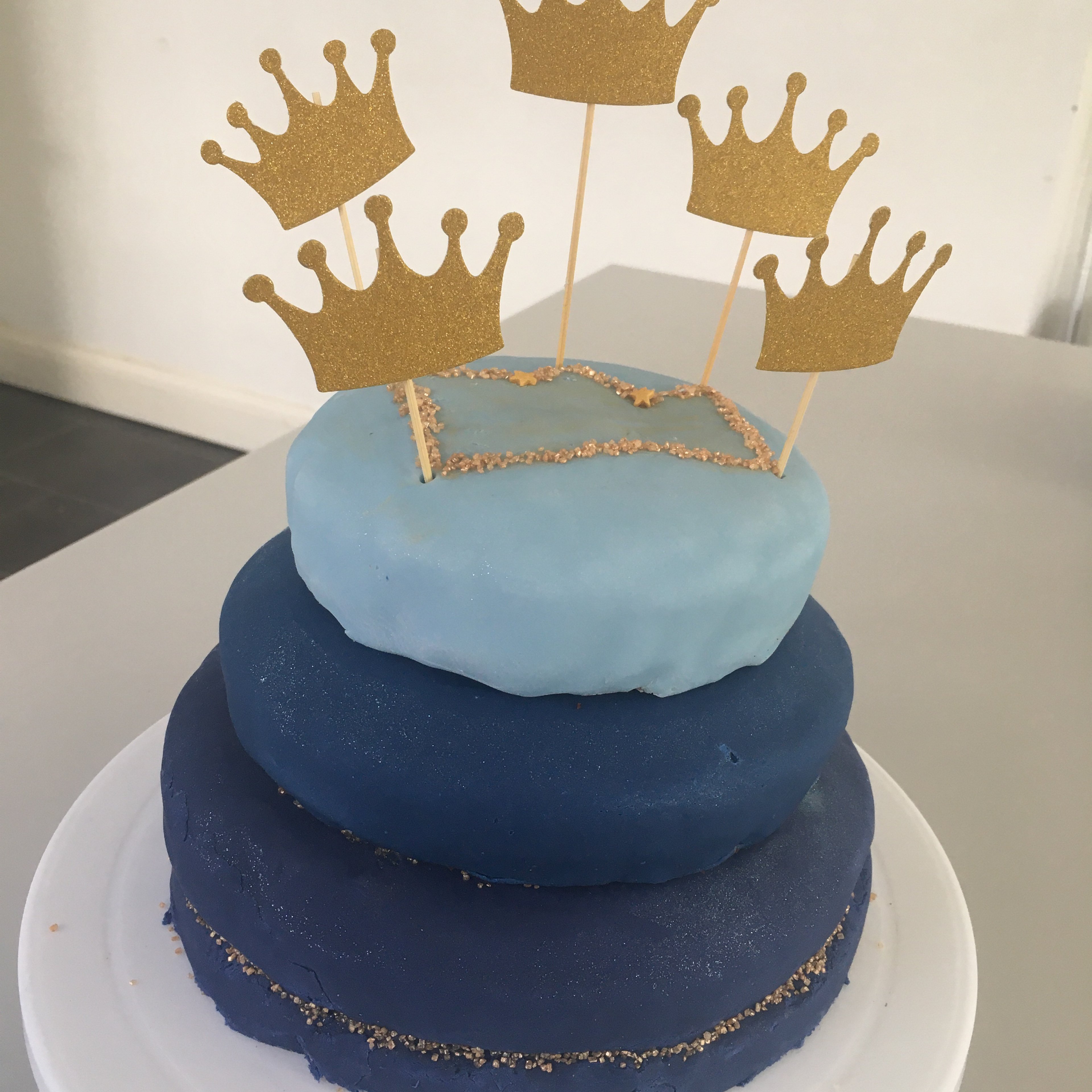 Chocolate Royalty cake
"This is my favourite chocolate cake recipe and you can try it with different icing and decorations."
Utensils
oven, cake tins, parchment paper, food processor, 2 bowls, 2 spatulas, cooling rack, palette knife, 10 popsicle sticks
Step 1/ 11

oven
cake tins
parchment paper

Preheat the oven to 170°C and line the cake tins. Have three different sized cake tins for three different tiers.

Step 2/ 11

25 g

self-raising flour

29⅛ g

brown sugar

½

eggs

16⅔ ml

sour cream

⅛ tsp

baking soda

⅛ tsp

baking powder

29⅛ g

butter

4⅛ g

cocoa powder

food processor
bowl
spatula

Mix together all the ingredients to form the cake batter using a food processor. Scrape down the sides using a spatula.

Step 3/ 11

Equally divide the cake batter among the cake tins. Then cook the largest ones in the oven for 27mins and the smaller one for 22mins.

Step 4/ 11

Remove the cakes from the tins and let them cool while you make the buttercream.

Step 5/ 11

16⅔ g

butter

⅛

orange zest

33⅓ g

icing sugar

Mix all the butter and the orange zest together. Then slowly mix in the icing sugar.

Step 6/ 11

Spread the buttercream between each layer but do not stick the tiers together yet. Add some buttercream around the outside as well.

Step 7/ 11

navy fondant

blue fondant

light blue fondant

Sprinkle some extra icing sugar on the surface. Knead each of the fondants until they are smooth and do not crack. Then roll out each of them so that they will cover the entire tier (sides and top).

Step 8/ 11

Carefully place them on each layer and smooth it out with your hands. Work with each tier separately.

Step 9/ 11

Next assemble the cake. To do this place five popsicle sticks in the bottom tier. Stack the middle tier on top and then repeat for the top tier.

Step 10/ 11

Decorate with sprinkles using water to stick them on. You can choose whichever design you want. Finally add a couple of crowns.

Step 11/ 11

Eat up and Enjoy!

Enjoy your meal!
More delicious ideas for you