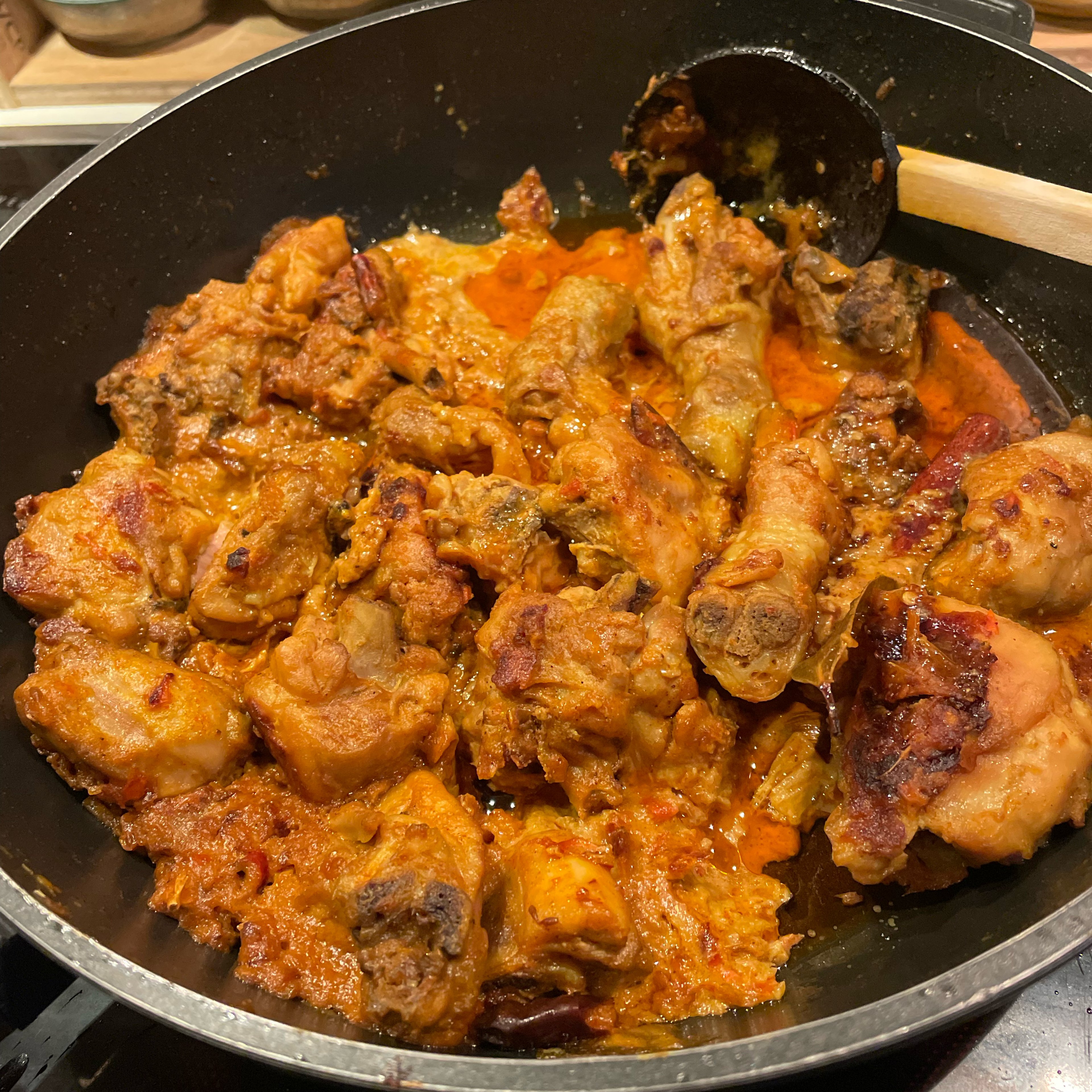 Chicken Korma
"This chicken korma is typical in Pakistan and Northern India. Its signature is the fried onion that is processed with curd and tomato before adding to the chicken. If the dish is too heavy for you, reduce the amount of oil. Allow chicken and curd to adjust to room temperature before cooking."
Utensils
knife, mortar and pestle, cast iron pan, food processor
Step 1/ 13

1⅓

chicken leg (about 1kg)

Remove excess skin and cut chicken into pieces, bones in.

Step 2/ 13

⅓ tbsp

ginger (crushed)

2⅔ cloves

garlic (crushed)

Peel ginger and garlic and crush both with a pestle in a mortar.

Step 3/ 13

Peel and slice onions. Quarter the tomatoes.

Step 4/ 13

⅔

bay leaves

⅓ tsp

cumin seed

3⅓

black peppercorns

⅓

cinnamon stick

1⅔

cloves

1

cardamom pods

Prepare whole spices: bay leaves, cinnamon, cumin seeds, pepper corns, green cardamom and cloves.

Step 5/ 13

⅓ tsp

ground cumin

⅔ tsp

ground coriander

½ tsp

cayenne pepper

⅛ tsp

ground turmeric

1

dried chilis

Measure ground spices: turmeric, cayenne pepper, cumin, coriander. Break up dried chilies.

Step 6/ 13

⅛ tsp

ground mace

⅛ tsp

ground nutmeg

⅛ tsp

garam masala

Set aside garam masala, nutmeg and mace to be added at the end.

Step 7/ 13

Heat the oil in a heavy pan and sauté the onions till golden brown, about 15 minutes.

Step 8/ 13

Transfer sautéed onions to the food processor. Add tomatoes and curd and blend all ingredients.

Step 9/ 13

Add ghee to the pan used for the onions earlier. Briefly sautée the whole spices, just 30 seconds.

Step 10/ 13

Turn heat to medium, add ginger and garlic and sauté for 30 seconds.

Step 11/ 13

Add chicken pieces and sear for 5 minutes until changing color on all sides. Add salt and mix with the chicken.

Step 12/ 13

Add the curd mix and the ground spices, mix with the chicken and allow to simmer 2-3 minutes. Cover with a lid and cook on low to medium heat for 15 minutes.

Step 13/ 13

Uncover, stir in the remaining spices (nutmeg, mace, garam masala). Turn the chicken, cover and simmer for 10 more minutes. Then add water, bring to a boil and keep simmering another 2-3 minutes. You can garnish the dish with cilantro or mint. Serve with white bread, naan, chapati or rice.

Enjoy your meal!
More delicious ideas for you