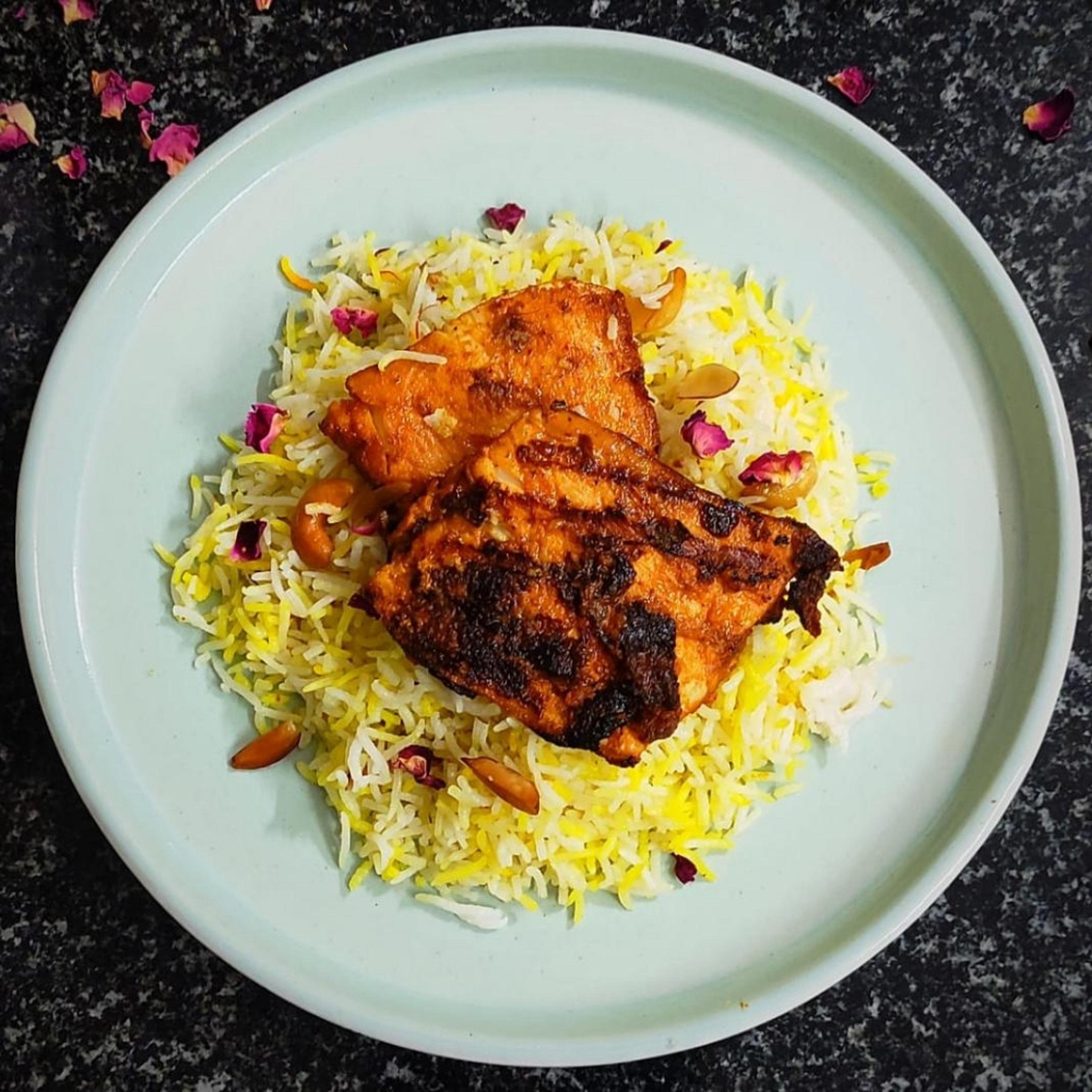 Charred Fish on Saffron Rice
"This is a Mother's Day special dish that I made. Thinking of all the Indian and Middle Eastern spices I had at home, I wanted to create something on my own, and fortunately it turned out delicious. Do try it out and let me know how you and your friends and family liked it :)"
Ingredients
Long Grain Rice(Basmati Rice)
Besan or Bengal Gram Flour
Kashmiri Red Chillies(Deseeded)
Step 1/ 16

Wash the rice under running water and soak it in some water for 30mins

Step 2/ 16

300 ml

water

⅛ tsp

saffron

2⅔ tsp

sugar

⅔

Mace(Javitri)

Prep the Saffron Syrup.. Dry Roast the saffron strands, and grind it to a fine powder with the sugar. Add 4-5tsp hot water in it, also add the rose water and the milk. Let it rest now till the color turns like in the picture

Step 3/ 16

1 tsp

salt

⅔ tsp

ghee

Refined Vegetable Oil

Heat the Ghee in the utensil, and fry chopped almonds and cashews till they turn Golden. Take them out and keep aside

Step 4/ 16

133⅓ g

Long Grain Rice(Basmati Rice)

1⅓ tbsp

ghee

⅓ tsp

Cardamom Powder

8

cashews

In the same Ghee, add cardamom powder, 1/2inch cinnamon stick and a mace and fry for 20 secs. Once it turns aromatic, drain the soaked rice, and add it to the saucepan.

Step 5/ 16

Keep frying the rice on medium-low flame till the rice starts to make scratchy sound on the saucepan(it turns pale white).. Meanwhile start boiling the 400ml water in a separate pan or kettle(Rice to water ratio is always 1:2)

Step 6/ 16

Turn the flame to high for the rice, and add the boiling water, and salt.. Cook on high flame, uncovered till there are bubbles on the surface of the rice, as shown.. At this point turn the flame to low and cover it

Step 7/ 16

After 10-15 mins, the rice will double in volume and also be cooked and dry. At this point, add the saffron syrup and the fried Nuts(mentioned in the above steps)

Step 8/ 16

Turn off the flame.. But do not try to mix the rice at this point. It is tender and will break. Let it cool down for 20 - 25 mins.. And then mix everything well..

Step 9/ 16

Now, while the rice is on summer, lets prep the fish

Step 10/ 16

⅓ tsp

Rose Petals

1⅓ tsp

milk

133⅓ g

Bhetki Fish Fillet

Marinate the fish with Salt and lime juice

Step 11/ 16

While the fish is being marinated, lets prep the Masala(wet spice mix for coating)..

Step 12/ 16

⅔ tsp

lime juice

salt

⅔ tbsp

Hung Curd

1⅓ tsp

Besan or Bengal Gram Flour

1⅓ tsp

Biriyani Masala

1 tsp

Coriander Powder

⅓ tsp

Black Pepper Powder

⅔

onion(Medium)

2⅔

Garlic Cloves (Large)

⅓ tsp

Kewra Water

2⅔

Kashmiri Red Chillies(Deseeded)

Dry Roast the Kashmiri Red Chillies and Curry Leaves. Put it in a blender jar with the above mentioned spices, curd, onion and garlic and make a smooth paste.

Step 13/ 16

Now, massage the fish with this Masala and let it sit for 15 mins.

Step 14/ 16

In a frying pan, or grilled pan, add oil, and heat it well. Add the fish pieces and cook on medium flame for 5mins on each side, till the fish is cooked and charred

Step 15/ 16

Now lets Plate.. In your serving plate, add the rice, sprinkle some rose petals, and place the charred fish pieces on it

Step 16/ 16

Tadaaaaaa.... Serve hot with some green salad or Onion salad on side

Enjoy your meal!
More delicious ideas for you