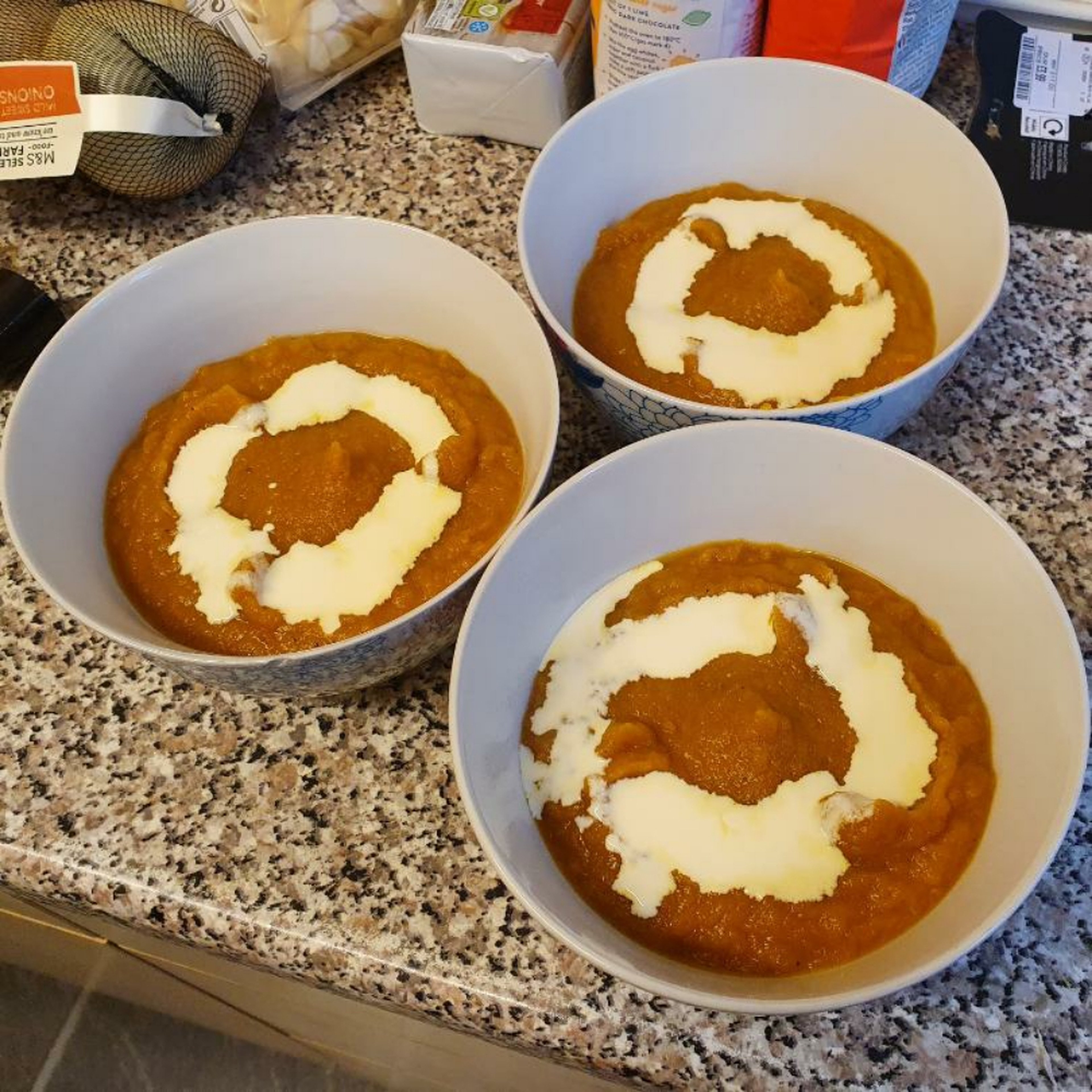 carrot and butternut soup
"cheap and easy to prepare, freezes well and is excellent for cold winters. spice level can be tailored ro your liking and virtually any ingredients can be changed or substituted without affecting the integrity of the dish itself"
Step 1/ 5

250 g

butternut squash (diced)

2

carrots

250 ml

vegetable stock

½ pinch

salt

prepare vegetables for roasting. to do this, peel and dice the squash if you have not already done so, and peel and chop the carrots into approximately the same size pieces, toss with salt, pepper and a small amount of vegetable oil until evenly coated, then place into a 180°C oven for 40 minutes, turning them over halfway

Step 2/ 5

1

onions

½ tsp

thyme (optional)

while vegetables are cooking, dice onions and fry them until just starting to turn brown, before adding them to your intended soup pot. then add the vegetable stock, cover and bring to a simmer

Step 3/ 5

1½ cloves

garlic

½ tsp

hot paprika powder

½ tsp

ground nutmeg

½ tsp

ground ginger

cream (for serving)

using the remaining oil in the pan, toast off the spices for approximately 30 seconds or until fragrant, and add to your soup pot

Step 4/ 5

take the carrots and squash out of the oven, place the pieces into your soup pot and let simmer until pieces are soft and beginning to fall apart, approximately 20 minutes, though depending on the size of the pieces prior to baking, this may take a shorter amount of time.

Step 5/ 5

taste soup for seasoning before running through a high powered blender or using a handheld blender to reach the desired consistency

Enjoy your meal!
More delicious ideas for you