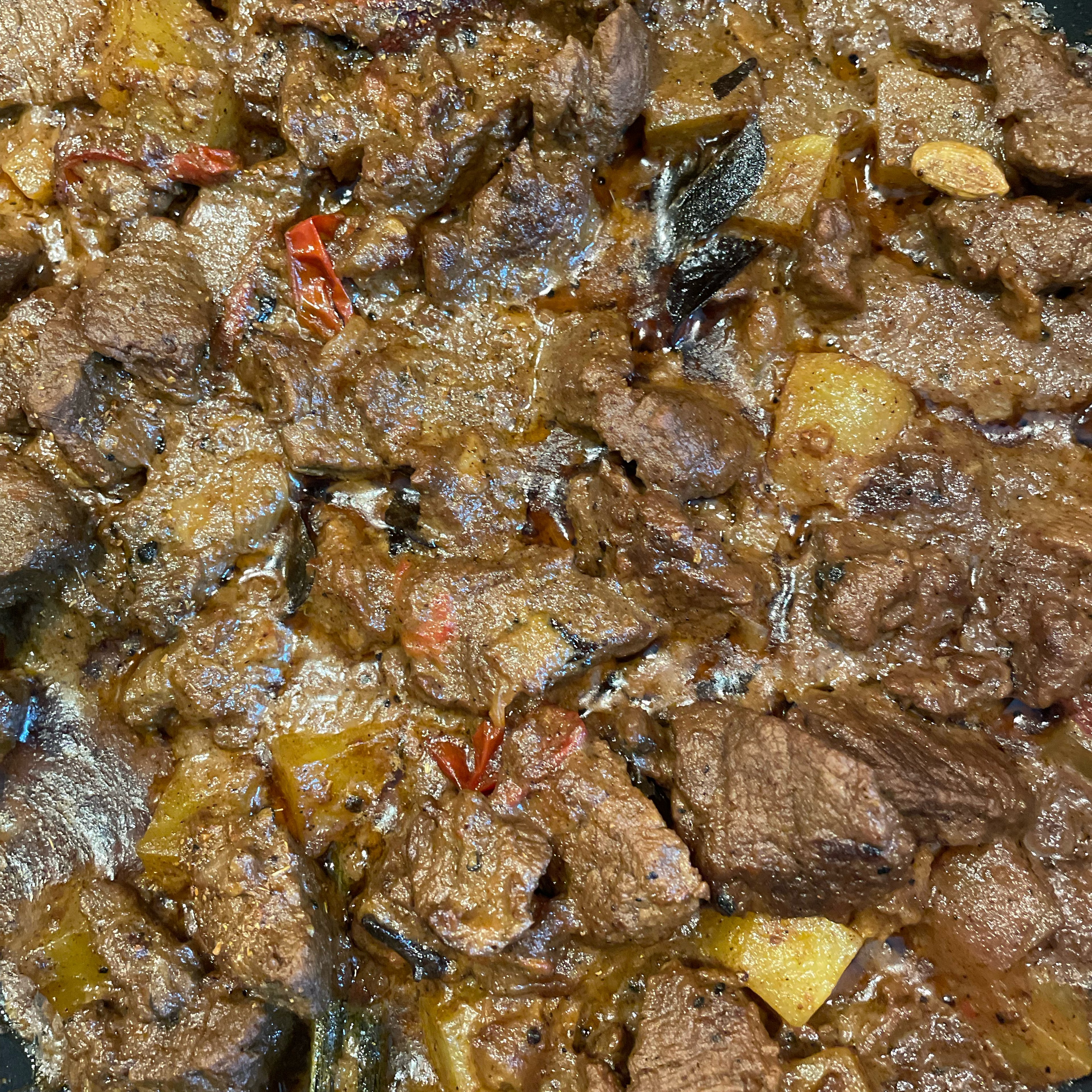 Black beef curry (Sri Lanka)
"This black beef curry is spicy and has a dark brown aromatic gravy that renders the name 'black curry' in Sri Lanka. The roasted curry powder, roasted cayenne pepper and tamarind bring out the color. We prefer a tender lean beef cut, but if you prefer more marbled beef with more fat, you can choose another cut as long as it cooks in less than 45min. I make the tamarind juice from fresh tamarind and a little water but you can use preserved tamarind paste as well."
Ingredients
fennel seed (roasted and ground)
Step 1/ 4

⅓ tbsp

ginger

1⅓ cloves

garlic

⅓

onion

⅓

pandan leaf

⅓ sprig

curry leaf

⅓ tbsp

tamarind juice

Dice onions, crush ginger and garlic, prepare tamarind juice, pandan leaf and a sprig of curry leaves. Cut beef against the grain.

Step 2/ 4

⅔ tbsp

coconut oil

⅓

cinnamon stick

1

cardamom pods

1

cloves

⅔ tsp

raw curry powder

⅔ tsp

roasted curry powder

⅓ tsp

cayenne pepper

⅓ tsp

cayenne pepper roasted

⅓ tsp

black pepper

Heat coconut oil and fry ginger, onion, garlic, pandan leaf, curry leaves. After 2-3 min add cinnamon, cloves and cardamom. Then add curry powders, cayenne and pepper and mix, keep frying for 2 more minutes.

Step 3/ 4

166⅔ g

beef tenderloin

½ tsp

salt

⅛ tsp

ground turmeric

⅓

tomato

Add beef to the curry base, stir-fry until fully coated and sealed. Then add tamarind juice. Mix with the beef and simmer for 2-3 min on medium heat, then add salt, turmeric and optionally one sliced tomato. Cover and simmer for 20min. Stir occasionally. After 20 min you should have a nice dark base for the curry gravy. While the curry simmers, peel and cube 3 small potatoes.

Step 4/ 4

⅛ tsp

fennel seed (roasted and ground)

⅓ tsp

lemon juice

133⅓ ml

coconut milk

1

potatoes

Add the coconut milk, stir gently and bring to a boil. Then add potato cubes and simmer until gravy is thick and potatoes are done, about 10-15min. Finish by adding 1/2 tsp of roasted and ground fennel seeds and a teaspoon of lime juice. Serve with basmati rice or roti.

Enjoy your meal!
More delicious ideas for you