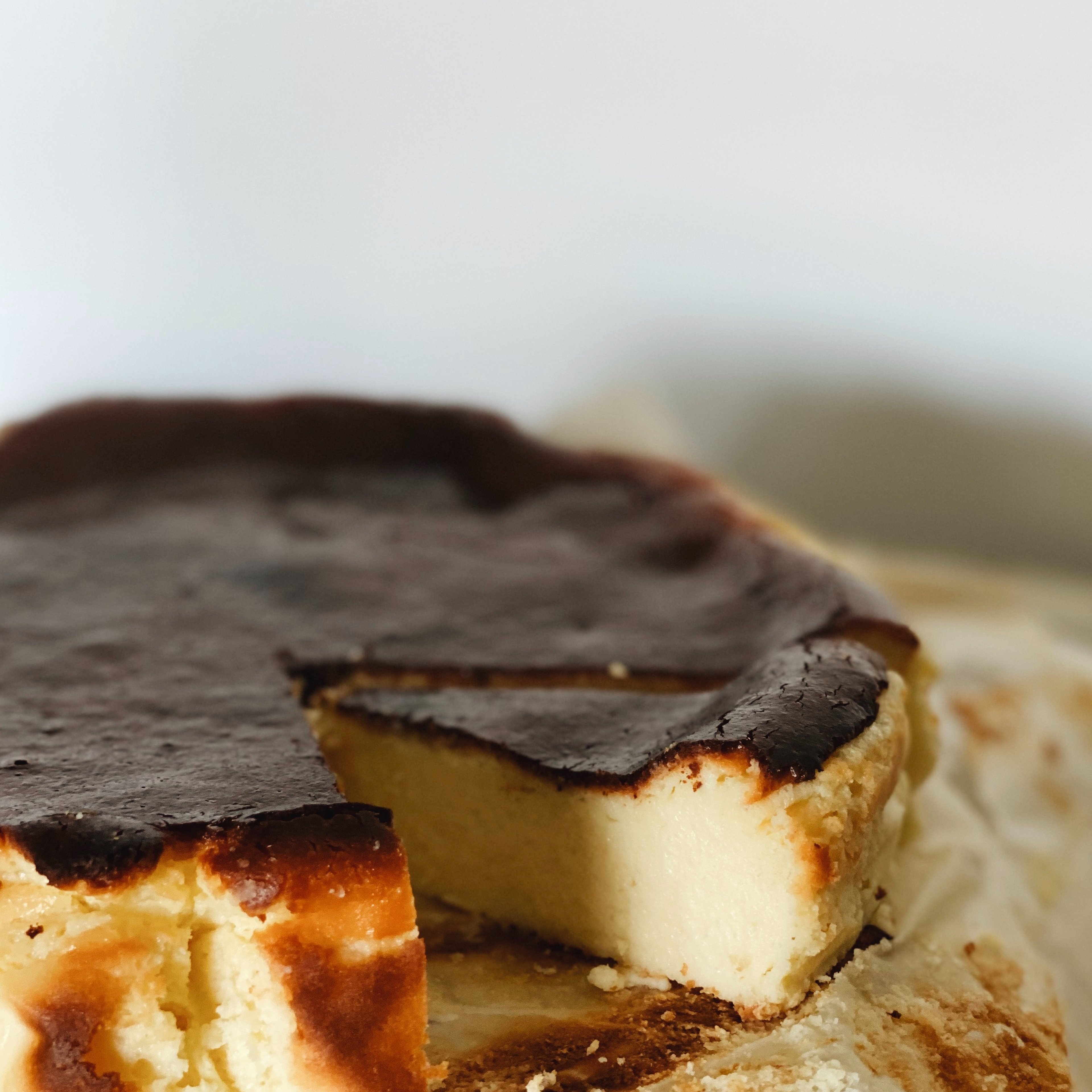 Basque Burnt Cheesecake (Tokyo Restaurant Style)
Utensils
parchment paper, springform pan, oven, stand mixer with paddle
Take an
easy quiz

and discover more recipes you'll love!
Step 1/ 10

Before you begin, let cream cheese & eggs rest in room temperature.

Step 2/ 10

parchment paper
springform pan

Line the bottom of your cake tin with parchment paper, grease the bottom and sides so that the cake won't stick after baking.

Step 3/ 10

Preheat your oven to 200C

Step 4/ 10

150 g

cream cheese

50 g

caster sugar

In a mixer, beat cream cheese and sugar on medium until smooth (about 5 minutes)

Step 5/ 10

Turn the mixer on low and add the eggs one at a time, making sure to scrape down the sides of the bowl so everything is incorporated.

Step 6/ 10

70 ml

heavy cream

6¼ g

flour

¼ tbsp

lemon juice

⅛ tsp

salt

Add heavy cream, flour, lemon juice and salt. Mix through on low until everything is well incorporated.

Step 7/ 10

Pour the batter into your tin and bake it for 20-30 minutes. At the 15 minute mark, rotate the cheesecake to help it cook evenly.

Step 8/ 10

After the 20 minute mark, test the cheesecake for doneness. We want a slight wobble in the middle, the centre might still be a tad underdone but that's what we want!

Step 9/ 10

Remove the cake from the oven and let it cool completely before removing it from the tin. Then, chill in refrigerator 6 hours - overnight.

Step 10/ 10

When you're ready to eat, slice it up and serve with a dollop of cream.

Enjoy your meal!
More delicious ideas for you